How what you eat can help heal wounds
Nutrition
Sep 14, 2023
St. Joseph's/Candler wound care physician and clinical dietitian recommend certain amino acids, micronutrients that aid in optimal wound healing

Have a wound that just won't heal? One option to treat it is through diet. Yes, what you eat and drink can have an impact on wound care.
"Diet is vital to wound healing," says Dr. Thomas Donohue, medical director for the Center for Hyperbarics and Wound Care at Candler Hospital and our Hinesville location. "Without adequate nutrition that includes protein, vitamin A, vitamin C and zinc, the likelihood of healing is extremely low."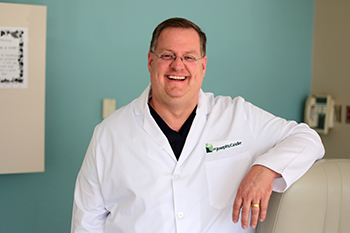 Studies show that poor nutritional status is closely linked to prolonged wound healing. Eating a well-balanced diet that meets the recommended daily allowance of vitamins and minerals, along with adequate intakes of healthy fats, carbohydrates and especially proteins, helps with optimal wound healing, says Sean Alva, registered dietitian at St. Joseph's Hospital.
As a dietitian at St. Joseph's Hospital, Alva works with a team to make sure meals are prepared for each patient that meets their nutritional needs. Our clinical dietitians at both hospitals also help with patient diet education and counseling and use nutrition to treat most diagnoses, including wounds.
Related Article: Hospital nutrition 101
Dr. Donohue works with wound care patients in an outpatient setting. St. Joseph's/Candler has three wound care and hyperbaric centers located in Savannah, Hinesville and Bluffton. He emphasizes to all his patients the importance of diet.
For example, Dr. Donohue talks about the importance of protein in wound healing, telling patients to increase protein intake to 1.5 to 2 grams of protein per body weight (in kilograms) per day. (However, he notes this amount should be lower in patients with liver and/or kidney disease.) Good sources of protein he recommends include chicken, lean beef, fish, eggs, beans, hummus, nuts and tofu.
"We also instruct patients to increase their collagen intake which is a protein and can be found in Jell-O, gummies and proteins mentioned above," Dr. Donohue adds.
Certain amino acids, such as glutamine (found in protein-rich food such as poultry, milk, pistachio nuts, wheat flour and white rice, for example) and arginine (found in protein-rich foods such as poultry, salmon, nuts and seeds and legumes, for example) also help support optimal wound healing.
Additionally, you want foods high in micronutrients, such as vitamin A, vitamin C, zinc, selenium and iron for wound care. These can be found in fortified grains, colorful fruits and vegetables and green leafy vegetables, such as kale, collards, broccoli, carrots, sweet potatoes and strawberries.
In between meals – not with a meal, Dr. Donohue emphasizes – he recommends using supplements such as Ensure, Boost, Glucerna or Juven, which specifically is designed for wound healing and contains L-Arginine which stimulates release of various growth hormones which in turn stimulates the production and use of fibroblast cells. Fibroblast are essential in wound healing, Dr. Donohue says.
"We tell patients to drink these as in-between snacks and not with their meals. These tend to be filling, and we do not want the patient to fill up on liquid and not eat."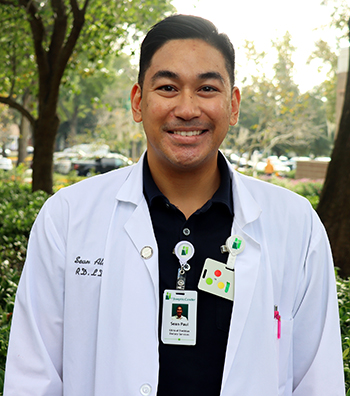 Alva agrees. While these over-the-counter supplements can be helpful, nothing beats eating a well-balanced and nutritious diet, he says.
At St. Joseph's/Candler, our dietitians follow and recommend MyPlate. MyPlate is based on the Dietary Guidelines of Americans 2020-2025, which focuses on eating a variety of fruits, vegetables, grains, protein, dairy or soy fortified alternatives to help Americans meet the recommended daily allowance, Alva says.
This can easily apply to those suffering with wounds, especially when they include those foods with the recommended amino acids and micronutrients mentioned above. You can learn more about MyPlate here.
Dr. Donohue also recommends taking a daily multivitamin and drinking plenty of fluids to stay hydrated. Additionally, if you have diabetes, you should keep your glucose levels ideally below 160 because anything higher hampers healing.
Finally, whether you are a patient in the hospital, at one of our outpatient centers or dealing with a wound from home, Alva also recommends consulting with a registered dietitian.
"A well-balanced and nutritious diet, along with appropriate medical care, can help optimize the healing process," Alva says. "Consulting with a registered dietitian nutritionist is a great idea for obtaining individualized guidance on nutrition and wound healing, especially when dealing with other diseases, such as chronic kidney disease or diabetes. Professional advice tailored to your unique circumstances is invaluable for achieving optimal healing outcomes."