Coping with stress during an infectious disease outbreak
COVID-19
Mar 25, 2020
Does COVID-19 have you stressed out? You aren't alone. Schools are out; businesses are closing; and there's still so much we don't know about the respiratory virus that has caused a global pandemic.
When you read, hear or watch news about COVID-19, it's normal to feel anxious and show signs of stress. You may see an increase or decrease in your energy, have trouble sleeping or even experience headaches and other body pains.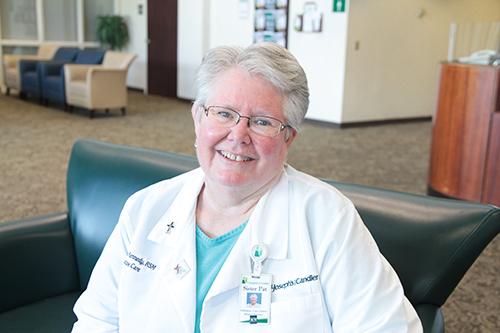 These signs of stress are normal, but it's important to pay attention to your, and your loved one's, level of stress. If someone shows signs of stress for several days or weeks, you may want to seek help. You can even do so while social distancing.
The Substance Abuse and Mental Health Services Administration has a helpline at 1-800-662-HELP. You can also visit their website at samhsa.gov/find-help/national-helpline.
Sr. Pat Kennedy is the Palliative Care Liaison and Chaplain for St. Joseph's/Candler. She often counsels people on dealing with stress and anxiety. She offers what works for her:
"When I feel that anxiety building, I fall back on music. I'll listen to Josh Groban or Yo-Yo Ma, and I turn the news off. I think we need to be informed. We need to follow the directions of the CDC, but then we need to take breaks from that. If you are in your home, look out on the beauty of nature or talk to one another – anything that will be able to help alleviate that stress.
"It's OK to be able to say, 'I'm feeling anxious. Can we just talk?' Reach out for the help you need. It's a very heightened, anxious time for everybody. You pray that God's mercy and love is poured forth upon all of us and it brings forth healing."