Part 1: Caring for hospital patients with COVID-19
COVID-19
Apr 14, 2020
Here's how St. Joseph's/Candler is treating COVID-19 confirmed and suspected patients
COVID-19 is such a new virus that, at the moment, there is no specific medicine to prevent or treat it. There are some anecdotal reports based on small retrospective surveys of patients, but there are no completed prospective randomized trials to date.
Healthcare researchers are actively doing studies and trials to change this. Meanwhile, those caring daily for suspected or confirmed COVID-19 patients in the hospitals use their skills and technology to offer supportive care to help patients feel as comfortable as possible.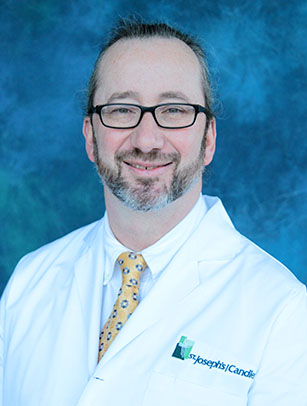 "This is an unpredictable illness," says Dr. Rich McIncrow, a hospitalist at St. Joseph's Hospital and Candler Hospital and President of St. Joseph's Hospital Medical Staff. "We are seeing young people get this illness. Obviously, we are seeing a lot of older people as well, but there is no prejudice with this virus."
Related Article: What is a hospitalist?
COVID-19 is a respiratory illness that spreads from person to person. The most common symptoms are fever, cough and shortness of breath. Some may experience mild symptoms that can be managed at home under self-isolation. Others experience more severe symptoms or have underlying health conditions that require hospitalization.
What St. Joseph's/Candler is doing
Like nearly all hospitals around the globe, both St. Joseph's Hospital and Candler Hospital have and are caring for patients known to have COVID-19, as well as persons under investigation. We follow guidelines from the Centers for Disease Control and Prevention on monitoring, screening and treating COVID-19 patients.
Our doctors, nurses and support team help patients manage their symptoms. For example, dehydration can be a side effect of COVID-19, Dr. McIncrow says, so our healthcare professionals monitor any electrolyte problems and keep patients hydrated.
We also constantly monitor oxygen levels and look for development of any worsening lung disease, Dr. McIncrow says. Some people with COVID-19 have gone on to develop acute respiratory distress syndrome (ARDS), which occurs when fluid builds up in the lungs resulting in less air in the lungs and less oxygen reaching your bloodstream.
Other organs in the body, such as the heart or kidneys, also could be vulnerable due to COVID-19, Dr. McIncrow says. "We are working to make sure all other organ systems are monitored and treated as best they can during this illness."
Additionally, the entire St. Joseph's/Candler team continually prepares for COVID-19. There's constant communication with updates on case load, new facility changes or changes to CDC guidelines, Dr. McIncrow says.
"As the landscape keeps changing, we are continuing to prepare for what arises the next day and in the next weeks."