Safety Zone: How the LCRP is keeping cancer patients safe
Safety Zone
Aug 27, 2020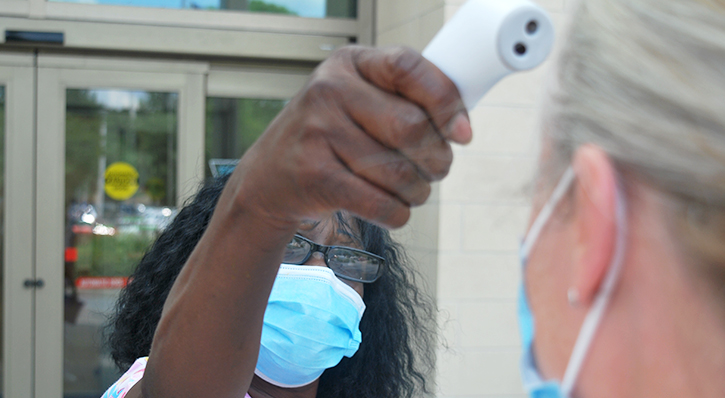 Cancer diagnoses haven't stopped just because we're in the middle of a pandemic. At the Nancy N. and J.C. Lewis Cancer & Research Pavilion, treating your cancer hasn't stopped either.
That's why we've put policies in place to keep some of our most vulnerable patients safe as they battle cancer.
"Our cancer patients in general are immunocompromised, which does make them more vulnerable to COVID infection and to more severe symptoms of COVID," says V eronica Buckovich, director of clinical services and quality at the LCRP. "We continue to take strict measures to reduce the likelihood that any of our cancer patients would be exposed here."
Here's what to expect if you need treatment at the LCRP Savannah or Bluffton campuses:
Screening: All patients are screened before entering our facilities. Screening includes temperature check and a series of questions about any symptoms related to COVID you may have and potential exposure to the virus.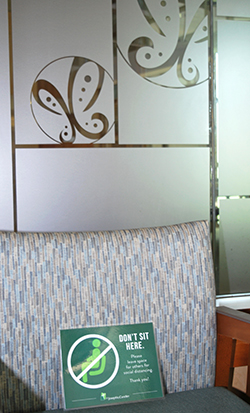 Visitation restrictions: We understand that undergoing cancer treatment is extremely difficult, and no one wants to do it alone. At the same time, we must take the necessary precautions to keep our cancer patients safe and that's why no visitors are allowed. This policy helps protect our cancer patients, which are among the most vulnerable to COVID-19, by limiting the number of people they come in contact with while in our facilities.
There is an exception for patients that have a mental or physical disability and need someone with them, says Pam Proman, administrator, operations and strategic initiatives at the LCRP. These caregivers also will be screened before entering the building. Additionally, no caregivers are ever allowed in the infusion suites, Proman says.
Social distancing: Throughout LCRP lobbies, signs have been placed in seats to encourage social distancing. We ask that you respect these signs and try to stay at least six feet away from other patients and caregivers.
Masking: Everyone in our LCRP buildings must wear a mask, including patients, caregivers and co-workers.
Cleaning: Both the Savannah and Bluffton LCRP buildings have dedicated housekeeping staffs, Proman says. They clean high touched surfaces frequently throughout the day and make sure all areas – from the elevators to the waiting rooms to treatment rooms – are sanitized and cleaned multiple times a day.
Communicating with caregivers: Since the majority of caregivers are not allowed inside, LCRP nurses and navigators are taking extra steps to communicate care. This may include walking outside to talk to a family member waiting in their vehicle or making extra phone calls just to ensure caregivers know and understand what's going on during their loved one's treatment.
Communicating with staff: Routinely, members of leadership and LCRP co-workers have COVID huddles. These meetings ensure staff has the latest information on policies and procedures and statistics in our geographical area, Proman says. "We call them COVID huddles with the leadership and the clinical team as needed just to keep everybody consistent and following the same guidelines."

Why all this is necessary
The LCRP has always taken a multidisciplinary team approach to cancer care. We want you to know you are not alone in your battle against cancer and that's why we employ a team of doctors, nurses and others from multiple disciplines to consider your every need – now including COVID-19.
If a patient tests positive for COVID-19, his or her team of healthcare providers will make a decision – individually based – on that patient's continuum of care, Buckovich says. They will consider all treatment options, such as telemedicine where the patient and physician can meet virtually.
As always, patients come first at St. Joseph's/Candler and the LCRP. You can trust that your cancer care team is taking all the necessary precautions to make the best decisions for each and every patient.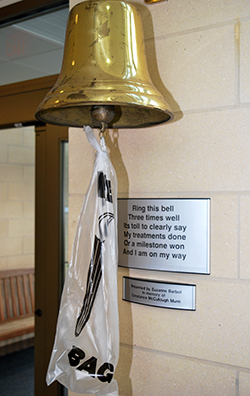 "We know it's important for patients to continue their care because treatment affects prognosis, and we want patients to get the best possible care and best possible outcome," Proman says. "Any delay of treatment can impact their cancer diagnosis, so we continue to provide our services to the public and also do so in a safe manner."
The Bell
We can't talk about the LCRP without mentioning The Bell. It's a tradition at the LCRP that when a patient is finished with treatment, he or she rings the bell beside the front entrance to celebrate. That tradition continues, just modified. The rope to ring the bell is covered in a sanitized plastic bag. Each time the bell is used, the bag is discarded and replaced with a fresh, clean bag. While no family or friends are allowed inside to celebrate with you, our staff will take photos or video with your phone to later share with loved ones.
Also in this series: