Five tips for getting your kids to exercise
COVID-19, Fitness
Jan 8, 2021
It's important to start physical activity at a young age, says St. Joseph's/Candler Wellness Center exercise physiologist

For many families, COVID-19 has created new "normal" routines. It may have left your child getting less and less physical activity.
While many of today's circumstances are out of our hands, physical activity is a vital part of staying healthy and should be included in everyone's daily routine.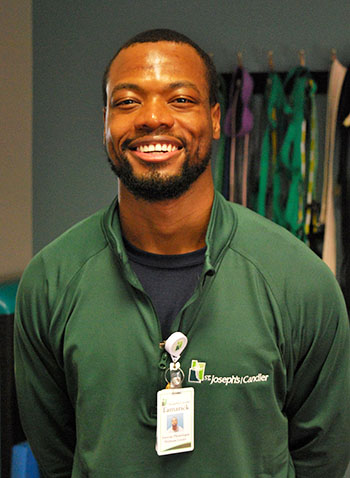 "Our bodies are made to move," says Tamarick Hardee, exercise physiologist at the St. Joseph's/Candler Wellness Center. "A lot of people overcomplicate it and think it's about going to the gym and doing a certain amount of cardio. It's not like that. It's about moving and creating activity, whatever that may be for you."
Encouraging healthy habits in your child is one of the best things a parent can do to try to guarantee a healthier life. Physical activity can help prevent heart disease, diabetes and stroke. Being active can help both kids and adults have healthier weights, less excess fat and stronger muscles and bones, not to mention better self-esteem and less stress.
The Department of Health and Human Services recommends kids ages 17 and under get at least 60 minutes of physical activity most days of the week. Adults should aim for 150 minutes a week.
One of the best ways to meet those goals? Work on them as a family.
"It starts not just with the kid, but the family," Hardee says. "It doesn't have to be intense, but if everyone gets on one page, that inspires the kid to get up and go."
Need help getting the kids off the electronics and into exercising? Here are five tips.
Group/family activities: It's easier and encouraging for everyone to do activities as a group, Hardee says. Arrange family walks every Saturday. Organize a socially-distanced game of kickball. Involve the entire family when preparing and cooking dinner.
Get active outside: Set limits to electronic time and encourage your children to get outside. They can ride bikes, skateboard or pick up a game of basketball. Savannah is full of parks that even on mild winter days can be safely utilized for physical activity.
Increase their chores: Hardee admits he's not going to be popular with the youth for this suggestion, but an easy way for your child to get active is through housework. Ask them to mow all or a portion of the yard or take the garbage out each day. Watering the plants, vacuuming or cleaning their room gets them moving also. "It doesn't have to be anything drastic, but that little activity is better than nothing."
Consider taking your kid to the gym with you: Physical activity doesn't have to come from a gym, but if your child is into weights or cardio machines, find out if he or she can come with you when you work out. At the St. Joseph's/Candler Wellness Center, youth 13 and older can work out when accompanied by a parent. Call us at 819-8800 for more details and pricing.
Make it a challenge: Who says sibling rivalry can't be healthy? Create small contests for your family. Who can climb the most stairs? Who's willing to walk the dog most often. You can make physical activity fun and rewarding with a few challenges.
"Activity can come in a lot of different ways," Hardee reminds us. "If you discover you want to lift weights, then great. If it's about walking around the neighborhood, then that's great too. It's about moving around and that comes in many different forms."