Cut Through The Chatter: Safety of the COVID-19 vaccine
COVID-19
Mar 19, 2021
Updated August 2021


Cut Through The Chatter is a special Living Smart series for those who may be hesitant to take or have questions about the COVID vaccine - especially those in the African-American and Latino communities who have been disproportionately affected by the disease or have a mistrust of vaccines. We want to share some facts to address those common concerns. Both physicians interviewed for this article have been fully vaccinated.

"It was developed too fast."
That is a top concern St. Joseph's/Candler primary care physician Dr. Lorraine McRae hears when she asks certain patients why they are hesitant to get the COVID-19 vaccine.
Patients should know that, yes, it was developed quickly, but these vaccines passed the same rigorous safety and effectiveness standards as other drugs.
"Red tape was not an issue. Money was not an issue. There was worldwide collaboration in developing these vaccines," Dr. McRae says. "Because all stops were pulled and with the need for this vaccine, scientists were able to develop it quickly."
But also safely, Dr. McRae adds.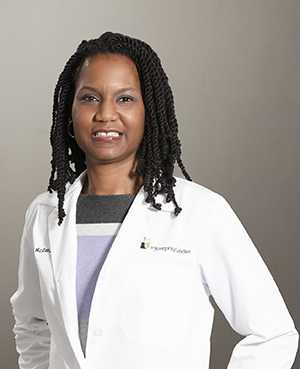 It's not just her patients. Many people, especially those in the African-American community, are concerned about the safety of the vaccine.
The medical community understands people's reluctance to get this vaccine, Dr. McRae says. However, the coronavirus is different because of how quickly it spreads, how deadly it's become and the unknown of future effects of the virus.
"Because of that, I strongly recommend you get the vaccine," Dr. McRae says. "People have expressed their dislike for the masks; their dislike for social distancing; and their dislike for being forced to stay in their homes and away from loved ones and friends. In order for those things to go away, we all need to be vaccinated."
Ensuring COVID-19 vaccines work
COVID-19 vaccines are being developed as quickly as possible. However, that doesn't mean they didn't go through rigorous testing. Routine processes and procedures remain in place to ensure the safety of any vaccine that is authorized or approved for use.
The COVID-19 vaccine was studied and tested in several phases, including clinical trials. Clinical trials provide data and information about how well a vaccine prevents an infectious disease and about how safe it is. Many medications, vaccines and medical treatments also are studied through clinical trials, and these trials often introduce better and safer methods to treat infectious diseases, cancers, chronic conditions and more.
The Food and Drug Administration (FDA) then evaluates the data from a clinical trial to assess the safety and effectiveness of the study. In this case, the FDA then decides whether to approve a vaccine or authorize it for emergency use in the United States.
As of August, the Pfizer vaccine has received full approval from the FDA for us. Moderna and Johnson & Johnson are still approved for emergency use in the U.S. These vaccines help our bodies develop immunity to the virus that causes COVID-19 without us having to get the illness, meaning there is no live virus in the vaccine.
COVID-19 vaccines have been held to the same rigorous safety and effectiveness standards as all other types of vaccines in the U.S. The FDA only approves or issues emergency authorization for COVID-19 vaccines if they meet these standards.
"If we are going to get back to life that is more open and interactive with others, then yes, we all need to get the vaccine, and it is safe to get it," Dr. McRae says.

Also in this series: