Vaccination & Visitation: When to wear a mask, socially distance or not
COVID-19
Apr 20, 2021
Infectious disease physician Dr. Ana María Concepción offers some scenarios to help you understand what protocols to follow
You're fully vaccinated. Now you are asking, "Is it safe to stop wearing masks and discontinue practicing social distancing?"
That varies from scenario to scenario, says Dr. Ana María Concepción, infectious disease physician.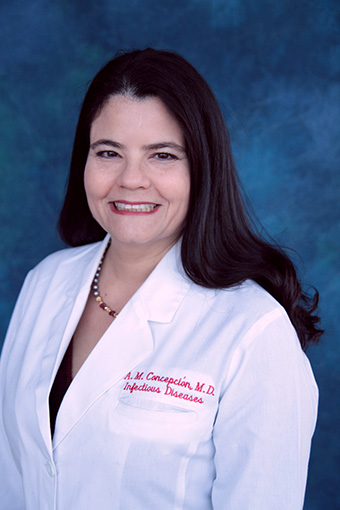 It's OK to: You are at home with your spouse and children. It's OK not to mask because that's considered your immediate family.
It's OK to: You are going to dinner at a friend's house. Everyone attending is fully vaccinated. It's OK not to mask.
It's OK to: You want to visit your aunt who is not vaccinated. You can gather indoors with unvaccinated people from ONE other household without masks as long as your aunt isn't also visiting with others unmasked and isn't at an increased risk from severe illness from COVID.
It's not OK to: You're grabbing lunch at a restaurant and then picking up a few groceries. Still wear a mask and practice social distancing. There's no way to know who's vaccinated and who is not.
"People who are fully vaccinated can interact amongst themselves without wearing masks or social distancing, but you need to know with confidence that those people are vaccinated," Dr. Concepción says. "There are still certain questions that we don't know the answer to. For example, we are not sure if it's a one-time vaccine or if we're going to need a booster."
For more examples of what you should and still should not do, visit the Center for Disease Control and Prevention's website here.
Fully vaccinated
You may have noticed we keep saying "fully vaccinated." People are considered fully vaccinated:
Two weeks after their second dose in a two-dose series (Pfizer or Moderna)
Two weeks after a single-dose vaccine (Johnson & Johnson)
Return to normalcy
Many believe, including Dr. Concepción, that vaccination is a way to return to some sense of normalcy. However, we need to remain patient and stay vigilant. While there have been millions vaccinated, there's still millions who have not, including children who are not eligible to receive vaccination.
"Ideally, we want to obtain herd immunity, but that's a difficult number to reach because there are a lot of people that are hesitant," Dr. Concepción says. "When we talk about the population, we have to include children, which are 24 percent of the population and a portion of the population that cannot be vaccinated yet."
So taking into account children who aren't vaccinated against COVID-19, to reach herd immunity, basically every adult would need to be fully vaccinated. Herd immunity is when enough people in the population (at least 65 to 85 percent) are immune to an illness; therefore, the illness cannot spread anywhere, Dr. Concepción explains.
For those waiting or still hesitant to receive the vaccine, Dr. Concepción wants you to know it's safe and effective. Pfizer and Moderna have an approximately 95 percent effectiveness rate against symptomatic disease, according to the pharmaceutical companies' websites and the Centers for Disease Control & Prevention.
Additionally, more than a million people a day in the United States are getting vaccinated, and no one has died. The side effects from the shot are usually minor – headache, fever, fatigue – and typically last a couple of days.
"You have to think, 'I'm protecting myself by getting this vaccine, but I'm also protecting those around me,'" Dr. Concepción says. "I'm protecting the weak who can't get vaccinated. I'm contributing to herd immunity, and I'm contributing to reaching a place where we can get back to normal again."
Ready to get vaccinated? Sign up for a St. Joseph's/Candler vaccination clinic located at a Savannah or Garden City area church.