Elaine Connor Named SJ/C's 24th Annual James R. Lientz Humanitarian
Oct 27, 2016
Elaine Connor spends all of her days recognizing and addressing the needs of Candler Hospital patients.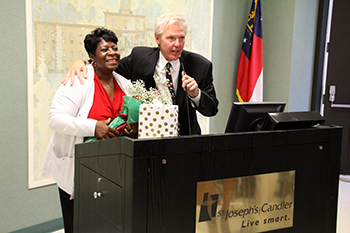 We now recognize this selfless co-worker as the 24th James R. Lientz Humanitarian for not only her work with patients, but the care and help she gives her fellow co-workers.
Connor is the Patient Advocate at Candler Hospital where she is routinely called in to talk to families in difficult and high-stress circumstances.
"Elaine deals with patients and their families at their absolute lowest time in their lives," said one co-worker who nominated her. "She makes them feel validated and heard. She helps them carve out solutions for their loved one's medical journey and teams with the nurses and Clinical Care Coordination, if appropriate, to come to a comfortable resolution."
The Lientz Award includes a $3,000 check, a cafeteria pass, a parking pass, a SJ/C watch, a massage certificate and the prestigious Lientz Pin. 99 co-workers were nominated for the honor this year.
Connor, who has worked for the health system for 30 years, received 12 nominations this year, the most in the history of the award.
What some of those said about Elaine Connor:
"There are not enough words to express how much she does for the employees in Candler Emergency Room. She is the epitome of a team player and a sweet person. I have watched her help patients, clean rooms and even take patients to the car."
"Daily she labors with compassion in her heart for all who enter St. Josephs/Candler. Ms. Elaine's warm smile and gentle spirit has soothed even the saddest of hearts. Rooted in God's love, Ms. Elaine teaches by example that no man is an island."
"Elaine Connor is a walking clinical exemplar. She is an excellent patient advocate and will go at any length to make sure a patient is protected or their best interest is met. She is a major resource to the health system."
"I found an employee in her car one day. I called Ms. Elaine and she went to immediately calling resources outside the hospital because the employee wanted to keep her name a secret. I spoke to the young lady a week ago and she said because of the assistance Ms. Elaine found she is no longer for now sleeping in her car and has been offered a apartment to get back on her feet."
About the Lientz Award:
Each year, St. Joseph's/Candler presents one co-worker with the award that reflects the humanitarian works of the late James R. Lientz, a former Candler Hospital Board Chairman and community activist. Recipients are nominated by their peers. A health system committee selects the recipient based on the candidate's exemplification of the health system's mission and values. The mission is "Rooted in God's love, we treat illness and promote wellness for all people." The values include compassion, quality, integrity, courtesy, accountability, and teamwork.