2016 St. Joseph's/Candler SmartWomen Luncheon & Expo Raised A Record $151,000
Dec 8, 2016
Annual event brings in inspiring speakers to raise money for the Telfair Mammography Fund
The 2016 SmartWomen Luncheon & Expo smashed records and raised $151,000 for uninsured and underinsured women to get the mammograms and breast health services they need.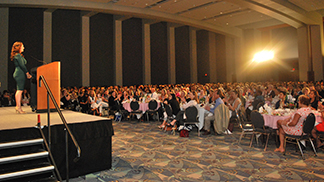 SmartWomen is an annual fundraiser for St. Joseph's/Candler's Mary Telfair Women's Hospital, which includes the Mammography Fund at Telfair Pavilion that provides mammograms and other breast care services for those who cannot afford those life-saving services.
"Last year the Telfair Mammography Fund paid for $148,000 in breast care services for uninsured and underinsured women," said St. Joseph's/Candler President & CEO Paul P. Hinchey. "The need is very clear. We do not want women skipping their mammograms because they don't have insurance. Thank you to the entire community for coming together and helping us raise these funds."
The SmartWomen Luncheon & Expo took place Sept. 21 at the Savannah International Trade & Convention Center. More than 1,400 people attended. The expo had 65 vendors and the event attracted 66 sponsors, including presenting sponsor Aetna.
Actress and health advocate Fran Drescher, best known for her portrayal as Miss Fine on CBS's hit series The Nanny, was the keynote speaker. As a 15-year uterine cancer survivor, she urged women to find positives in pain and to take control of their health and to advocate for themselves.
In our region, approximately 25 percent of the population is uninsured or underinsured. The goal of the Telfair Mammography Fund is to ensure that all women have access to mammography and other services, even if they have no insurance or high deductibles or copays. The SmartWomen Luncheon & Expo has raised hundreds of thousands of dollars for the Telfair Mammography Fund to meet this goal since its inception more than a decade ago.
Past years' luncheons have featured notable women such as Amy Grant, Dr. Jennifer Ashton, Marilu Henner, Joan Lunden, Giuliana Rancic, Leigh Anne Tuohy, Olympia Dukakis, Ellen Burstyn, Peggy Fleming, Ivana Trump, Erin Brockovich, Suze Orman and author Mary Kay Andrews.