SJ/C Partners With SCCPSS To Create Patient Care Technician Apprentice Program
Apr 26, 2018
Five students will work at least 20 hours a week in a variety of clinical departments
A new partnership between St. Joseph's/Candler and the Savannah-Chatham County Public School System will give high school students at Beach and Woodville-Tompkins the opportunity to receive paid on-the-job training as a Patient Care Technician.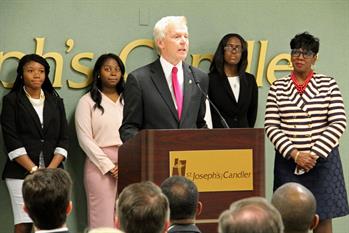 The PCT Apprentice Program will begin with five students in the first year. Students will come from two schools, Beach and Woodville-Tompkins, where they are already on the PCT track of the schools' workplace learning programs and are certified PCTs.
Students in the PCT Apprentice Program will:
Work at least 20 hours per week
Provide bedside care for SJ/C patients (including monitoring vital signs, assisting with meals or bedding, changing bandages, and other duties dependent on patient needs)
Receive the prevailing wage for a new PCT ($10-$12/hour)
Work in a variety of clinical departments and hospital units such as intensive care and outpatient surgery
Support and receive guidance from nurses and professional staff
As healthcare needs continue to grow along with an aging population, PCT's serve an essential role in hospitals and nursing homes, and the field is expected to continue growing. Similar to the City of Savannah's Summer 500 program, the PCT Apprentice Program was developed to give students a unique, hands-on experience in patient care under the guidance of Savannah's most dedicated healthcare professionals. SJ/C expects to invest up to $100,000 in this program, and is looking to expand its focus beyond clinical careers.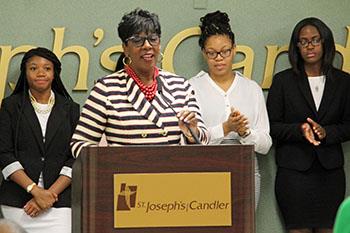 "At St. Joseph's/Candler we don't believe that treating illness is the only facet to building good health. It includes adequate housing, education and meaningful employment," said Paul P. Hinchey, President & CEO of St. Joseph's/Candler. "The PCT apprenticeship program represents a major investment into the education and a lifetime of employment for the youth in our community. We hope that this program will expand in the future and give many students the skills they need to embark on fruitful careers."
The 100 Black Men of Savannah will also partner in this program, providing the students with onsite mentoring, resume-building help, and assistance in finding and gaining future employment.
About St. Joseph's/Candler:
St. Joseph's/Candler is a 714-bed, Magnet-designated facility for nursing excellence, with a focus on the latest technologies and research. It is anchored by St. Joseph's Hospital and Candler Hospital. Its comprehensive network includes centers of excellence for oncology, cardiovascular, neurosciences, women's and children's services, orthopedics, pulmonary medicine and a variety of other disease specialties. SJ/C's Nancy N. and J.C. Lewis Cancer & Research Pavilion has been selected to be part of the National Cancer Institute (NCI), the NCI Community Oncology Research Program. St. Joseph's Hospital and Candler Hospital is a not-for-profit health system serving 33 counties in southeast Georgia and three in the South Carolina Low Country and is the largest and only faith-based institution in the region. For more information, visit www.sjchs.org.
About Savannah-Chatham County Public School System:
As the 10th largest public school system in the state of Georgia, the Savannah-Chatham County Public School System (SCCPSS) serves more than 38,000 students each year. The School District operates a system of schools for grades pre-kindergarten through twelve and employs 5,600 employees. Now with fifty-five school sites comprised of elementary, middle, K-8, and high school, SCCPSS offers a diverse range of academic options and programs. Students receive high quality educational experiences from highly qualified staff providing teaching and learning experiences that align with college and career readiness. Each year students from the public school system enter the world of work in business and industry or continue their educational aspirations at some of the most prestigious colleges and universities in the nation. SCCPSS boasts national and award winning schools, two National Blue Ribbon Schools, two Georgia Lighthouse Schools to Watch, three STEM Certified Schools, and a graduation rate that has surpassed the state average for three years in a row. To learn more about the Savannah-Chatham County Public School System or any of our exciting programs, please visit our website at www.sccpss.com, or follow us on Facebook and Twitter.