St. Joseph's/Candler Tops Off Pooler Medical Campus
Apr 30, 2018
Pooler, Ga. – The top beam was installed Monday on the first building at the St. Joseph's/Candler Pooler Medical Campus and the residents of Pooler are that much closer to advanced medical and surgical services in their backyards.
"The reality of this technologically-advanced medical campus tailored to what the residents of Pooler and West Chatham need is quickly becoming a reality," said Paul P. Hinchey, President & CEO of St. Joseph's/Candler. "We will soon be providing important medical services that they used to have to drive miles for."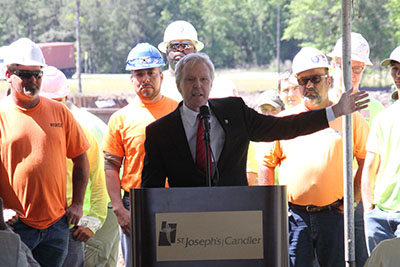 St. Joseph's/Candler is building a technologically advanced, concierge-level of service medical campus that will house surgical suites, many medical specialties, primary care, urgent care and more. The 220,000 square foot facility will have three phases and cost $62 million.
Key developments:
The first phase will open to the public March 2019.
A da Vinci Surgical System robot has been dedicated to the Pooler campus to provide surgeries that are minimally invasive with fast recovery times.
The first phase will feature two operating rooms and two endoscopy suites.
Metro Surgical and Gastroenterology Consultants of Savannah are the first specialty practices to commit to opening practices at the Pooler facility.
Construction is ahead of schedule.
When complete, the 220,000-square-foot facilities will contribute to Pooler's economic development by employing approximately 100 co-workers.
The tradition of the topping off ceremony
Topping off ceremonies are a traditional way of toasting the last or highest beam placed during building construction.
Monday, Hinchey and dignitaries from the St. Joseph's/Candler Board of Trustees and Pooler joined to celebrate the last beam set in place.
St. Joseph's/Candler has been in Pooler since 1992 and has expanded services to correspond to the growth of the area. In addition to a thriving primary care practice, St. Joseph's/Candler has built offices for specialty physicians and an advanced imaging center. But now is the time for a centralized campus and to take St. Joseph's/Candler's advanced services to the community.
The new 23-acre campus will be located on Pooler Parkway near the intersection with Interstate 16. The project will be multi-phased and built out over a ten-year period to create a multi-story, technologically advanced medical facility.
It will house offices for specialty and primary care offices in close proximity to key clinical services. The total estimated cost of the project is $62 million.
PHASE I
Phase I of the St. Joseph's/Candler Pooler Campus will be about 83,000 square feet and cost $35 million. It will open in early 2019 and house distinct medical offices and clinical services.
The medical office building will contain:
Primary Care Services
Urgent Care Services
Specialist offices
The clinical services portion will contain:
Advanced Imaging Services
Endoscopy
Outpatient surgery
Outpatient Physical Therapy Services
Pharmacy Services
Laboratory Services
Wellness Services
Community Education Services
Phase II will include:
Expanded primary care offices
Expanded specialty offices
Wound Care
Cardiac rehab
Occupational medicine
Diagnostic cardiology
Short stay observation beds
The St. Joseph's/Candler Pooler Campus fills a significant community gap in the rapidly developing Pooler area. Many of the housing subdivisions are completely built out and others are filling up.
St. Joseph's/Candler has been building a significant regional footprint – now with 87 provider locations spanning 33 counties in southeastern Georgia and South Carolina.