The 2019 St. Joseph's/Candler SmartWomen Luncheon & Expo Raises Record Amount
Nov 18, 2019
Annual event featured Taya Kyle as keynote speaker to a crowd of 1,400, with all proceeds going to the Telfair Mammography Fund
The 2019 SmartWomen Luncheon & Expo surpassed totals from all others in its 17-year history, raising $183,743 to help women who are uninsured or underinsured to receive necessary and potentially life-saving mammograms.
SmartWomen is an annual fundraiser for St. Joseph's/Candler's Telfair Mammography Fund, which provides mammograms and other breast care services for those who cannot afford them.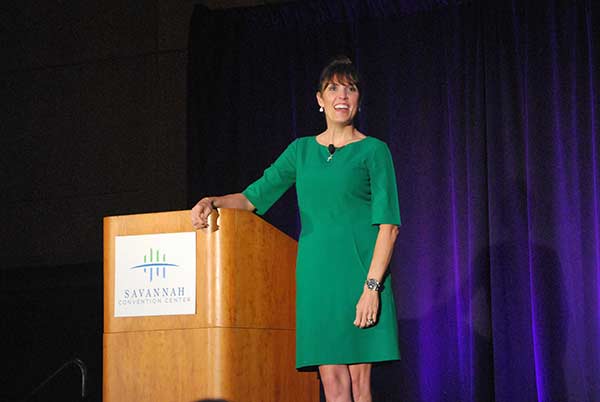 "The Telfair Mammography Fund is actually one that we love to see completely depleted each year, because that means that uninsured and underinsured women are getting their mammograms," said St. Joseph's/Candler President & CEO Paul P. Hinchey. "We do not want any woman in our region to miss getting their mammogram because they don't have insurance. Each year this event helps fill that fund back up again. I want to thank everyone who came and enjoyed this year's event, as well as all of our volunteers and sponsors who made it such a success."
The SmartWomen Luncheon & Expo took place October 2 at the Savannah International Trade & Convention Center. Author and community advocate Taya Kyle was the keynote speaker to an audience of 1,400.
Kyle wrote the New York Times bestselling autobiography, American Wife, which recounts the tremendous highs and lows in her unpredictable life as the wife and now widow of an American hero. Kyle is the widow of the late U.S. Navy SEAL sniper, Chris Kyle. The film American Sniper directed by Clint Eastwood and starring Bradley Cooper and Sienna Miller, as Taya Kyle, is based on their life. Kyle shared the stories that didn't make the movie screen, and much more, with plucky humor and courageous vulnerability.
"Hearing Taya Kyle's words of resilience, faith, and empowerment in the face of trauma and tragedy was absolutely inspirational to everyone in the room at this year's event," said Gaye Reese, Chairwoman of SmartWomen. "She understood how strong support can help women find courage, which is what this event is all about. Everyone—the attendees, sponsors, and volunteers—came together and made this happen so that women in our region can get mammograms, knowing that they will receive help and support regardless of their ability to pay."
In our region, approximately 20 percent of the population is uninsured or underinsured. The goal of the Telfair Mammography Fund is to ensure that all women have access to mammography and other services, even if they have no insurance or high deductibles or copays. The SmartWomen Luncheon & Expo has raised hundreds of thousands of dollars for the Telfair Mammography Fund to meet this goal since its inception more than a decade ago.
Past years' luncheons have featured notable women such as Jane Seymour, Anne Burrell, Fran Drescher, Amy Grant, Dr. Jennifer Ashton, Marilu Henner, Joan Lunden, Giuliana Rancic, Leigh Anne Tuohy, Olympia Dukakis, Ellen Burstyn, Peggy Fleming, Ivana Trump, Erin Brockovich, Suze Orman and author Mary Kay Andrews.