St. Joseph's/Candler and Chatham Emergency Services Forge New Partnership In Pooler
Jan 20, 2020
Agreement will improve emergency response times for the growing west Chatham area
St. Joseph's/Candler and Chatham Emergency Services have struck a partnership that will house ambulances at a strategic location in Pooler.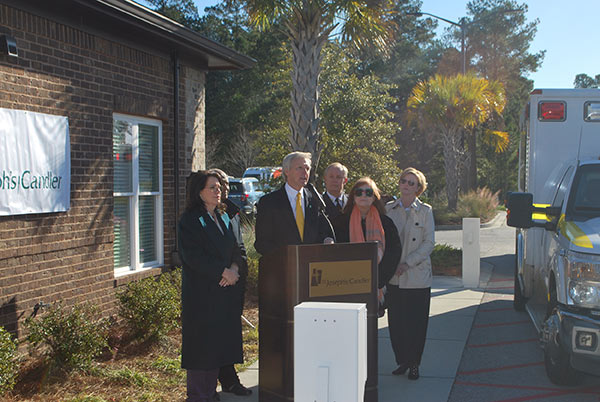 The result will improve emergency response times for the growing Pooler and west Chatham area. Ambulances will now have a base at the St. Joseph's/Candler Urgent Care – Pooler location at 107 Canal Street just off the main artery of Pooler Parkway.
St. Joseph's/Candler has been rapidly expanding in Pooler. Last year saw the opening of the first phase of the Pooler Campus, which houses a second Urgent Care location, near the Interstate 16 interchange with Pooler Parkway.
As the new Urgent Care location opened, it presented an opportunity to repurpose part of the location on Canal Street for EMS use.
After discussions and planning sessions, St. Joseph's/Candler renovated about 800 square feet to provide Paramedics and EMTs with quarters in that facility.
Additionally, power upgrades were made on the exterior of the building and in the parking area to house up to three ambulances.
"We've had a very long relationship with Chief Kearns and Chatham Emergency Services," said St. Joseph's/Candler President & CEO Paul P. Hinchey. "When our Pooler campus opened last year, we realized that they were growing quickly as well and we could come together to create even better services for the residents of Pooler and west Chatham."
Chief Kearns said, "This couldn't come at a better time for Chatham EMS. The growth in the area calls for this move, but more so now with the pending construction on I-95 and I-16. Road construction and the resulting temporary closing of overpasses will make it extremely difficult to get our paramedic ambulances between some areas of the county. We will now be able to launch ambulances from this location in Pooler along with locations in Bloomingdale, Port Wentworth and Garden City."
About St. Joseph's/Candler
St. Joseph's/Candler is a 714-bed, Magnet-designated health system for nursing excellence, with a focus on the latest technologies and research. It is anchored by St. Joseph's Hospital, Candler Hospital and the new Pooler Campus. Its comprehensive network includes centers of excellence for oncology, cardiovascular, neurosciences, women's and children's services, orthopedics, pulmonary medicine and a variety of other disease specialties. SJ/C's Nancy N. and J.C. Lewis Cancer & Research Pavilion has been selected to be part of the National Cancer Institute's Community Oncology Research Program. St. Joseph's/Candler is a not-for-profit health system serving 33 counties in southeast Georgia and three in the South Carolina Low Country and is the largest and only faith-based institution in the region. For more information, visit www.sjchs.org.
About Chatham Emergency Services
Founded in 1961, Chatham Emergency Services (CES) is a community-owned not for profit Fire and EMS agency. Chatham Emergency Services is committed to providing the highest level of emergency service to all of Chatham County. CES operates with a team of 450 personnel, both paid and volunteer, exemplifying safety and protection "for the community, by the community."