Candler Clays Event Raises Record Amount For Cancer Programs and Research
Mar 11, 2020
More than $195,000 will go to the Nancy N. and J.C. Lewis Cancer & Research Pavilion at St. Joseph's/Candler
The 18th annual Candler Clays Charity Shoot and Auction once again bested last year's record, raising $195,828 for St. Joseph's/Candler Foundations' Advancements in Cancer Care in Savannah, Bluffton, Hilton Head and surrounding regions.

The event has raised $1.5 million since its inception, benefiting the Nancy N. and J.C. Lewis Cancer & Research Pavilion at St. Joseph's/Candler.
"Across the country, a ringing bell signifies a meaningful milestone in a patient's cancer treatment - it means one of our patients has reached a milestone in his or her treatment such as surgery, radiation and chemotherapy, or the long-awaited end of treatment," said Patrick Hinchey, co-chair of this year's Candler Clays with Thomas Odom.
Mr. Hinchey referenced the importance of ringing the bell at the Lewis Cancer & Research Pavilion during his comments at the Live Auction event. He then invited those in attendance to ring their own bell to reach milestones to advance cancer care in this community.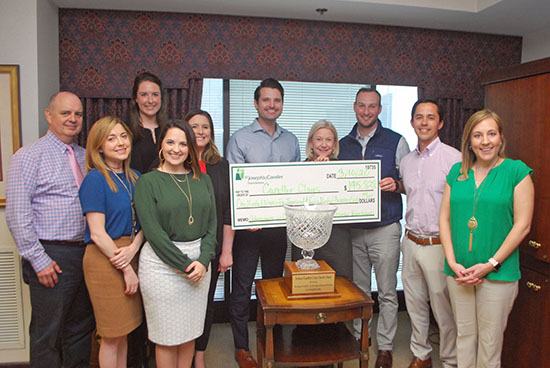 Left to Right: Dennis Reed, Kacey Ray, Katie Rudder, Gretchen Pearce, Adeline Taylor, Patrick Hinchey, Vernice Rackett, Thomas Odom, Ed Hissam, and Ashley DuBois
J.E. Dunn Construction was this year's presenting sponsor, and Mingledorff Family Trust was the platinum sponsor. Shooters and guests came from all over the region, as well as South Carolina and Louisiana to participate.
"The overwhelming revenue this year is attributed to the long standing support of the sponsors, as well as the 'sharp shooter focus' of the Candler Clays Committee, co-chaired by Patrick Hinchey and Thomas Odom," said Vernice Rackett, Executive Director of St. Joseph's/Candler Foundations. "The Committee worked creatively to secure avenues for increased donations. The St. Joseph's/Candler family also wants to express gratitude to Cindy Murphy for her tenured involvement with the hospital and Foundations. All these elements produced an over the top year."

Candler Clays is an annual two-day event combining a charity auction of items donated by local merchants and a clay shooting competition at the Forest City Gun Club. This year, 292 shooters on 73 teams competed.

Silver sponsors were Atlanta Consulting Group, Batson Associates, Inc., and Regions Bank. Critz Auto Group served as the Live Auction Sponsor. Reception sponsors were Albee Contracting and Hutson Plumbing.

Prizes were presented to the top male and female shooter as well as to 1st and 2nd place teams and Lewis Class C & B. The winners were as follows:

Teams
1st Place – Critz Auto Group
2nd Place – Servpro of Savannah
Lewis Class B – Chatham Engineering
Lewis Class C – Einar Trosdal Team
Individuals
Top Gun Male – Chat Gilmore
Top Gun Female – Janet Nickens
Top Gun Youth Male – Jim Reynolds Morrison
Top Gun Youth Female – Ella Whitley
Each year the event honors a survivor or memorializes someone who died of cancer.
A dedicated volunteer, a passionate advocate for women's health and an ardent supporter of faith-based, not-for-profit healthcare, Cindy Murphy has been a long-time champion of access to high-quality, high-tech, compassionate care in our community.
She has been connected to St. Joseph's/Candler since 1977 when she began her career as a social worker at Candler Hospital. In the late 1990s, she became actively involved in "Women on the Go," an event that ultimately evolved into the SmartWomen Luncheon & Expo. As a charter member of the group that launched this highly-successful annual fundraiser, Cindy has remained actively involved and had worked tirelessly to help thousands of women in our community facing health challenges.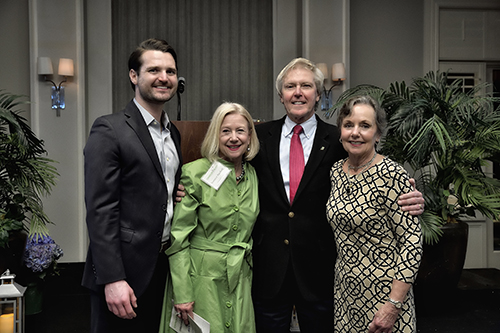 Left to Right: Patrick Hinchey, Vernice Rackett, Paul P. Hinchey, and Cindy Murphy
She joined the St. Joseph's/Candler Foundations Board in 1998, and currently serves as Chair of the Foundations. She also serves on the SJ/C Board of Trustees.
Cindy gained a new understanding and appreciation for those facing health challenges when she received her own breast cancer diagnosis in 2018. With the support of her husband, Walter, her three daughters and five grandchildren, Cindy faced her cancer diagnosis with the same determination, grace and dignity that she has utilized through the years to raise funds and awareness of the life-threatening disease.
Cindy has successfully come through treatment with a reaffirmed determination to help others, along with a new appreciation of the numerous staff members and clinical professionals at St. Joseph's/Candler and the Lewis Cancer & Research Pavilion who made her cancer journey a successful one.
Additionally, St. Joseph's/Candler would like to thank and recognize the 2020 Candler Clays Committee:
Patrick Hinchey, Committee Co-Chair
Thomas Odom, Committee Co-Chair
Anne Bone
Michael Bone
Ashley DuBois
Ed Hissam
Ellie McKenzie
Henry Minis
Kacey Ray
Dennis Reed
Heather Smith
Jeremy Summerell

About the St. Joseph's/Candler Foundations
The St. Joseph's/Candler Foundations support vital clinical programs, assist in the purchase of cutting-edge medical technology and enhance outreach programs designed to keep people in our community healthy. This important educational component helps our community be more proactive about their health and disease management.
Our current initiative, Advancing Excellence: Touching Lives, includes projects to enhance the patient experience by supporting the following areas of St. Joseph's/Candler:

Advancements at St. Joseph's Hospital, including emergency department expansion and The Heart Hospital.
Advancements in Cancer Care at the Nancy N. and J. C. Lewis Cancer & Research Pavilion.
Enhancements at the Mary Telfair Women's Hospital.
To learn more or to make a donation, visit
sjchs.org/foundations
.