St. Joseph's/Candler Urgent Care Now Offers Rapid COVID-19 Test
Nov 2, 2020
Rapid COVID-19 Test gives patients on-site results in 15 minutes
Updated Sept 2021
St. Joseph's/Candler Urgent Care is now offering 15-minute rapid COVID-19 tests at locations in southeast Georgia and Bluffton, SC.
COVID-19 testing is available to anyone who believes they may have been exposed to the virus or for those with symptoms. These rapid tests are now widely available at a crucial time in the COVID pandemic.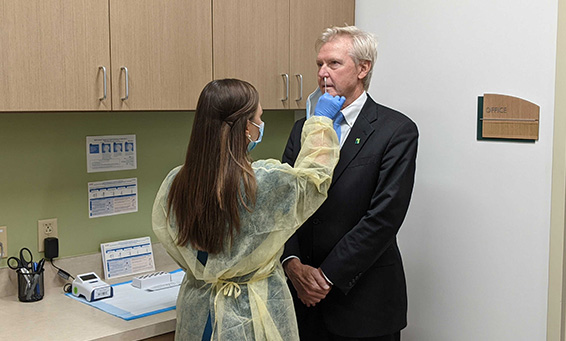 Rapid tests are important because it will give people actionable information quickly, either to get them back to work if they are negative or to allow them to isolate themselves from family and friends as they recover.
WHERE IS IT AVAILABLE?
At the St. Joseph's/Candler Urgent Care locations:
Savannah
361 Commercial Drive
Savannah, GA 31406
(912) 355-6221
Pooler at the St. Joseph's/Candler – Pooler Campus
101 St. Joseph's/Candler Drive, Suite 100
Pooler, GA 31322
(912) 737-2250
NOTE: COVID testing is not available at the Canal Street SJ/C Urgent Care location in Pooler.
Richmond Hill
13314 Highway 144 East, Suite C
Richmond HIll, Ga. 31324
(912) 910-2010
Rincon
5621 Hwy 21 South
Rincon, GA 31326
(912) 295-5860
Bluffton
3 Progressive Street
Bluffton, SC 29910
(843) 548-0533
Hinesville
780 East Oglethorpe Highway
Hinesville, GA 31313
(912) 385-0801
Statesboro
1096 Bermuda Run Road
Statesboro, GA 30458
(912) 871-5150
HOW MUCH DOES IT COST?
For self-pay patients, it will cost $160 and includes an exam.
However, most insurances will cover the entire cost of the test. Please consult your insurance provider for specific details.
WHY IS THE 15-MINUTE TEST IMPORTANT?
The 15-minute COVID test is extremely important to quickly get people back to their everyday lives or even their jobs. They no longer have to wait two, three or even seven days to get a result.
Also, with a quick positive test people can make sure they are properly protecting themselves from other people and their loved ones.
It's important to note that people should still exercise proper protections, mask and social distance.
SAFETY
St. Joseph's/Candler Urgent Care is always committed to providing a safe clinical environment adhering to all CDC COVID-19 safety guidelines. Additionally, our staff maintains strict protocols including:
Masks Required
Strict Cleaning and Disinfection Processes at Clinics
Seating and Floor Marking to Ensure Social Distancing
Temperature and Symptom Checks
Patients with COVID-19 symptoms are immediately isolated and treated according to CDC guidelines. To learn more about COVID-19 safety and testing recommendations go to www.sjcurgentcare.com.