SJ/C and Liberty Regional Create New Cancer Program In Hinesville
Jan 14, 2021
Partnership between Liberty Regional Medical Center and St. Joseph's/Candler will bring the latest treatments to Liberty County
Liberty Regional Medical Center and the Nancy N. and J.C. Lewis Cancer & Research Pavilion at St. Joseph's/Candler have partnered to create a new oncology program to deliver the latest treatments to Liberty County cancer patients.
This new partnership was fueled by the commitment of the Liberty community who came together to raise more than $400,000 to bring in needed chemotherapy and medical oncology services. But it also fits perfectly with the Lewis Cancer & Research Pavilion's longstanding goal to bring the best cancer treatments to people where they live.
The fundraising drive resulted in a new oncology space on the Liberty Regional campus and the recruitment of Dr. Ajaz Bulbul, who is board certified in both oncology and hematology and will serve as the medical director.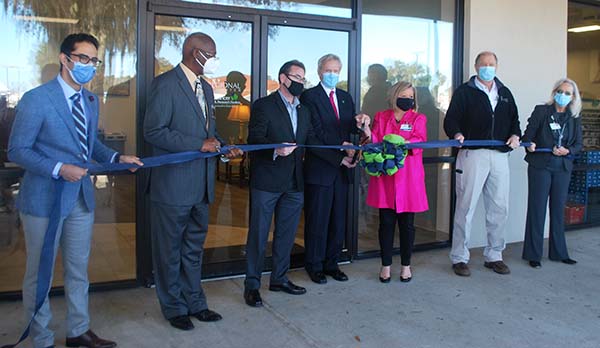 "Liberty Regional has had the vision for an Oncology Program for some time now," said Tammy Mims, CEO of Liberty Regional Medical Center. "It's exciting to see this project coming to fruition which will allow us to better fulfill the needs of our community. Not only will we provide evidence-based cancer care right here at home, but have the benefits of clinical trials, the expertise of a Medical Oncologist and other significant resources readily available in this area."
This program will benefit from the expertise of the National Cancer Institute's Community Oncology Research Program (NCORP), which the Lewis Cancer & Research Pavilion has been a part of for more than six years.
"This is an ideal match for St. Joseph's/Candler because it allows us to bring the latest treatments and clinical trials to smaller regional communities, which is the whole goal of NCORP," said Paul P. Hinchey, President & CEO of St. Joseph's/Candler. "Joining with Liberty Regional Medical Center will make a stronger cancer program for everyone and allow patients to get the treatment they need without the need for significant travel."
The programs will work collaboratively with the medical staffs at both hospitals to build a robust cancer program for the future by using the expertise of local specialists at Liberty Regional and the experience of the programs and expertly trained team at the Lewis Cancer & Research Pavilion. The centerpiece of the Lewis Cancer & Research Pavilion model are the Clinical Effectiveness Teams who meet regularly to assure best practices in treatment regimens offered. Physicians in Liberty will have opportunities to present cases for multi-disciplinary discussions with physicians in Savannah for individualized treatment plans. Dr. Bulbul and other Liberty Regional specialists as appropriate will be part of those teams for the benefit of his Liberty County patients.
Clinical Effectiveness Teams are comprised of physicians with related specialties and support personnel who meet regularly to review individual cases. St. Joseph's/Candler has multidisciplinary teams for the following areas:
Breast Cancer
Gastrointestinal (GI) Cancer
Genitourinary (GU) Cancer
Gynecologic Oncology
Head and Neck Cancer
Neuro-Oncology
Skin/Melanoma
Thoracic (Lung) Cancer
"I've worked to deliver quality cancer treatment in rural settings for a good part of my career and I've seen how effective it can be for patients to be treated near home and not have to travel," said Dr. Bulbul. "It's exciting to work for health systems who see this also and to be able to build this practice for the benefit of the Liberty County community."
The new Infusion Services practice will be permanently located on the Liberty Regional campus in a space that is currently being remodeled. A temporary space that will be used through the spring will be located at 229 General Screven Way, Suite H-1, Hinesville, GA 31313.
This practice will house space for chemotherapy and infusion services, a clinic for Dr. Bulbul and an area for the highly-trained and experienced chemo pharmacists from the Lewis Cancer & Research Pavilion to mix the chemo drugs.
ABOUT DR. BULBUL
Dr. Ajaz Bulbul joins St. Joseph's/Candler's Nancy N. and J. C. Lewis Cancer & Research Pavilion to serve as the Medical Director for the Liberty Regional Medical Center--St. Joseph's/Candler partnership to provide hematology and medical oncology services for Hinesville and surrounding communities.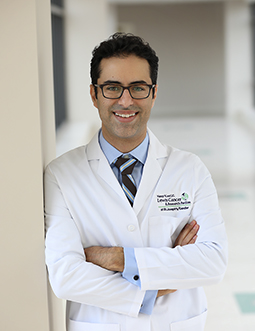 Dr. Bulbul is triple board-certified in Internal Medicine, Hematology and Medical Oncology. He received his undergraduate degrees in Medicine and Surgery from the University of Jammu in India. Dr. Bulbul completed his medical residency in Internal Medicine at the University of Southern California (USC). He was then accepted to the prestigious USC Norris Comprehensive Cancer Center for a Hematology and Oncology Fellowship, subsequently graduating as the Chief Hematology Fellow. He is an acting Adjunct Assistant Professor for Internal Medicine, Hematology and Oncology for Texas Tech University where he serves as faculty and preceptor for residents and medical students. He is also an Assistant Professor for Internal Medicine, Hematology and Oncology for the University of New Mexico.
Dr. Bulbul has authored more than 50 publications and presented at major international conferences around the world. His research on desmoplastic small round blue cell sarcomas has led to the discovery of new targets for its treatment. He has written expert commentaries in treating lung cancer and targeting these cancers with precision therapies. Additionally, he has published and presented on breast cancer, kidney cancer, immunotherapy, benign and malignant blood disorders among other publications.
Dr. Bulbul has spent 7 years building oncology practices and programs, especially in rural settings. He worked in multiple capacities from sole provider to medical director roles and built the framework for quality care, evidence based practice, and access to research. Nationally, he serves on the American Society of Clinical Oncology's steering committee for rural medical oncology where he works to develop best practices in care.
Prior to joining the Nancy N. and J. C. Lewis Cancer & Research Pavilion, Dr. Bulbul served as Medical Director for the Division of Hematology/Oncology, New Mexico Hematology and Oncology Specialists at Artesia General Hospital.