St. Joseph's/Candler Honors David Lambert As 2020's James R. Lientz Humanitarian
Mar 1, 2021
When David Lambert heard there was an electrical problem in the Candler Hospital boardroom, he did what he is known for—dropping everything to go make it right. That commitment and enthusiasm is why St. Joseph's/Candler President & CEO Paul P. Hinchey was there waiting for him. Not to show Lambert a problem, but for the real reason he was asked to be there—to receive the 2020 James R. Lientz Humanitarian Award.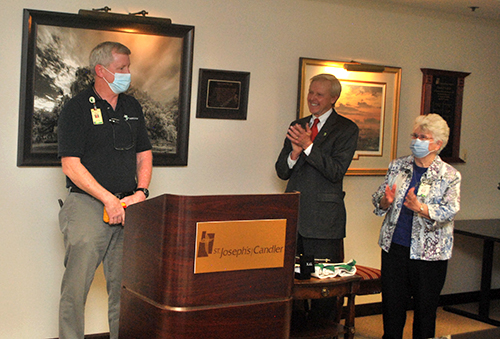 "David is a personal inspiration to me and everyone he works with," Hinchey said after presenting the award to a visibly-surprised Lambert. "His positive attitude lifts the entire boat, so to speak, of this health system."

The Lientz Award is traditionally given in the fall of each year, but as with many other traditions in 2020, this annual celebration had to be paused while St. Joseph's/Candler continued to meet the challenges of the COVID-19 pandemic. Instead of the typically large ceremony in Candler Hospital's Marsh Auditorium, the surprise announcement was made among a small group in the Candler boardroom. Lambert's family was also able to be there to see him receive this prestigious honor.
Lambert started at St. Joseph's/Candler as an electrician in Plant Operations nearly 28 years ago. He later became Team Leader but, in keeping with his humble nature, was quick to acknowledge his co-workers upon receiving the award.

"This goes out to everyone in my department," he said. "I am grateful and blessed to be working with a great group of people."
Lambert was among 75 co-workers nominated by his peers for the award, named for the late James R. Lientz, a former Candler Hospital Board Chairman and community activist well known for his humanitarian work. Mr. Lientz served as a Trustee of Candler Hospital since 1959, as Chairman of the Board of Trustees from 1970 to 1991, and as Chairman of Candler Health System Board of Trustees from 1985 to 1992.Along with his service to St. Joseph's/Candler, Lientz took a leadership role in many Savannah organizations including the Georgia Infirmary, the Health Planning Council of Savannah, and United Way of the Coastal Empire.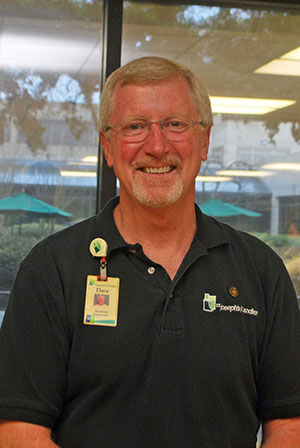 As the 2020 recipient of the Lientz Award, Lambert received a $3,000 honorarium, a one-year parking pass in the location of his choice, a one-month cafeteria meal pass, a gift certificate for a 60-minute massage at SJ/C's Center for WellBeing, a St. Joseph's/Candler watch and the Lientz plaque and pin.
Co-workers who nominated Lambert had this to say:
"I encourage you to spend five minutes in his presence. There, you'll see the values of our health system in everything he does. He exemplifies the character of Mr. Lientz at all times, yet is a very humble person. Expect him to turn a hundred shades of red when he discovers this year's award has his name on it."

"Dave is always looking for ways to serve others and enjoys finding solutions to intricate issues and making those solutions work."

"He has an incredible positive attitude and is zealous in the way he seeks to assist others. He will stop and help anybody do anything and any given time."