Candler Clays Event Raises More Than $190,000 For Cancer Programs and Research
Apr 15, 2021
The funds will go to the Nancy N. and J.C. Lewis Cancer & Research Pavilion at St. Joseph's/Candler, adding important funding for nurse navigators during the COVID-19 pandemic
The 19th annual Candler Clays Charity Shoot and Auction raised a remarkable $190,367 for St. Joseph's/Candler Foundations' Advancements in Cancer Care in Savannah, Bluffton, Hilton Head and surrounding regions.
The event has raised $1.6 million since its inception, benefiting the Nancy N. and J.C. Lewis Cancer & Research Pavilion at St. Joseph's/Candler.

"Candler Clays enjoys a loyal following of its major sponsors, committee, volunteers and attendees," said Vernice Rackett, Executive Director of the St. Joseph's/Candler Foundations. "The Live Auction and Clay Shoot were executed this year with thoughtful consideration of the safety and wellbeing of all participants ensuring that COVID protocols were in place. People truly gathered in the spirit of gratitude and giving back to support the Nurse Navigation Program and support services for the cancer patients we treat."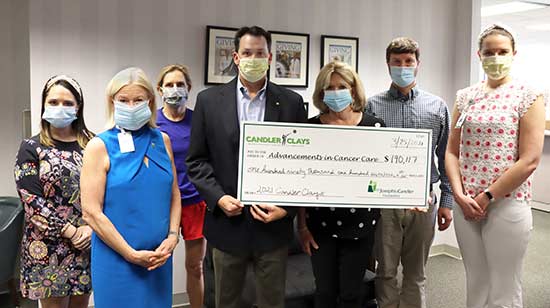 Under the dynamic leadership of Anne Bone and Michael Bone, co-chairs of this year's event, the annual Fund A Need portion of Candler Clays raised a record $47,500 for the Nurse Navigation program. Nurse navigators help cancer patients through their journey by coordinating appointments, keeping up with treatments and communicating. During the COVID-19 pandemic they have been exceptionally busy. The money raised this year will fund these navigators and help patients through an even more difficult time than usual.

J.E. Dunn Construction was this year's presenting sponsor, and Mingledorff Family Trust was the platinum sponsor. Shooters and guests came from all over the region, as well as South Carolina, and Massachusetts to participate.

Candler Clays is an annual two-day event combining a charity auction of items donated by local merchants and a clay shooting competition at the Forest City Gun Club.

Silver sponsors were Atlanta Consulting Group, Batson Associates, Inc., and Regions Bank. Critz Auto Group served as the Live Auction Sponsor. Reception sponsors were Water Utility Management and Hutson Plumbing.

Prizes were presented to the top male and female shooter as well as to 1st and 2nd place teams and Lewis Class C & B.

Winners:

1st place: Team Forest City: Gracie, Ella, & Lee Whitley & June McKenzie
2nd place: Tie: First Chatham Bank & Chatham Engineering
Lewis B: United Community Bank
Lewis C: Brennan, Wasden, and Painter
High Male: Tim Murray - 50
High Female: Kathy Warden - 47
Female Youth: Ella Whitley - 42 (3rd year in a row)
Male Youth: Drake Cooper - 44
Each year the event honors a survivor or memorializes someone who died of cancer.

Our honoree for the 19th annual Candler Clays Charity Shoot is the late Carolyn Johnson Trosdal (12/17/50 – 7/7/14). She was married to her husband, Einer Trosdal, III, for 33 years and had three children, Katherine, Storm and Richard.

A native of Savannah, she attended Savannah Country Day School and graduated from Jenkins High School. She received her Bachelor of Arts degree in Psychology and her Master's degree in Social Work from Boston University.

Carolyn began her career in Boston as a social worker assisting cancer patients and their families. When she returned to Savannah in 1980, she continued her work helping patients and their families at Coastal Dialysis Clinic. After staying home to raise her three children, she returned to work as a financial advisor for two family businesses. She retired in 2010.

Carolyn's devotion to family and community over the years led her to participate in many civic organizations. She served on the Board of Directors of SAFE Shelter in Savannah, a local program which provides confidential services to all victims of domestic violence. Carolyn was actively involved in the leadership of The Church of the Cross in Bluffton, South Carolina.

In 1998, she joined the Rotary Club of Savannah and became involved with the Rotary Foundation. In 2000, she led the club in raising funds in support of worldwide polio eradication. In 2005, through Rotary, she orchestrated the construction of a water well in one of the most impoverished areas of Afghanistan, later served on the Rotary Board of Directors and in 2009 started the annual Rotary "Play it Forward" event, a fundraiser for the Foundation. The district leadership recognized her in 2009 for her visionary leadership and unwavering dedication to Rotary International.

Carolyn's legacy will be a source of joy and inspiration to her family and friends. As Mimi to her grandchildren, Carolyn brought to life a distinctive creativity and innovative thinking which is still apparent when the 10 cousins reunite. Her colorful and often unpredictable whimsy and her resolve to choose joy, no matter the circumstance, imprinted on her family, her friends and even her acquaintances.

Additionally, St. Joseph's/Candler would like to thank and recognize the 2020 Candler Clays Committee:
Anne Bone, Committee Co-Chair
Michael Bone, Committee Co-Chair
Ashley DuBois
Patrick Hinchey
Ed Hissam
Sam Lewis
Ellie McKenzie
Henry Minis
Thomas Odom
Dr. Gabe Pitt
Kacey Ray
Dennis Reed
Hal Richards
Jeremy Summerell

About the St. Joseph's/Candler Foundations

The St. Joseph's/Candler Foundations support vital clinical programs, assist in the purchase of cutting-edge medical technology and enhance outreach programs designed to keep people in our community healthy. This important educational component helps our community be more proactive about their health and disease management.

Our current initiative, Advancing Excellence: Touching Lives, includes projects to enhance the patient experience by supporting the following areas of St. Joseph's/Candler:

Advancements at St. Joseph's Hospital, including emergency department expansion and The Heart Hospital.



Advancements in Cancer Care at the Nancy N. and J. C. Lewis Cancer & Research Pavilion.
Enhancements at the Mary Telfair Women's Hospital.
Wellness Education and Community Outreach.
To learn more or to make a donation, visit www.sjchs.org/foundations.