St. Joseph's/Candler presents the 28th Annual McAuley Award to Linda Youth
May 28, 2021
After a year volunteering at St. Joseph's/Candler through the Mercy Volunteer Corps, Linda Youth couldn't imagine doing anything else. So she became a co-worker at SJ/C's St. Mary's Community Center. She quickly earned a reputation as a kindhearted and tireless problem-solver, supporter of those in need, and friend. For exemplifying the mission and values of St. Joseph's/Candler throughout her 10-year career in the health system, Youth is the recipient of the 28th Annual McAuley Award.
St. Joseph's/Candler President & CEO Paul P. Hinchey made the announcement at a special outdoor ceremony at St. Joseph's Hospital. He shared the story of how this New Yorker felt called back to Savannah after a year as a Mercy volunteer.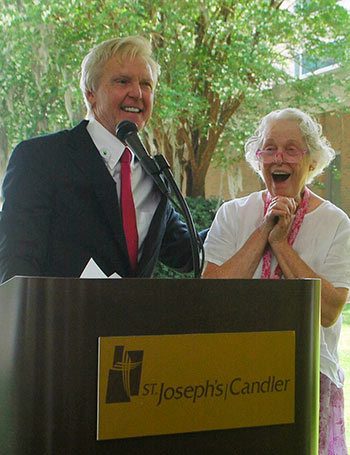 "She loved what we were all about, and enjoyed helping others so much at St. Mary's Community Center that she moved back and took a permanent job," he said. "And our entire community is so much better for it."

Youth serves as the St. Mary's Community Center Coordinator. The many ways she helps those who come into the center is too long to list here, but some of the most crucial include grocery shopping and picking up prescriptions, scheduling doctor's appointments and making sure patients have rides to them, helping clients look for housing, and working into the night every winter to help clients fill out and submit tax forms.

"Her senior ladies absolutely love her and depend on her," a co-worker wrote for Youth's nomination. "She endears herself to people and simply must help them!"

The McAuley Award is presented annually to the one St. Joseph's/Candler co-worker who best exemplifies the mission and values of the health system. The award is named in honor of Catherine McAuley, who founded The Sisters of Mercy in the hopes of bringing education, healthcare, social justice, and spiritual guidance to those in need.

This year, 58 St. Joseph's/Candler co-workers from 38 different departments were nominated by their peers for the distinguished honor. The health system values upon which the nominations are based are compassion, quality, integrity, courtesy, accountability and teamwork.

As the 2021 McAuley Award recipient, Youth's name and image will appear on the bronze McAuley plaque displayed in the lobbies of St. Joseph's Hospital and Candler Hospital. She will receive a $3,000 honorarium, a one-year parking pass in the location of her choice, a one-month cafeteria meal pass, a gift certificate for a 60-minute massage at our Center for WellBeing, a St. Joseph's/Candler watch and the McAuley plaque and pin.

About Linda Youth

As a widower with grown children, Youth joined the Sisters of Mercy Volunteer Corps. The corps was founded by the Sisters of Mercy in 1978 to place and support volunteers in poor or marginalized areas of the U.S. and South America for one year of service. Youth was sent to Savannah to help at St. Joseph's/Candler's St. Mary's Community Center and lived simply with other Mercy volunteers. She returned to Long Island, NY, after her yearlong service ended. But after about three months, she was ready to come back and serve as a full-time co-worker.

Youth is especially loved by the seniors from the Cuyler-Brownsville neighborhood who depend on the services offered at St. Mary's Community Center. She schedules doctor's appointments for her clients, and they often ask her to accompany them so they understand what is being said. She reads their mail to them, helps pay their bills, and helps them find resources for housing and other needs. Youth also visits her clients who are now in nursing homes, continuing to be their advocate if needed or just visiting to cheer them up.

What Her Co-Workers Said About Her:

"Ms. Linda is just good through and through. So much so, that most of the people who come into the center think that she is a Sister of Mercy. I love when they come in and ask for Sister Linda. She just corrects them, smiles and somehow figures out a way to solve their problem."

"Linda gives generously of self with no thought of personal sacrifice. She will always put another first. She always looks to figure things out, research or do whatever to make things better. If things aren't better then she must keep trying!"

"She is a role model for everyone, and if there were more people like her, there wouldn't be nearly the problems we have in the world."