St. Joseph's/Candler and the Development Authority of Bryan County Working Together to Bring Healthcare Services to North Bryan County
Sep 30, 2021
St. Joseph's/Candler has submitted a purchase agreement to Bryan County to buy six acres of land near the I-16/Highway 280 interchange in the Interstate Centre Industrial Park.
The purchase will allow St. Joseph's/Candler to offer healthcare services that can expand and evolve to meet the health care needs of a growing community. This parcel will enable SJ/C to establish a compact but comprehensive medical office building (MOB) initially that can grow up to 40,000 square feet. It will house services that are very important for healthcare needs of a growing population of employers, employees, families, and the expanding communities in Northern Bryan County, Western Effingham County, and Southern Bulloch County.
In addition, it will also house convenient office space for the Bryan County Development Authority for use in marketing the recently acquired 2,200-acre Mega Site.

Interstate Centre Industrial Park is situated right next to the Mega Site, recently acquired by the Savannah Harbor I-16 Corridor Joint Development Authority. The Interstate Centre Industrial Park is already home to a group of thriving companies. St. Joseph's/Candler is one of the first to announce development in the area since the Mega Site was purchased.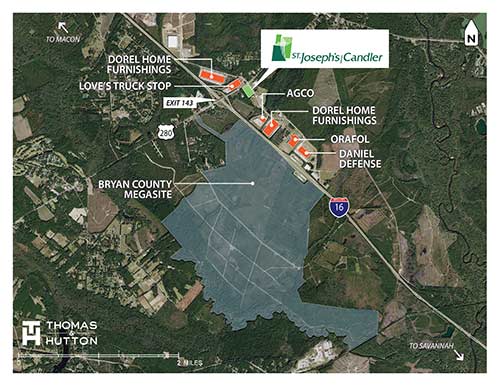 ABOUT THE ST. JOSEPH'S/CANDLER DEVELOPMENT

Phase 1 of the plan will involve the development of an initial two-story, 20,000 square foot building in a location that minimizes travel and subsequent time away from family, work or community activities. The preliminary timeline for completion is first quarter of 2024. The estimated total future investment is approximately $40 million dollars.

The first floor will likely house:

Primary care
Urgent care
Occupational medicine
Certain in-demand specialties
Additional clinical services may include basic diagnostic services (including lab access), disease management and wellness programs, pre-surgical testing services, and clinical navigation services to expedite patients' access to any level of care needed.

MORE THAN MEDICAL

Phase 1 will also include office and meeting room space for the Development Authority of Bryan County (DABC). Strategically located in an area of rapid industrial growth, this space will allow the DABC to meet with potential partners in a location convenient to various proposed developments, including the Mega Site recently acquired by the Savannah Harbor I-16 Corridor Joint Development Authority.

WHY THIS IS IMPORTANT

"In addition to making healthcare more accessible for the people working and living in and around Interstate Centre, St. Joseph's/Candler's new facility will make the area more attractive to prospects interested in potentially opening a new facility," said Jon Seagraves, chairman of the DABC. "Having office and meeting space in the new facility for our staff will also make meeting with these prospects a more streamlined and efficient process. This facility will be a great asset both for the community and the DABC, and we are excited to begin our new partnership with St. Joseph's/Candler."

This property dovetails with St. Joseph's/Candler's mission to bring access to healthcare to where people live and work.

"St. Joseph's/Candler has worked very hard in recent years to identify areas of our community who need more access to healthcare services," said St. Joseph's/Candler President and CEO Paul P. Hinchey said. "This particular portion of Bryan County has been part of our growth and access strategy for some time. When we approached the DABC about our vision for the area, it became clear that they shared the same vision and enthusiasm as us for the project. We are very excited to partner with them to meet the health care needs of employers and residents of that area and the added benefit of having the DABC in our building is a win/win for all. It will create the opportunity for even greater synergy and partnership in the future."

The development of the property will require rezoning from industrial use to commercial use. This application has been submitted.