St. Joseph's/Candler Honors Laura Floyd As 2021's James R. Lientz Humanitarian
Oct 20, 2021
She's been nominated several times before. But this time Laura Floyd is going home with the prize.
Floyd is the recipient of the 2021 James R. Lientz Humanitarian Award. She was chosen among 86 nominees for the award, which recognizes an outstanding display of the health system's mission and values as well as humanitarian efforts that reflect the life of former Candler Board Chairman James R. Lientz.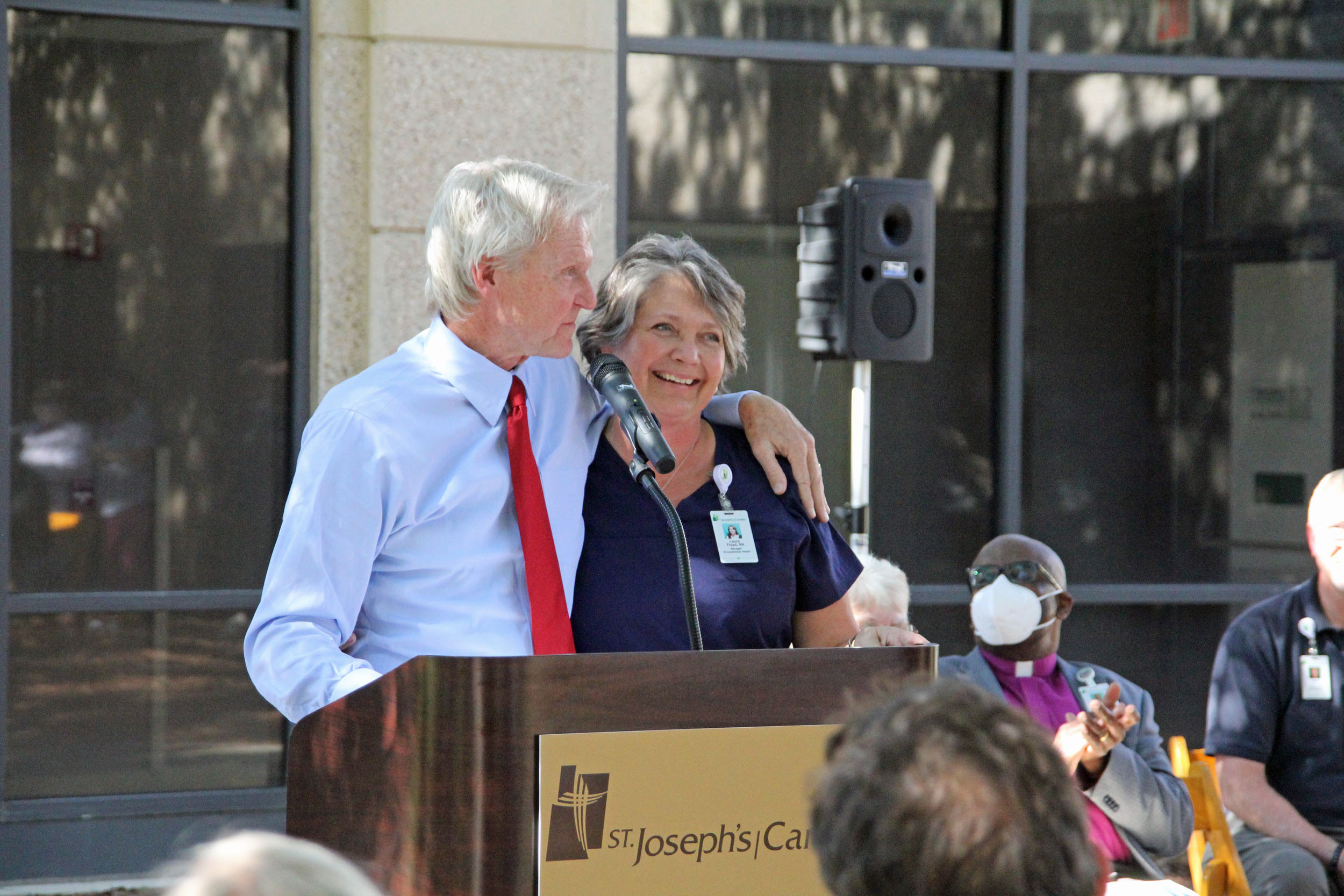 SJ/C President & CEO Paul P. Hinchey made the announcement during a ceremony in Candler Hospital's Telfair Garden.

Floyd is an RN and Certified Occupational Health Nurse who serves as the Manager of Occupational Health Services for SJ/C. She is already well known for handling this essential role—managing the health and safety of the thousands of co-workers at SJ/C—with grace, courtesy, patience and kindness. But the needs of co-workers in the wake of the COVID-19 pandemic took her responsibilities to a new level. She helped to make sure every co-worker was educated on the vaccine and was able to receive theirs in a timely manner. The task was huge and multi-faceted, but Floyd did much more than helping with logistics. Her team witnessed her helping individual co-workers who had questions, who were scared, and who felt like they didn't know what to do next, all with an unyielding professionalism and compassion.

"When we needed answers," one co-worker said in a nomination, "she was there."
Floyd's co-workers also know that she is heavily involved in her children's school and church activities, but does so humbly and behind-the-scenes, never seeking credit. Another nomination for Floyd described her as "a quiet ambassador to the way we all need to approach life."

Floyd was among 86 co-workers nominated by her peers for the award, named for the late James R. Lientz, a former Candler Hospital Board Chairman and community activist well known for his humanitarian work. Mr. Lientz served as a Trustee of Candler Hospital since 1959, as Chairman of the Board of Trustees from 1970 to 1991, and as Chairman of Candler Health System Board of Trustees from 1985 to 1992. Along with his service to St. Joseph's/Candler, Lientz took a leadership role in many Savannah organizations including the Georgia Infirmary, the Health Planning Council of Savannah, and United Way of the Coastal Empire.

As the 2021 recipient of the Lientz Award, Floyd was given a $3,000 honorarium, a one-year parking pass in the location of her choice, a one-month cafeteria meal pass, a St. Joseph's/Candler watch and the Lientz plaque and pin.

Co-workers who nominated Floyd had this to say:
"Laura's presence and persona is one that inspires everyone around her to excel in their jobs, never wavering to do what it takes to provide excellent care and treatment for all people."

"In a nutshell, she is a great example of what our health system is all about. She is kind, compassionate, cooperative, courteous, accountable, and works extremely well with others."

"Laura is a true caregiver at her core, always going beyond the duties of her position, and living out the deep calling of her profession."