St. Joseph's/Candler Brings Cancer Treatment to Pembroke Area
Dec 16, 2021
New infusion center will offer cancer treatment closer to home for residents of Pembroke, Statesboro and surrounding communities.
The Nancy N. and J.C. Lewis Cancer & Research Pavilion at St. Joseph's/Candler celebrated the opening of a new cancer treatment center in Pembroke on Wednesday, bringing the latest oncology infusion treatments closer to home.
"We are particularly excited about expanding cancer care in Pembroke," said Paul P. Hinchey, President & CEO of St. Joseph's/Candler, during an open event for the practice Wednesday. "We wanted to bring cancer treatment closer to home, because getting chemotherapy for hours at a time and then having to drive a long distance home is exhausting."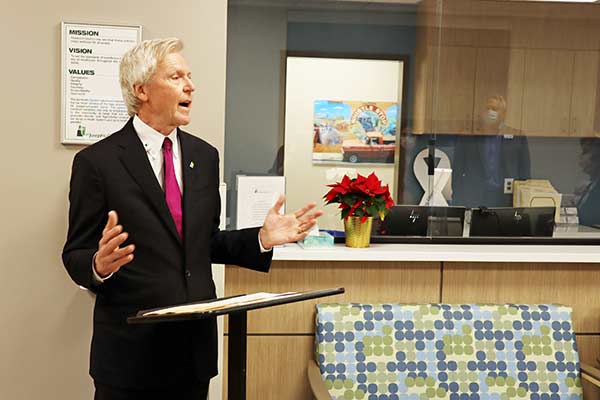 The Pembroke program will benefit from the expertise of the National Cancer Institute's Community Oncology Research Program (NCORP), which the Lewis Cancer & Research Pavilion has been a part of for more than six years.
Summit Cancer Care is partnering with the Lewis Cancer & Research Pavilion to provide medical oncologists to staff the location, all of whom participate in the NCORP program and Clinical Effectiveness Teams in Savannah.
St. Joseph's/Candler has been rapidly expanding cancer treatment programs across the region for the benefit and convenience of our patients. Centers have been opened in Jesup, Waycross, Statesboro, Hinesville and expanded in Bluffton, S.C. The new Pembroke facility is located next to the St. Joseph's/Candler Primary Care practice, which has been serving the community since 1994.
It will be located at 159 West Railroad Street, Pembroke, GA 31321.
Details of the new Pembroke facility
This facility will serve as a medical oncology practice with space for consultations, exams, procedures and chemotherapy infusion.
It will contain:
Space for 10 infusion chairs
Three exam and procedure rooms for medical oncologists
State-of-the- art pharmaceutical mixing lab for chemotherapies and other necessary infusions.
Therapies offered: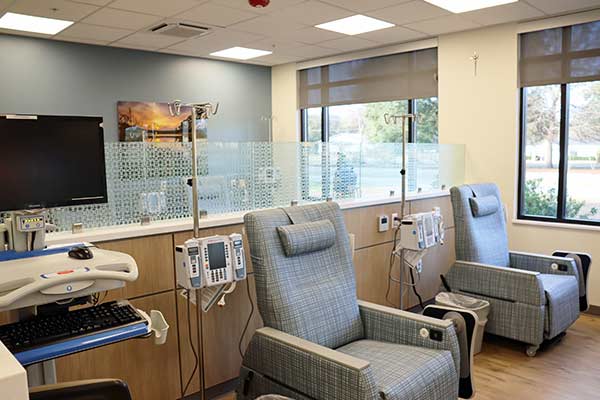 Chemotherapy
Immunotherapy
IV Hydration/Electrolytes
IV Iron Infusions
Port Flushes
Injections
Therapeutic Phlebotomy
This new infusion center is 5,300-square-feet.
"This building represents economic development for the community. It cost roughly $2.5 million to build, the payroll is north of $600,000 and that type of income stays in the community," Hinchey said.
A Team Approach
The program will work collaboratively with the Summit Cancer Care specialists at the LCRP. The centerpiece of the LCRP model are the Clinical Effectiveness Teams who meet regularly to assure best practices in treatment regimens offered. Physicians present cases for multi-disciplinary discussions with physicians in Savannah for individualized treatment plans.
Clinical Effectiveness Teams are comprised of physicians with related specialties and support personnel who meet regularly to review individual cases. St. Joseph's/Candler has Clinical Effectiveness Teams for the following areas:
Breast Cancer
Gastrointestinal (GI) Cancer
Genitourinary (GU) Cancer
Gynecologic Oncology
Head and Neck Cancer
Neuro-Oncology
Skin/Melanoma
Thoracic (Lung) Cancer
About the Nancy N. and J.C. Lewis Cancer & Research Pavilion
At the Nancy N. and J.C. Lewis Cancer & Research Pavilion (LCRP) at St. Joseph's/Candler, advanced technology and compassionate care combine to create one of the most innovative clinical oncology programs in the Southeast.
The LCRP is home to a team of highly trained cancer specialists that skillfully use high-impact technological screening and treatment options for optimal results. In addition, our team has access to nationally funded research and clinical trials and provides community outreach and education with an outstanding array of services specific to cancer patients and their families.
The LCRP is part of the National Cancer Institute's Community Oncology Research Program that aims to reach more Georgians needing cancer treatment in their own cities and towns.