St. Joseph's/Candler presents the 29th Annual McAuley Award to Tammy Phillips
Mar 11, 2022
She leads the high-pressure Risk Management department, focused on protecting both St. Joseph's/Candler patients and co-workers. She organizes monthly community projects done by the health system's Angels of Mercy volunteer corps. She even dresses up as a raccoon or an elf, depending on the occasion, to make sure the hard work she and her co-workers do always includes some fun and joy in it as well.
In short, she will do whatever it takes to fulfill the mission and values of St. Joseph's/Candler, and that's why Tammy Phillips is the recipient of the 29th Annual McAuley Award.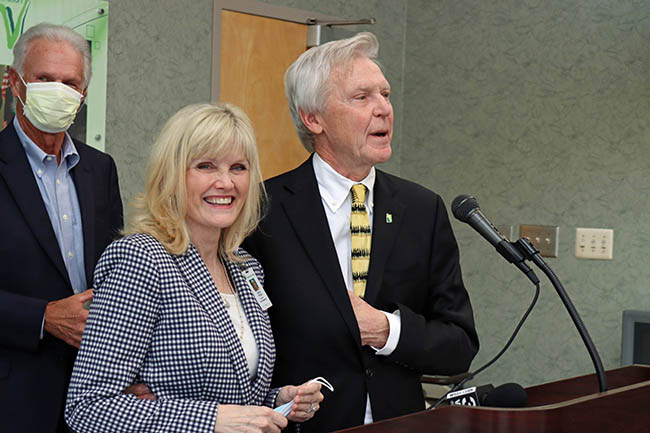 St. Joseph's/Candler President & CEO Paul P. Hinchey made the announcement at a special ceremony at St. Joseph's Hospital. The McAuley Award is named in honor of Catherine McAuley, who founded The Sisters of Mercy in the hopes of bringing education, healthcare, social justice, and spiritual guidance to those in need. Phillips was among 78 co-workers who had been nominated by their peers for the award.
"Given what we have been through over the last two years, it is clear to me that our co-workers are unmatched in their level of caring, compassion and dedication," Mr. Hinchey said. "Within this fantastic workforce, Tammy has shown to be especially reflective of Catherine McAuley's legacy. She's been nominated for this honor many times over the years and has been a finalist several times as well, but today, deservingly, she joins the exclusive club of McAuley honorees."

Phillips serves as the Director of SJ/C's Risk Management department. She leads a team that proactively seeks to prevent any and all potential problems that could occur in a hospital, from a surgical error to a slippery spot on the floor. SJ/C co-workers will sometimes get a visit from Risky the Raccoon, the department's mascot, as a fun way to stay aware of the importance of preventing risk in the workplace (and much like a character at Disney World, the Risky costume demands a physicality not typically required for executives). Phillips is also on the committee for St. Joseph's/Candler's volunteer corps, the Angels of Mercy. She recruits volunteers for the group's monthly community initiatives, including fundraising for Salvation Army during the holidays, which also involves Phillips transforming into a Christmas Elf to get everyone in the spirit. Outside of SJ/C, has volunteered for numerous community organizations such the Make-A-Wish Foundation, Habitat For Humanity and building tiny homes for veterans.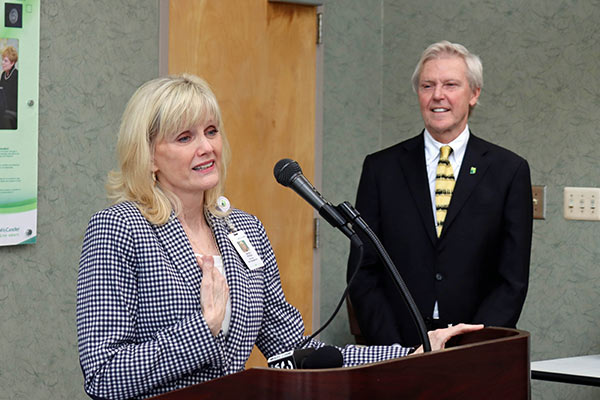 As the 2022 recipient, Phillips will have her name and image added to the bronze McAuley plaque displayed in the lobbies of St. Joseph's Hospital and Candler Hospital. She will receive a $3,000 honorarium, a one-year parking pass in the location of her choice, a one-month cafeteria meal pass, a gift certificate for massage at SJ/C's Center for WellBeing, a St. Joseph's/Candler watch and the McAuley plaque and pin.

What Tammy Phillips' Co-Workers Said About Her:

"The word 'No' is not in her vocabulary and she had spearheaded many system projects to promote both patient and visitor safety."

"She embodies the spirit of Catherine McAuley, reaching to those segments in our community who are less fortunate, and promoting compassion and mercy."

"She is professional in her duties and always seeks to protect patients, co-workers, and the workplace."

"The McAuley award recognizes a co-worker that displays a constant concern for fellow co-workers and the community. Tammy is all of this rolled into one package."