Candler Clays' 20th Year Breaks The $200,000 Fundraising Mark For Cancer Programs And Research
Mar 28, 2022
The charity shoot and auction raised $207,220, an event record that will benefit the Nancy N. and J.C. Lewis Cancer & Research Pavilion at St. Joseph's/Candler
It broke its own record and also broke the $200,000 mark for fundraising, proving that in its 20th year, the Candler Clays Charity Shoot and Auction is more popular—and more impactful—than ever. This is good news for cancer patients and their families across the region, because that fundraising total will go to St. Joseph's/Candler Foundations' Advancements in Cancer Care initiatives in Savannah, Bluffton, Hilton Head and surrounding regions.

Candler Clays is an annual two-day event combining a charity auction of items donated by local merchants and a clay shooting competition at the Forest City Gun Club. Since its inception two decades ago, the Clays event has raised $1.95 million for the Nancy N. and J.C. Lewis Cancer & Research Pavilion at St. Joseph's/Candler.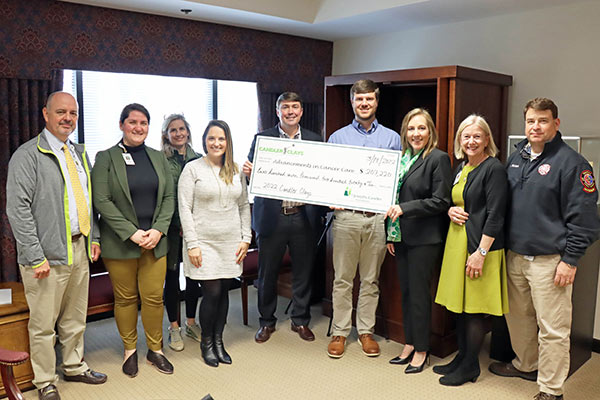 "Candler Clays celebrated its 20th anniversary reaching a record goal led by more sponsors than ever before," said Vernice Rackett, Executive Director of the St. Joseph's/Candler Foundations. "Loyal sporting clays enthusiasts traveled from Boston, Bluffton, Greenville and Hilton Head for this hallmark event."

Among the many generous sponsors, J.E. Dunn Construction was this year's presenting sponsor, and Mingledorff Family Trust was the platinum sponsor. Batson Associates was this year's gold sponsor. The event was co-chaired by Matt Albert and Sam Lewis.

"Matt and Sam inspired the committee as well as our dedicated volunteers," Rackett said. "Everyone gathered in the spirit of gratitude, remembering past honorees in support of Advancements in Cancer Care for the needs of our patients."

Each year the event honors a survivor or memorializes someone who died of cancer. This year, the honoree was breast cancer survivor Dr. Monica Kenney.

"Dr. Kenney's poignant survivor story moved the Live Auction participants to donate more than $68,000 to sustain the Nurse Navigation program for the cancer patients we treat," Rackett said.

Prizes were presented to the top male and female shooter as well as to the top youths, the 1st and 2nd place teams and Lewis Class C & B:

High Male: Creighton Capel - 50
High Female: DeDe Cargill - 44
Female Youth: Ayden McKenzie - 45
Male Youth: Jake Kinlaw - 50

1st place team: Hutson Plumbing
2nd place: Coastal Veterinary Oncology
Lewis B: Classic Craft Dental Lab
Lewis C: Batson Associates
St. Joseph's/Candler would like to thank and recognize the 2022 Candler Clays Committee:

Matt Albert, Committee Co-Chair
Sam Lewis, Committee Co-Chair
Michael Bone
Ashley DuBois
Ellie McKenzie
Dennis Reed
Hal Richards

About the St. Joseph's/Candler Foundations

The St. Joseph's/Candler Foundations support vital clinical programs, assist in the purchase of cutting-edge medical technology and enhance outreach programs designed to keep people in our community healthy. This important educational component helps our community be more proactive about their health and disease management.

Our current initiative, Advancing Excellence: Touching Lives, includes projects to enhance the patient experience by supporting the following areas of St. Joseph's/Candler:

Advancements at St. Joseph's Hospital, including emergency department expansion and The Heart Hospital.
Advancements in Cancer Care at the Nancy N. and J. C. Lewis Cancer & Research Pavilion.
Enhancements at the Mary Telfair Women's Hospital.
Wellness Education and Community Outreach.

To learn more or to make a donation, visit www.sjchs.org/foundations.