St. Joseph's/Candler and Savannah Technical College Create New, Innovative Apprentice Programs
Mar 30, 2022
These programs will develop new healthcare workers while they earn a full-time salary, benefits and get free tuition
St. Joseph's/Candler and Savannah Technical College have created two innovative programs to give employment, a full-time salary and free tuition while quickly developing students into healthcare professionals.
The two accelerated apprentice programs will give students the opportunity to obtain Certified Nurse Aide or Patient Care Technician certifications while going to school and working shifts at St. Joseph's/Candler.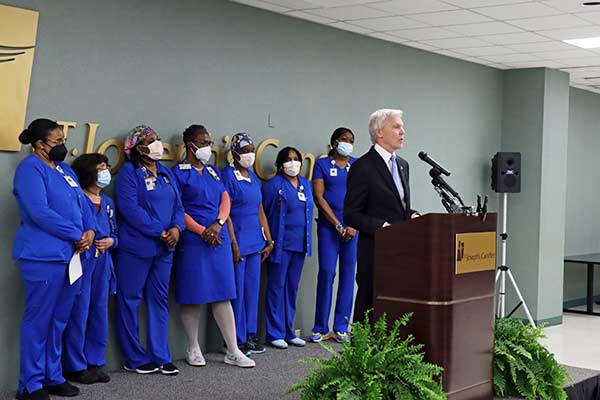 "This is a great example of how we can come together to creatively address workforce development, create new jobs and meet the healthcare needs of our community," said Paul P. Hinchey, President & CEO of St. Joseph's/Candler. "Not only will these students earn a great wage, full-time benefits and practical, on-the-job training, but they will have their tuition covered while they go to Savannah Technical College, which is known for producing highly-skilled students ready for the workforce."
"We know there is tremendous demand for healthcare workers, and we are excited to partner with St. Joseph's/Candler to offer this accelerated healthcare training," said Savannah Technical College President Dr. Kathy Love. "Thus far, our apprenticeship programs have centered around the manufacturing sector. We are pleased to see those opportunities for students expanded to our Certified Nurse Aide and Patient Care Technician training."
How it works
Potential students will apply for a Certified Nurse Aide (CNA) and Patient Care Technician (PCT) position at St. Joseph's/Candler and at Savannah Tech simultaneously.
Students will work part-time at St. Joseph's/Candler and attend classes part-time at Savannah Technical College while earning a full-time salary for the duration of the program. St. Joseph's/Candler will pay for tuition and fees for the Nurse Aide Accelerated program at Savannah Tech and a state program covers fees for the PCT program.
The Nurse Aide Accelerated program is eight-weeks long and the PCT program is 18-weeks long.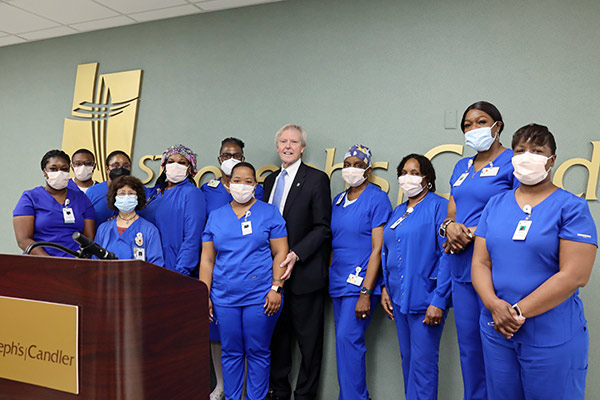 For all the details, please visit www.sjchs.org/CNA-PCT-apprentice.
What does a CNA do?
Certified Nurse Aides are an important position in any healthcare setting, with many responsibilities that make them integral to patient care. CNAs help patients with direct healthcare needs, often under the supervision of a nurse. They perform critical, sometimes physical and complex, tasks that ensure patients are well-cared for and safe during their hospital stay. Specific tasks vary, but you may help patients with:
Eating
Dressing
Bathing
Brushing their teeth
Answer calls for help
Deliver messages
Serve meals
Make beds
Help tidy up rooms
Being a CNA is a great stepping stone to other healthcare professions, especially nursing. Becoming a CNA will not only teach students how to interact with patients, but it also will introduce them to the healthcare field so that they can determine if healthcare is the right career choice. CNA is the first step toward PCT.
What does a PCT do?
Patient Care Technicians also work directly with patients, taking care of basic needs, such as feeding and hygiene. However, different than CNAs, PCTs have more training that allows them to complete other tasks as well. PCTs help patients with procedures such as:
Taking vital signs
Performing glucose testing
Blood draws
Other needs under the direction and supervision of a doctor or registered nurse
For more details and to apply, go to sjchs.org/cna-pct-apprentice.