St. Joseph's/Candler To Open On-Site Medical Center at Hyundai Motor Group Metaplant America
Jul 10, 2023
St. Joseph's/Candler and Hyundai have entered into an agreement for the health system to operate a 7,700 square-foot medical center inside the Hyundai Motor Group Metaplant America EV Plant to help employees stay their healthiest.
The leaders of St. Joseph's/Candler and Hyundai, who have been working together for months already, have found they are aligned on the idea that the health, wellness and prevention are key to building a great workforce and community.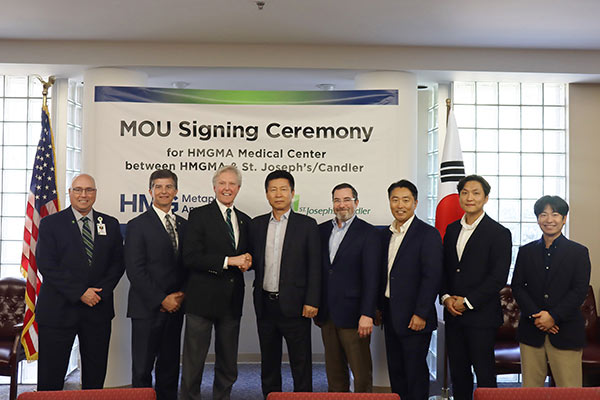 "Healthcare is a partner in economic development," said St. Joseph's/Candler President & CEO Paul P. Hinchey. "Access to quality healthcare needs to be where people work and live, helping them to feel their best and have the time to enjoy their lives and families. The Metaplant is an incredible project for our region, and we are excited to get to work to support it and what it can do for our community. I want to thank Chief Executive Officer Oscar Kwon, Chief Administration Officer Daniel Park, Head of Environmental Health and Safety Isaac Choi and General Counsel Chris Smith for their leadership on this project."
St. Joseph's/Candler medical professionals already operate a temporary clinic at the work-site and will expand as the Metaplant development expands. The new facility is expected to open May 2024.
"We are truly delighted to be operating the HMGMA medical center with St. Joseph's/Candler, which has the best medical facilities and services in the Savannah area," said HMGMA President and CEO Oscar Kwon. "HMGMA prioritizes the safety of its employees by creating a human-centered work environment. The HMGMA medical center will be operated for the health and safety of all employees."
Details of the medical center
The medical center will be a full-service clinic for the employees of the Hyundai Motor Group Metaplant America. But it will be far more than just a convenient primary care office. It will provide:
Primary Care services

Occupational Health services

Work injury care services
Pharmacy Dispensary
New employee health check-ups
Physical therapy
Injury surveillance testing (hearing, vision, pulmonary function, etc.)
Injury prevention and wellness management
Chronic disease management
Diagnostics such as X-ray and EKG
Drug screening and other lab testing
Plus other services as needed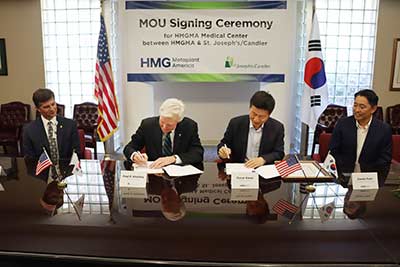 The clinic will be open Monday-Friday for 8 hours coinciding with the first shift. This will expand to 16 hours a day and 2 shifts and eventually will cover 24 hours, 5 days a week. St. Joseph's/Candler has hired a full-time, on-site medical director for the medical center who will be supported by a full-time staff of Nurse Practitioners, medical assistants, nurses, physical therapists and athletic trainers.
St. Joseph's/Candler is the region's healthcare leader. Anchored by St. Joseph's Hospital and Candler Hospital, the system has expanded into the region to give patients better access to healthcare with new campuses in Pooler and Bluffton. St. Joseph's/Candler is in the planning process of a 10,000 square foot medical office building across Interstate 16 from the HMGMA EV Plant in the Interstate Centre Industrial Park with capacity to grow up to 40,000 square feet and provide primary care, occupational medicine and other in-demand specialties.
In recent years, St. Joseph's/Candler has moved to expand medical and oncology services along the I-95 and I-16 corridors as well as Bluffton and Hilton Head.
"St. Joseph's/Candler is focused on healthcare access," Hinchey said. "People are used to increasing conveniences in every other aspect of their lives and healthcare needs to be part of that. Our goal is to give people easy access to the top providers and services that our system has been building for years."
About St. Joseph's/Candler:
St. Joseph's/Candler is a 714-bed health system with a focus on the latest technologies and research and has earned the national Magnet designation for nursing excellence. It is anchored by St. Joseph's Hospital, Candler Hospital plus the new Pooler and Bluffton campuses. Its comprehensive network includes centers of excellence for oncology, cardiovascular, neurosciences, women's and children's services, orthopedics, pulmonary medicine and a variety of other disease specialties. SJ/C's Nancy N. and J.C. Lewis Cancer & Research Pavilion has been selected to be part of the National Cancer Institute's Community Oncology Research Program. St. Joseph's/Candler is a not-for-profit health system serving 33 counties in southeast Georgia and three in the South Carolina Low Country and is the largest and only faith-based institution in the region. For more information, visit www.sjchs.org.
About the Hyundai Motor Group Metaplant America:
Hyundai Motor Group Metaplant America (HMGMA) is Hyundai Motor Group's first dedicated Electric Vehicle mass-production plant and will be located in Bryan County, GA. The new plant will boast a highly connected, automated, and flexible manufacturing system, which organically connects all elements of the EV ecosystem to realize customer value.