St. Joseph's/Candler and Bryan County Schools Create Health Education Partnership
Aug 25, 2023
This new program will advance student interest in the Health Sciences, prepare them for careers in healthcare and promote overall health and wellness for all students.
St. Joseph's/Candler and Bryan County Schools have created a partnership that will eventually expand the health science curriculum for students at Richmond Hill High School and prepare them for careers in healthcare.
The School System and the Health System have been working for months to create a plan that will help expand Richmond Hill High School's certification programs. Additionally, the partnership will provide on-site clinical rotations, enhance their health science curriculum and eventually lead students into health care careers. But it goes way beyond the classroom. The goal of the partnership is to be a resource for the School System in a variety of ways.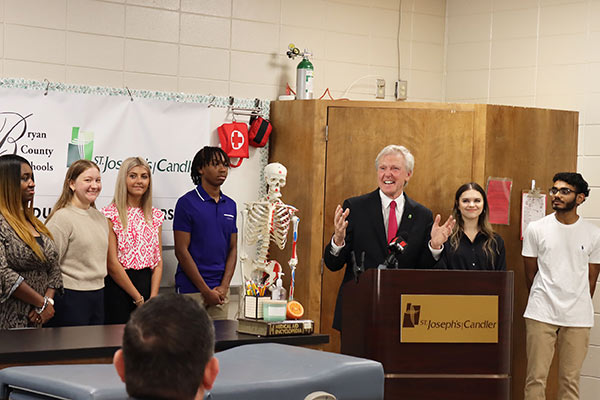 For example, the new Richmond Hill High School will feature a large health care simulation lab. Experts at SJ/C with experience in creating simulation labs will assist faculty and administration with the development of the lab in order to offer the best learning options for students. A simulation lab will provide hands-on learning experience for health science students preparing them for real life scenarios in various health care fields.
The School System and SJ/C have also developed the SJ/C Career Discovery Program. Students will have the ability to shadow at least four areas of the health system each semester (clinical and non-clinical areas) to get a first-hand look at various professions and potential career opportunities. The program was initially piloted in the Spring of 2023 with 40 students participating.
Additionally in the high school, SJ/C will assist faculty as needed with lectures and curriculum enhancements and serve as a resource for school nurses. Health education and wellness lectures for the entire student body will occur each semester and include topics such as the harmful effects of vaping, tobacco use and under age drinking.
With the expansion of the new high school, and its focus on the health sciences, this partnership made a lot of sense. However, the partnership goes beyond just the curriculum.
"Healthcare workers are in demand today and will be into the future, and St. Joseph's/Candler believes that it's our responsibility to work with schools to foster a new generation of care givers," said Paul P. Hinchey, President & CEO of St. Joseph's/Candler. "But this partnership with Bryan County Schools is more than that. It is unique and expansive, providing long-term benefits for the students and the community, and it is structured in such a way that it can evolve and change as the needs of the school system changes."
This program will initially take place in the classrooms of the new Richmond Hill High School and the St. Joseph's Hospital and Candler Hospital campuses, as well as the new SJ/C Richmond Hill Campus at Heartwood on Belfast Keller Road. Eventually, other programs will be designed to meet the needs of students and faculty in the elementary and middle schools as well as Bryan County High School in Pembroke.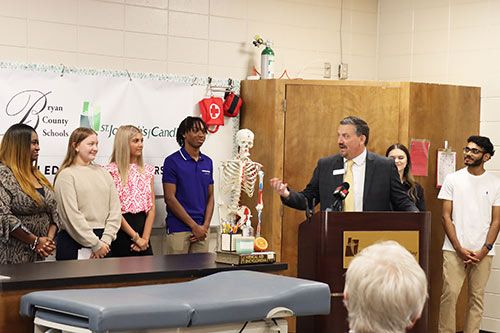 "Bryan County Schools is thrilled to partner with St. Josephs/Candler on this unique opportunity for our students. We are excited that our students will be able to practice in a simulation lab, designed by healthcare professionals, providing our students with real-life scenarios and equipment. In addition, our students will be able to participate in shadowing in clinical and non-clinical settings to gain insight and experiences that would not otherwise be available to them," stated Dr. Paul T. Brooksher, Superintendent of Bryan County Schools. "Bryan County Schools strives to provide all students robust opportunities that prepare them to be successful in whichever path they choose after high school. This partnership is an amazing opportunity, and we could not be more proud to be able to offer this for our students."
St. Joseph's/Candler believes it is critically important to train the next generation of health care providers so that our community can see the providers that they need. This goes far beyond doctors.
In recent years St. Joseph's/Candler has partnered with many school districts and colleges to create programs unique to their needs in educating students. The system operates programs with Beach High School and Woodville-Tompkins High School in Savannah, as well as Savannah Tech. On any given day, St. Joseph's/Candler has students from local schools training to be Patient Care Technicians (PCT), Certified Nursing Assistants (CNA), Nurse Practitioners, Physician Assistants, Registered Nurses and Doctors.
The new, state-of-the-art Richmond Hill High School is scheduled to open its doors in Fall 2025. For additional information on the new high school, visit the Bryan County Schools website: https://www.bryan.k12.ga.us/o/bcs/page/new-rhhs