St. Joseph's/Candler Honors Judy Boykin As The 2023 James R. Lientz Humanitarian
Sep 28, 2023
She's been called many things by her co-workers—leader, pace-setter, fire-starter, team player and a can-do person. Now she will also be called St. Joseph's/Candler's 2023 Lientz Award winner.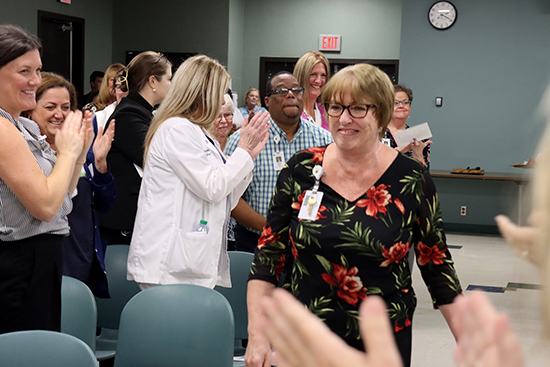 Judy Boykin was named as this year's recipient by SJ/C President & CEO Paul P. Hinchey during a special ceremony in Candler Hospital's Marsh Auditorium. The James R. Lientz Humanitarian Award is given annually to a co-worker who exemplifies the St. Joseph's/Candler's mission ("Rooted in God's love, we treat illness and promote wellness for all people") and values of Compassion, Quality, Integrity, Courtesy, Accountability and Teamwork.
Boykin has served in SJ/C's Risk Management department for the past six years as the Clinical Nurse Risk Manager, but she has been a part of the SJ/C family for more than four decades. For most of her career, she held the position of Nurse Manager on Candler Hospital's 6th floor and has also served as a Nurse Educator. Boykin's reputation as a compassionate nurse with a generous spirit and tireless work ethic has only grown throughout the years.

One of the nominations for Boykin read, "She is a priceless resource for nursing and is available at all hours for clinical personnel to ask questions, get advice, and guidance. All-in-all, Judy fully represents the values and ethics of Mr. Lientz and is most deserving of this honor."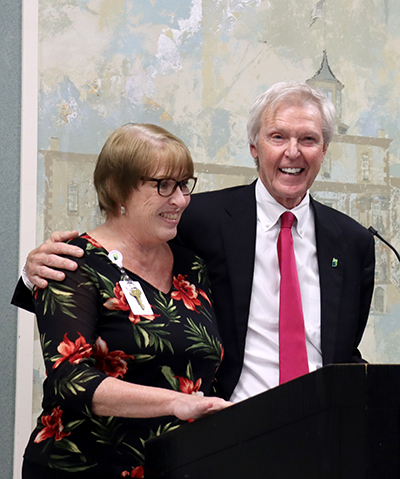 Boykin was chosen among 93 nominees for the award. Co-workers are nominated by their peers for the example they set through their work at SJ/C, as well as for their humanitarian efforts that reflect the life of former Candler Board Chairman James R. Lientz. Boykin has actually been nominated for this honor many times over the past two decades, with the first being in 2001.

The late James R. Lientz served as a Trustee of Candler Hospital beginning in 1959, as Chairman of the Board of Trustees from 1970 to 1991, and as Chairman of Candler Health System Board of Trustees from 1985 to 1992. Along with his service to St. Joseph's/Candler, Lientz took a leadership role in many Savannah organizations including the Georgia Infirmary, the Health Planning Council of Savannah, and United Way of the Coastal Empire.
As the 2023 recipient, Boykin will receive a $3,000 honorarium, a one-year parking pass in the location of her choice, a one-month cafeteria meal pass, a St. Joseph's/Candler watch and the Lientz plaque and pin.