St. Joseph's/Candler employs the Tru-D robot to eliminate germs

St. Joseph's/Candler has added the Tru-D SmartUVC, a germ-eliminating UVC disinfection robot, to its already stringent list of disinfection protocols at both of its main campuses.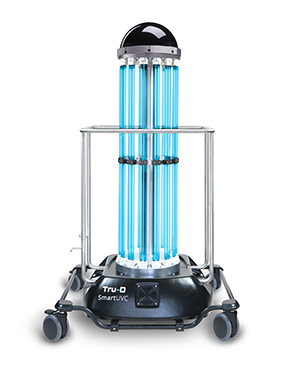 Tru-D (short for Total Room Ultraviolet Disinfection) is an automated, remotely-operated system that uses data from each room's variables to effectively deliver a lethal dose of UVC energy during one cycle. The robot can disinfect an entire room from its one location in the center of that space.
How It Works:
After one of our Environmental Services professionals cleans the room using traditional methods, Tru-D is rolled in to complete the process. The device is turned on from outside the room using a remote control, and Tru-D tracks infection control data and simultaneously uploads the information to the hospital's web portal. Its patented Sensor360® technology instantly analyzes the unique contents, shape and size of the room, then floods the targeted space with the proper amount of UVC energy.
Tru-D spends whatever time is necessary to confidently eliminate infectious germs from contaminated surfaces before shutting down and notifying the operator via audio or text message that disinfection is complete. Then she is ready for next room or OR space.