Smart Living
Fall 2021 featuring Sallie Ann Robinson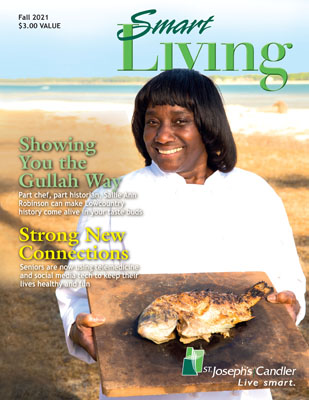 Showing You the Gullah Way
Part chef, part historian, Sallie Ann Robinson can make Lowcountry history come alive in your taste buds.
From Sallie Ann Robinson's Kitchen
For her latest cookbook, the Gullah chef made sure to include recipes for every kind of diet.
Mental Health Help Within Your Reach
There are several ways for everyone and anyone to access quick, non-judgmental health care.
Strong New Connections
Seniors are now using telemedicine and social media tech to keep their lives healthy and fun.
Second Wind Solutions
Proper nutrition and sleep are smarter choices than energy drinks for rejuvenation.
Quiz: Red, White & (not really) Blue
There are a few absolutely essential components in blood, and their appearance can help us remember what does what. Take our quiz to learn more.
Ask a Magnet Nurse
Transitional Care Coordinators inform and empower new home health patients.
Early Fall 2021 featuring Vicki Lawrence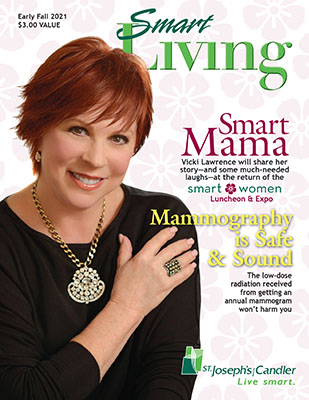 Smart Mama
Vicki Lawrence will share her story - and some much-needed laughs - at the return of the SmartWomen Luncheon & Expo.
A Good Laugh is Good for You
There are health benefits for cracking yourself up.
Mammography is Safe & Sound
The low-dose radiation received from getting an annual mammogram won't harm you.
Healthy or Just Hot Air
A new cooking trend sheds light on what makes our favorite foods healthy or harmful
Smart Choices on the Go
Practice times make it inevitable for busy students to need a snack while on-the-go. Planning ahead is a parent's best practice.
Quiz: Wretched Hives
Which sounds worse - having a case of urticaria or a case of hives? Take our quiz to find out.
Ask a Magnet Nurse
Nurse Jennifer Amato explains how high-tech simulations help train tomorrow's Magnet nurses.
Summer 2021 featuring Michael Carter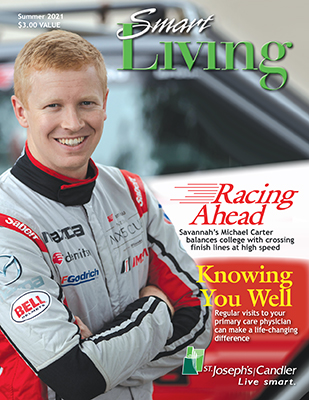 Racing Ahead
Savannah's Michael Carter balances college life with crossing finish lines at high speed.
Helping Hands
Occupational therapists help people of all ages to regain movement and function.
Knowing You Well
Regular visits to your primary care physician can make a life-changing difference.
A Sea Change for Hep C
Updated screening guidelines for an infamous blood-borne virus will help identify patients earlier.
Going the Distance
Don't let hitting the road hurt your back.
Quiz: Eye Generation
Take our quiz to learn more about the macula, the oval-shaped pigmented area in the center of the retina.
Ask a Magnet Nurse
Shift reports at the bedside improve patient outcomes. Find out how from Magnet Nurse Katie Reid.
Spring 2021 featuring Harrison Scott Key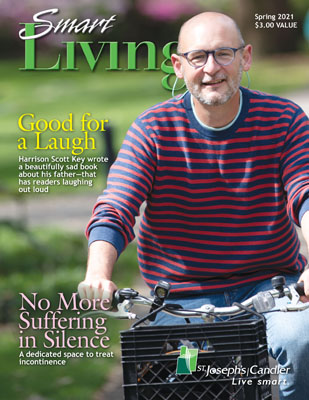 Good for a Laugh
Harrison Scott Key wrote a beautifully sad book about his father—that has readers laughing out loud.
Right on Target
Advancements in medical oncology are leading to a new level of individualized treatment in coastal Georgia.
Precision Medicine
Advancements in oncology are changing the approach to treatment in South Carolina's Lowcountry as well
No More Suffering In Silence
A dedicated space to treat incontinence takes embarrassment out of the picture.
In Our Hay Days
The inaccurately-named hay fever is an allergic reaction that can happen to anyone
Unset In Motion
Treating the most common movement disorders includes addressing home and work life.
Quiz: Kick, Stand
If you're ready to sleep but your legs want to stay up, you may be the few million people in America that struggle with Restless Leg Syndrome. Take our quiz to learn more.
Ask a Magnet Nurse: The Nightingale Project
Kim Raymond from Candler's Intensive Care Unit talks about how a new educational project, for nurses by nurses, can make a big difference in patient care hospital-wide.
Early Spring 2021 featuring Kate Barber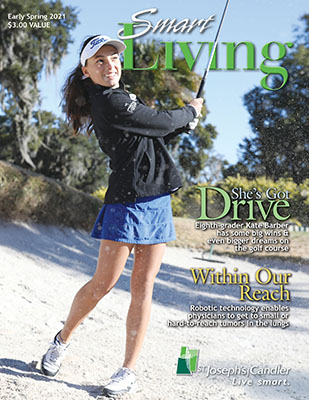 She's Got Drive
Eighth-grader Kate Barber has some big wins and even bigger dreams on the golf course.
Weighing the Risks for Colon Cancer
Awareness of other modifiable factors in colorectal health can help you make changes.
Going with the Flow
A medical adhesive can treat varicose veins with less pain and a quicker recovery.
Within Our Reach
Robotic technology enables physicians to get to small or hard-to-reach tumors in the lungs.
Marvelous Molecules
The generous nature of antioxidants makes them an important part of your diet.
Quiz: Best Foot Forward
Maybe it's because they are the body parts farthest away from our all-important head, but our feet tend to get neglected in our day-to-day life. Take our quiz to see if you already know the right steps.
Ask a Magnet Nurse
St. Joseph's/Candler Vice President and CNO Sherry Danello talks about how 'a rare achievement in nursing means you are being cared for by the best.'
Winter 2021 featuring Savannah Fire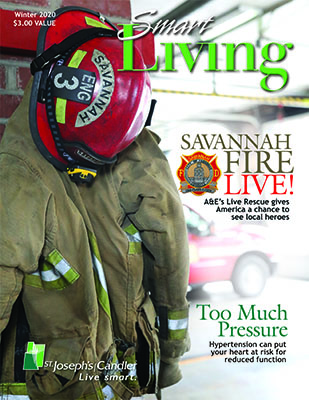 Savannah Fire Live!
A&E's Live Rescue gives America a chance to see local heroes in action as the show features the Savannah Fire Department in its third season.
Leveling Down
Blood sugar tests can reveal prediabetes, a common condition that in some cases can be reversed.
Too Much Pressure
Hypertension, also known as high blood pressure, can put your heart at risk for reduced function.
Infographic: Know Your Heart's Friends & Foes
Lowering the blood pressure to your heart means changing what goes in your mouth. Our infographic highlights some of the best and worst foods to indulge on.
Resolve to De-Stress
Positive outlets for stress relief can have both short-term and long-term benefits.
Quiz: An Injured Heart's Little Helper
A low dose of aspirin has been shown to help patients who have had a heart attack or are at a high risk for disease. Take our quiz to learn more.
Ask A Magnet Nurse
Wesley Shipes explains the role of cardiac care nurses and how they help with the physical and emotional challenges of recovery.

Fall 2020 featuring Gilbert Walker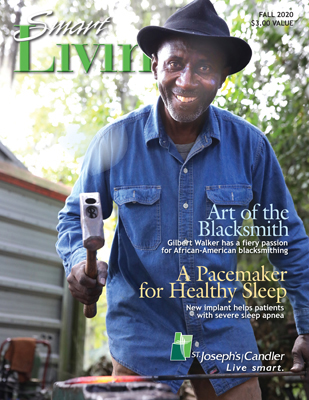 Art of the Blacksmith
While uncovering the history of skilled African-American blacksmiths, Gilbert Walker became one.
Worth Your Time
Extra lab work or tests after your doctor's appointment provide essential information for your care.
A Pacemaker for Healthy Sleep
A new implant can help patients who have severe sleep apnea and can't tolerate the CPAP machine.
Life With Lupus
Women are at a higher risk of developing this lifelong autoimmune disease.
Don't Sit This One Out
Some physical activity is better than none, even when life has messed up your routine.
Quiz: The Math on Fats
Your body needs fat. In case you thought it was all bad. It's the types of fat that make the difference. We've run the numbers on all the types—take our quiz to learn more.
Ask A Magnet Nurse
Natasha Brooklin explains the wide variety of illnesses and conditions treated at the Center for Infusion Therapy.
Early Fall 2020 celebrating SmartWomen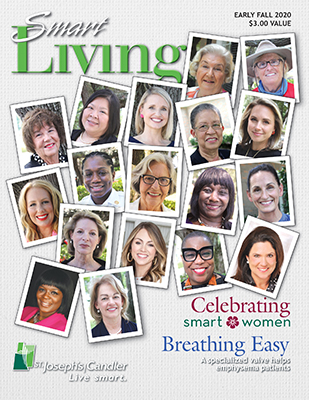 Celebrating SmartWomen
Even without a luncheon and expo, St. Joseph's/Candler is celebrating the 18th year of SmartWomen and its impact on uninsured women.
3D on 4 Wheels
St. Joseph's/Candler's Telfair Pavilion's Mobile Mammography Screen Machine gets an upgrade.
Breathing Easier with the Pressure Off
Patients who suffer from severe emphysema have a new option for treatment, a specialized valve that helps them breathe better.
Access to Precision
Benefits of robotic technology for surgeons means benefits for patients with a variety of conditions.
Ready for the Test
For dizziness suffers, specialized testing is the first step in solving the problem.
Quiz: Emphasis on Emphysema
One of the most common types of COPD is emphysema. Take our quiz to learn more.
Ask a Magnet Nurse: Preventing Falls
Resource Coordinator and Nurse Terria Manning talks about the steps taken to prevent falls.
Summer 2020 featuring Cassandra King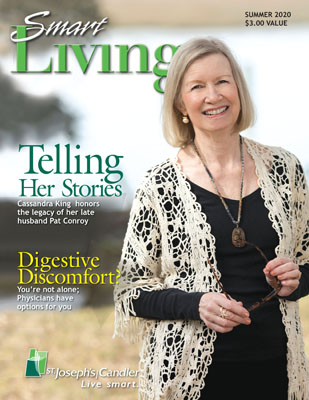 Telling Her Stories
Cassandra King enthralls lovers of Southern literature while honoring the legacy of her late husband Pat Conroy.
GI Discomfort? You're Not Alone
If you are ready to talk about your gastrointestinal issues, physicians have options ready for you.
Small Town, Big Impact
Changes in healthcare delivery—but also in our lifestyles—can help keep rural areas healthy.
No Time Like The Present
Getting a physical exam is beneficial even if you are young.
The Right Dose of D
Are you getting enough vitamin D? Many Americans aren't, and are experiencing symptoms like bone pain and muscle weakness.
Quiz: Know Deficiencies
Take our quiz to learn why certain vitamins and minerals are considered essential.
Ask a Magnet Nurse: Transitional Bonding Time For Newborns
Resource Coordinator and staff nurse Lisa Loadholt explains how being baby-friendly and mom-friendly means allowing time for rest, acclimation, and bonding.
Spring 2020 featuring Tim O'Neal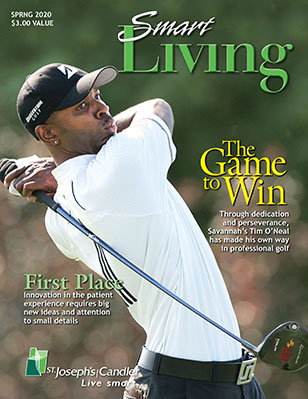 The Game To Win
Through dedication and perseverance, Savannah's Tim O'Neal has made his own way in professional golf.
Bone Deep
Specialized imaging technology can screen for osteoporosis, a common but serious bone disease.
First Place
Innovation in the patient experience requires big new ideas and attention to small details as St. Joseph's/Candler opens its Bluffton Campus.
Fallen Flat
Whether it develops in childhood or adulthood, flat feet can affect your quality of life.
Living the Golf Life
The popular pastime has actually shown to have notable health benefits, including longevity.
Quiz: Southern Exposure
Take our quiz to learn how you can avoid skin damage in the present and skin cancer in the future.
Ask a Magnet Nurse: Nurse Navigators
Clinical Special Services Manager Dana Coleman explains the important role nurse navigators have in cancer treatment.
Early Spring 2020 featuring Chuck Leavell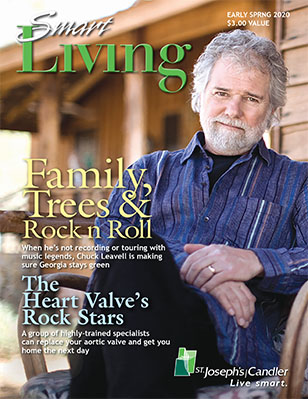 Family, Trees & Rock n Roll
When he's not recording or touring with music legends, Chuck Leavell is making sure Georgia stays green.
The Heart Valve's Rock Stars
A group of highly-trained specialists can replace your aortic valve and get you home the next day.
Chain Reaction
Casual dining restaurants can by okay for a family on-the-go, if you have a smart plan
A Swelling Problem
A specialized program can help cancer survivors manage lymphedema.
A Hint O' Mint Can Do Ye Good
Four-leaf clovers may bring good luck, but mint can bring good health.
Quiz: Not Just For Herbivores
They can be sweet, hot or literally spice up your life, but herbs and spices can be good for your health too.
Ask A Magnet Nurse: Patient Placement
Patient Placement Specialist Nurse Kim Williams explains how a dedicated team gets you to the right bed the first time.
Winter 2020 featuring Dr. Irving Victor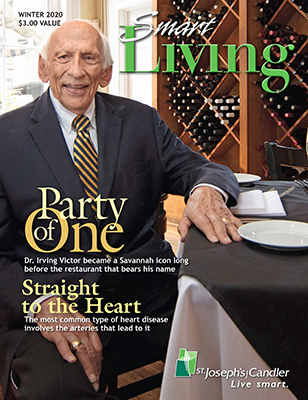 Party of One
Dr. Irving Victor become a Savannah icon long before the restaurant that bears his name. Here's his incredible life story.
Straight to the Heart
Heart disease remains the number one cause of death in the United States. But what does it really mean to say the heart has disease?
The Time to Ask
Having essential questions ready for your physician can optimize your appointment. Here are some tips to get the most out of your future doctor visits.
Your Life's Work
Occupational therapy focuses on a person's daily activities, whether on the job or at home.
Quiz: The Generous Type
Take our quiz to learn how the lifesaving process of donating blood flows.
Ask A Magnet Nurse: Hand Hygiene
Infection Prevention Clinical Manager explains how high tech helps with hand hygiene.

Fall 2019 featuring Flau'Jae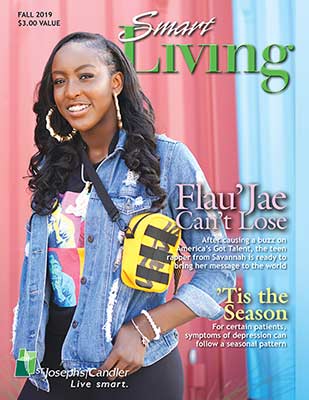 Flau'Jae Can't Lose
After causing a buzz on America's Got Talent, the teen rapper from Savannah is ready to bring her message to the world
'Tis The Season
For certain patients, symptoms of depression can follow a seasonal pattern
A Dizzying Problem
Once properly diagnosed, vertigo or dizziness caused by the inner ear can be successfully treated in most cases
The Skinny On Diabetes Risk
Obesity is one risk factor for diabetes, but some thin people can also develop the disease
Quiz: An Eyeful Problem
Take our quiz to learn more about diabetic retinopathy.
Ask A Magnet Nurse
Learn from a lactation consultant how social media can help or hurt new moms

Early Fall 2019 featuring Taya Kyle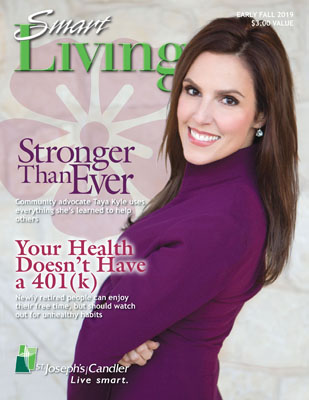 Stronger Than Ever
A survivor of trauma and tragedy, author and community advocate Taya Kyle uses everything she's learned to help others.
What You Can Do About Breast Cancer Risk
Not having control can be scary, especially when it comes to your body and risk for disease. But knowing what you can't do anything about will help you focus on what you can.
Your Health Doesn't Have a 401(k)
Newly retired people can enjoy their free time, but should watch out for unhealthy habits.
A Stretch in Time
Several benefits await everyone who takes 10 minutes or less to loosen and relax their muscles.
Keeping Watch on Your Heart
For patients with non-valvular atrial fibrillation who can't tolerate blood thinners, The Watchman can help decrease risk of stroke.
Quiz - A Rough Patch
Take our quiz to raise your understanding of psoriasis.
Ask A Magnet Nurse: Recognizing Sepsis Early Saves Lives
An infection can happen to anyone, but sometimes that infection can lead to sepsis.
Summer 2019 featuring Judge Faye Sanders Martin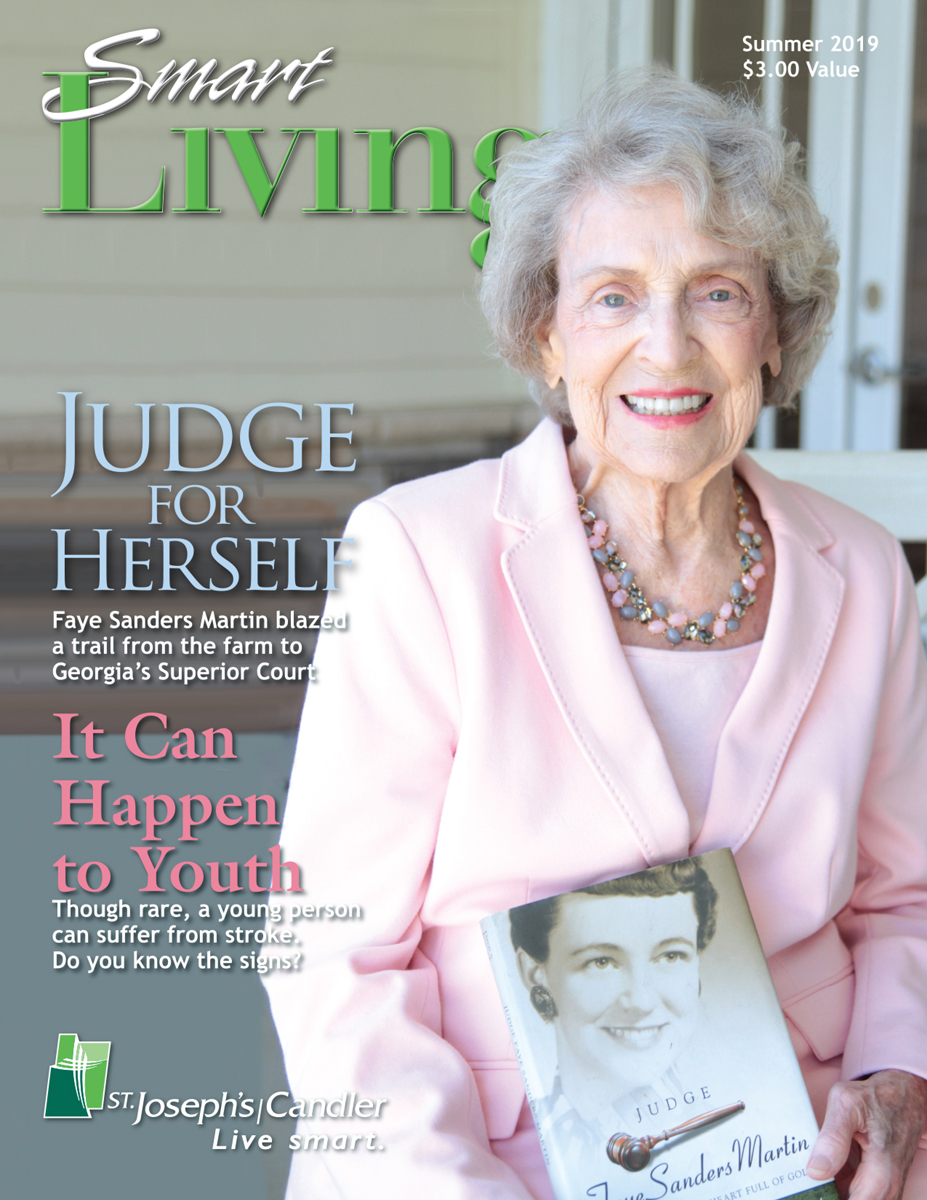 Judge For Herself
Faye Sanders Martin blazed a trail from the farm to Georgia's Superior Court.
The Lowdown on Flare Ups
Actue pain and inflammation is common even if your chronic arthritis is well-managed.
It Can Happen to Youth
Through rare, a young person can suffer from a stroke. Do you know the signs?
Haven't Got Time for the Pain?
Chronic pain is manageable, but don't expect a quick, easy fix.
Academy Rewards
Pre-op education on knee and hip replacement gives patients both information and reassurance.
Quiz - Knee Recap
What makes up our knee and what might need replacing someday? Take our quiz to find out.
Ask A Magnet Nurse: As Patients Process Medical Information - and Their Emotions - Nurses Are There to Help
Patients and their families are given updates during their hospital stay that may include a lot of new medical information. Here's how our nurses help with the process.
Spring 2019 featuring K-9 Dooly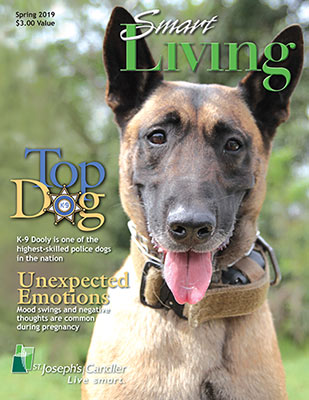 Top Dog
Savannah Police Department K-9 Dooly is one of the highest-skilled police dogs in the nation, and he uses those skills to protect us
Paws in Therapy
Patients can benefit from a calming or uplifting interaction with a therapy dog
Unexpected Emotions
Mood swings and negative thoughts are common for everyone during pregnancy
Tonsils' Hidden Partner
Infection-fighting tissues in the nasal cavity can sometimes cause sleep apnea or ENT issues
Quiz - The Water Works
For our eyes to function properly and give us good vision, they must be continuously lubricated and protected
Ask A Magnet Nurse - Outpatient Surgery Services Can Be Closer To Home in Both Distance & Time
Several important but common procedures can be completed in one day, and with new expanded facilities they can be done in growing towns like Pooler

Early Spring 2019 featuring Wes Chatham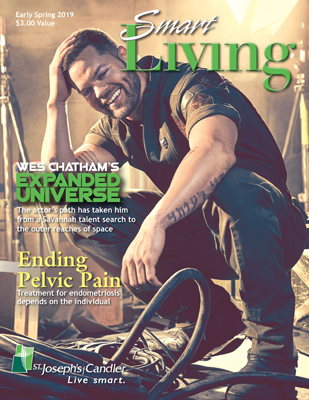 Wes Chatham's Expanded Universe
The actor's path has taken him from a Savannah talent search to the outer reaches of space
Ending Pelvic Pain
Treatment for endometriosis, a common condition among women in their 30's and 40's, depends on the individual
Shrink And Destroy
Radiation therapy can be an effective part of colorectal cancer treatment, depending on the site and type of tumor
Spring Back Into Your Resolution
Did your exercise program fizzle out before February? Talk with your physician and start again now
Inner Confidence = Outer Ability
Whatever your age or your issue, physical therapy helps you get your whole self back
Quiz – Safe Eats For Mama & Baby
While there are a few things an expecting mom needs to add or supplement to her diet, there are also some things to avoid
Ask A Magnet Nurse - Hospital Food Is Not What It Used To Be; More Importantly, It Promotes Healing
Nurses and teams behind the scenes work together to provide meals for patients that make them feel better physically, mentally, and emotionally
Winter 2019 featuring Kyra Samuels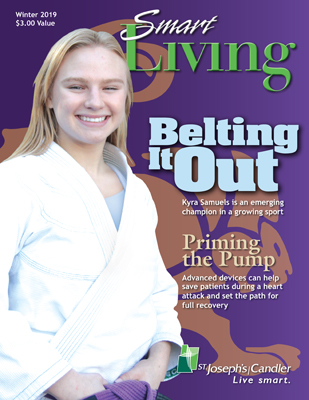 Belting It Out
Kyra Samuels is an emerging champion in a growing sport
Priming The Pump
Advanced devices can help save patients during a heart attack and set the path for full recovery
Return To Learn, Return To Play
With concussion-focused athletic trainers, student athletes can recover the smart way
Faster Than The Beat
Advances in CT technology help radiologists get a clearer picture of the heart
The Butterfly Effect
Our whole body is affected by the thyroid gland
Quiz – Back On Track
Back pain has a large number of causes; many are common but not all are easy to detect
Ask A Magnet Nurse - Life Support Procedure Can Give Very Sick Patients A Chance At Survival
A complex therapy called ECMO supports the heart and lungs when they are not functioning properly
Fall 2018 featuring Anthony Lanier II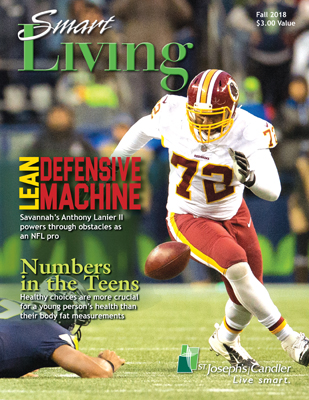 Lean Defensive Machine
Savannah's Anthony Lanier II powers through obstacles as an NFL pro
Home Community
Access to high quality care is improving for patients in small towns and rural areas
Numbers In The Teens
Smart choices are more crucial for a young person's health than their body fat measurements
Safety First
Practicing precautions with power tools can save you from a trip to the emergency room
That's Your Cue
Infants can give non-verbal signs of hunger, even before they cry
Quiz – Down To The Marrow
Our bones have a soft, and potentially life-saving, tissue inside their center
Ask A Magnet Nurse - A Growing Number Of Lung Cancer Patients Are Benefitting From Immunotherapy
Oncology nurses have seen an exciting development in the treatment of non-small cell lung cancer
Early Fall 2018 featuring Jane Seymour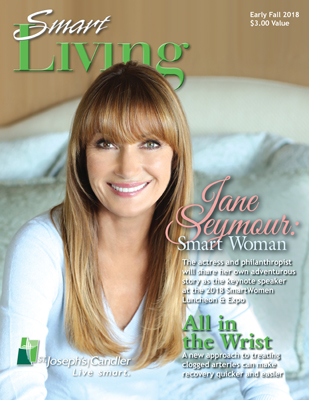 Jane Seymour: Smart Woman
The actress and philanthropist will share her own adventurous story as the keynote speaker at the 2018 SmartWomen Luncheon & Expo
Less Is More
With robotic sentinel lymph node biopsy, gynecological cancers can be staged less invasively
All In The Wrist
A new approach to treating clogged arteries can make recovery quicker and easier
Common Problems Not Commonly Discussed
Awareness of minimally-invasive treatments can help patients face colorectal disease
Knowing All Dimensions
One of the largest breast cancer studies in decades is focused on mammography
Quiz – Salty Springs
Many people have salt cravings, but although sodium is essential to the body, too much can lead to problems such as high blood pressure
Ask A Magnet Nurse - Excellent Organizational Skills Contribute To Highest Quality Care From Nurses
A well-organized and clutter-free environment is part of a nurse's commitment to great care
Summer 2018 featuring Sister Jude Walsh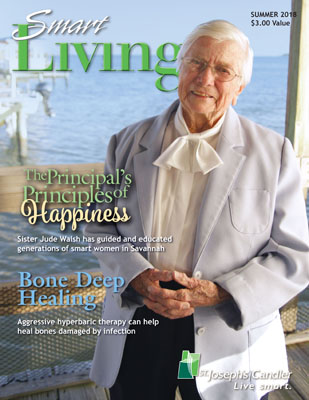 The Principal's Principles Of Happiness
Sister Jude Walsh has guided and educated generations of smart women in Savannah
Bone Deep Healing
Aggressive hyperbaric therapy can help heal bones damaged by infection
Off The Cuff
Shoulder tendinopathy can not only affect athletics but also daily life
Heart Burn (Or Freeze)
A catheter ablation procedure can help prevent dangerous heart arrhythmias
Melanoma: Who, What, When & Where
How do you fit into the facts and figures of melanoma in 2018?
Quiz – Saving Your Skin
For those of us who live in the melanoma belt, knowing the characteristics of this type of skin cancer is crucial
Ask A Magnet Nurse - Surgical Capacity Plan Helps A Busy Emergency Department Get Patients Seen And Treated
Nurses and other hospital staff, with the help of a tracking system, are always prepared for an influx of patients
Spring 2018 featuring A Thousand Horses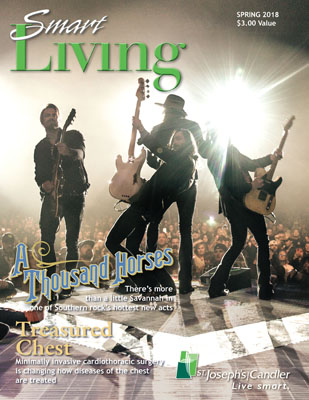 A Thousand Horses
There's more than a little Savannah in one of Southern rock's hottest new bands
Treasured Chest
Minimally invasive cardiothoracic surgery is changing how diseases of the chest are treated
The Right Time For Exercise
Whether you're a morning person or night owl, consistency will help you exercise effectively
Sound Diagnosis
The fast and painless process of ultrasound helps neurologists see affected nerves
Keeping Your Cool
Tips for beating the heat this summer are doubly important for people with diabetes
Quiz – Canines and Claws
Pets bring a lot of joy to our lives, but it's important to remember that dogs and cats are animals with natural defenses such as biting or scratching
Ask A Magnet Nurse - Oncology Nurses In Infusion Services Have A Unique Role
Administering chemotherapy is only one aspect of the high-quality care that nurses give to cancer patients
Early Spring 2018 featuring Jonathan Rabb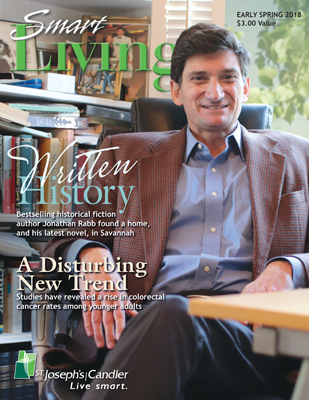 Written History
Bestselling historical fiction author Jonathan Rabb found a home, and his latest novel, in Savannah
A Disturbing New Trend
Studies have revealed a rise in colorectal cancer rates among younger adults
Battle Of Nerves
Severe lumbar spinal stenosis is no walk in the park
Smart Eating For Two
Healthy food choices during pregnancy will help with proper weight gain
Hidden Sweets
Checking labels on items commonly considered healthy, such as yogurt and granola bars, will reveal much sugar has been added
Quiz – Air Time
Traveling by plane can cause some physical symptoms that, while rarely serious, still affect many passengers
Ask A Magnet Nurse - Mobile Technology Helps Improve The Patient Experience
iRound technology allows nurse leaders to capture immediate feedback from patients and families
Winter 2018 featuring Bill Eberlein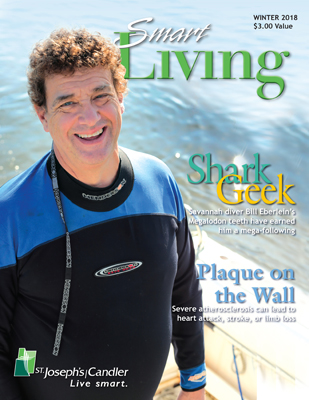 Shark Geek
Savannah diver Bill Eberlein's Megalodon teeth have earned him a mega-following
Plaque On The Wall
Severe atherosclerosis can lead to heart attack, stroke, or limb loss
Best Foot Forward
Because of nerve damage, patients with diabetes need to consider proper foot care
Winter Virus
The very contagious RSV is a common cause of respiratory illness in children
New Office Hours: 24/7
Live video chat technology allows patients to access virtual healthcare
Quiz – Common CAD
Our coronary arteries can develop disease from fatty deposits that form and slowly harden and thicken from the time we are children
Ask A Magnet Nurse - Nurses Can Help Ease Anxiety Of Parents With Children In Treatment
Parents are often solely focused on their own child's anxiety about being in the hospital, but they also deserve a calm positive experience
Fall 2017 featuring James & Kimberly Dean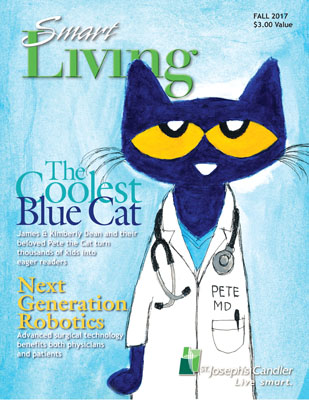 The Coolest Blue Cat
James & Kimberly Dean and their beloved Pete the Cat turn thousands of kids into eager readers
Next Generation Robotics
Advanced surgical technology of the da Vinci Xi benefits both physicians and patients
Decade Of Excellence
Heart patients have benefitted from great advances in cardiovascular surgery in the last ten years
Staying In The Clear
Loved ones of smokers need to protect themselves from secondhand smoke
12 Days Of Wellness
Here are 12 smart things you can do to improve your health each day in the holiday season and beyond
Quiz – Drowsiness Alert
Natural drowsiness is fine if you're in bed, but it can also be a symptom of a disorder or side effect, and can be dangerous when driving
Ask A Magnet Nurse - Carelessness While Preparing For Holiday Feasts Could Lead To An ER Visit
In hectic pace of preparing for holiday parties and gatherings, take extra care to avoid lacerations, burns, or other injuries
Early Fall 2017 featuring Adrian Peterson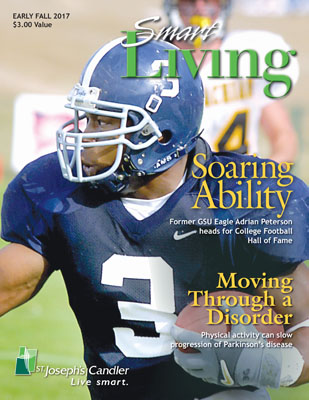 Soaring Ability
Georgia Southern Eagle and Chicago Bear Adrian Peterson is headed for the College Football Hall of Fame
Moving Through A Disorder
Physical activity can help slow the progression of Parkinson's disease
Whole Fitness
A variety of factors affect maintaining a healthy weight, including sleep
Finding Breast Cancer Early
Becoming familiar with the normal appearance and feel of your breast can help detect signs of breast cancer, but mammography is there for when there are no symptoms
Speaking Out
Those who struggle with stuttering can learn helpful tools in speech therapy
Quiz – Orange You Happy About This Antioxidant?
Learn more about beta-carotene, which paints fruits and veggies in beautiful autumnal colors but also carries various health benefits
Ask A Magnet Nurse - Can The Flu Vaccine Actually Give You The Flu?
Hear the definitive answer to this often-asked question from an infection control nurse
Summer 2017 featuring Anne Burrell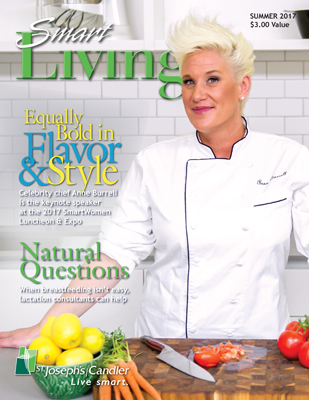 Equally Bold In Flavor And Style
Celebrity chef Anne Burrell is the keynote speaker at the 2017 SmartWomen Luncheon & Expo
Natural Questions
When breastfeeding isn't easy, lactation consultants can help
Healing The Heel
It's not just runners that seek treatment for heel pain
Staying Dry And Cool
You—and your medications—can benefit from being cautious about humidity
Primary Color Choices
Certain fruits and vegetables reveal their benefits through their colors
Quiz – Your Best Shot At Preventing Disease
Part of the back-to-school checklist is immunizations, but have you also checked your own vaccine list?
Ask A Magnet Nurse - How Innovative Hospitals Enhance Patient Care And Experience
When designing and renovating their space, the best hospitals consider all aspects of the experience—starting with the environment that patients find themselves in
Spring 2017 featuring Elizabeth Ludlow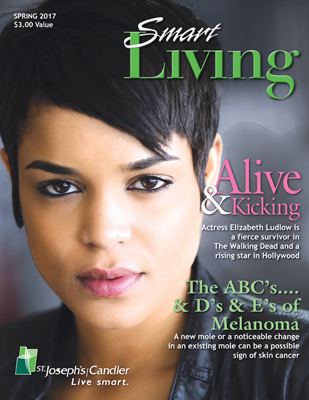 Alive And Kicking
Actress Elizabeth Ludlow is a fierce survivor in The Walking Dead and a rising star in Hollywood
The ABC's (And D's And E's) Of Melanoma
A new mole or a noticeable change in an existing mole can be a possible sign of skin cancer
The End Of Tunnel Pain
Conservative therapy for both carpal and cubital tunnel syndrome can often relieve symptoms
Rash Reactivation
The condition known as shingles, and its infamous painful rash, is caused by a virus you've carried for years
Face Time For Melanoma Survivors
Reconstruction after melanoma removal provides both challenges and innovative solutions
Quiz – A Biting Development
Though it's a normal developmental stage, the process of your baby's teeth growing and breaking through the gums can be a difficult time
Ask A Magnet Nurse - Noticing Signs of Postpartum Depression
Nurses are trained to notice if the common hormonal, physical, and emotional changes that cause worry or unhappiness in a new mom may be more intense or long-lasting
Early Spring 2017 featuring Chef Joe Randall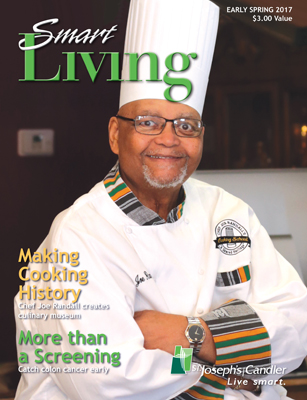 Making Cooking History
Savannah's Chef Joe Randall is transforming his famous cooking school to honor his African-American mentors and peers
More Than A Screening
In most cases, physicians performing a colonoscopy can immediately remove pre-cancerous lesions
Balancing The Gram Scale
A variety of carbohydrates can be enjoyed with smart substitutions
Nipping Allergies In The Bud
Allergy sufferers may need to consider additional treatments if a daily antihistamine proves ineffective
Nightly Obstruction
Sleep apnea can affect several aspects of waking life
Quiz - Just The Nutrition Facts, Ma'am
The Nutrition Facts label included on food packaging can help you make smart choices
Ask A Magnet Nurse - What To Expect For A Colonoscopy Screening
Patients will need to have a driver and may need medication adjustments, but most importantly, they will need to follow their prep instructions
Winter 2017 featuring the Mighty Eighth Air Force Museum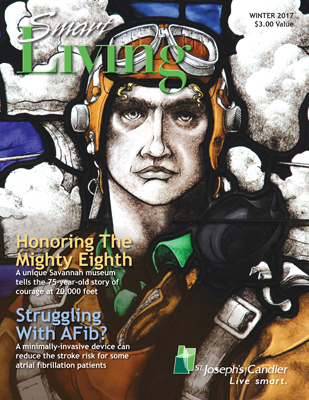 Honoring The Mighty Eighth
A unique Savannah museum tells the 75-year-old story of courage at 20,000 feet
Something To Talk About
Incontinence sufferers who hide their condition are missing out on effective treatments
You Don't Really Want Fries With That
With nutrients taken out and unhealthy fats and salt added, fried potatoes should be an occasional treat
Aerobics From Head To Toe
Jogging, cycling, swimming, and other aerobic activity, even walking, provides a variety of benefits throughout our entire body
Quiz - Cup O' Smart
Coffee is a morning favorite, but is it good or bad for you?
Ask A Magnet Nurse - Body And Skin Temperature Regulation Is Essential For Patient Care And Comfort
An increase or decrease in temperature alerts nurses to a problem, but it's also important that patients are comfortable
Fall 2016 featuring Gene Sauers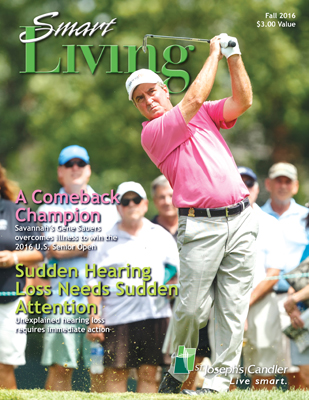 Comeback Champion
Savannah's Gene Sauers won the 2016 U.S. Senior Open after recovering from a life-threatening illness and several years away from the game
Sudden Hearing Loss Needs Sudden Attention
An unexplained drop in hearing needs to be evaluated by a specialist as soon as possible
Preventing High Blood Sugars And Low Moods
People with diabetes have an increased risk of depression, which can affect their self-care
Feeling The Pressure
Unhealthy habits for dealing with stress may contribute to high blood pressure
Never Too Old To Quit Smoking
Though older smokers are less likely to attempt quitting, doing so offers benefits at any age
Quiz – Not Your Grandma's Arthritis
We tend to think of arthritis as a problem of aging, but rheumatoid arthritis can affect people of any age, including children

Early Fall 2016 featuring Leah Ward Sears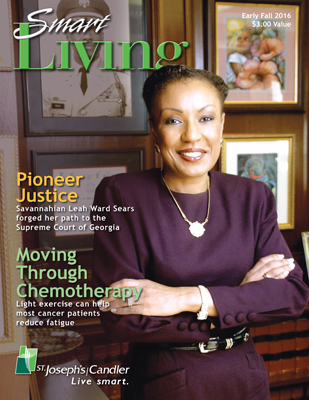 Pioneer Justice
Leah Ward Sears forged her own path from Savannah to the Supreme Court of Georgia
Moving Through Chemotherapy
Light exercise can help most cancer patients counteract the fatigue of treatment
A Whole-Hearted Solution
A minimally-invasive implant can help patients experiencing heart failure from a lifelong defect
Clearing Up Misconceptions About Acne
Certain beliefs about the cause, prevention, and treatment of acne can hurt more than help
Eyes On The Road, Hands On The Wheel
The sometimes deadly problem of distracted driving continues to grow, especially among teens
Quiz - Hair Space Invaders
Not dangerous but highly contagious, head lice are tiny bugs that can turn into a big problem for school children
Ask A Magnet Nurse - Raising Awareness Of Benign Breast Disease
Benign breast diseases are not cancer and not life-threatening, but some do require treatment by a specialist
Summer 2016 featuring Fran Drescher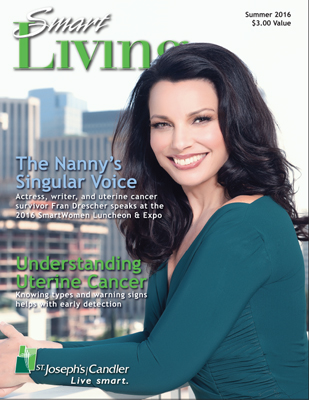 The Nanny's Singular Voice
Actress, writer, and uterine cancer survivor Fran Drescher is the keynote speaker at the 2016 SmartWomen Luncheon & Expo
Pain In The Neck
Degenerative disc disease occurs with age and other factors, and in some cases requires surgery
Was It Something I Ate?
Gastroenteritis, commonly called a stomach bug, has symptoms similar to food poisoning
Summer Safety: Mowing The Lawn
A recent study reinforces the importance of doing yard work the smart way
Quiz – Keeping Bacteria Off The Menu
Foodborne illness, most commonly referred to as food poisoning, can be caused from a variety of factors as food makes its way from the farm to your table
Ask A Magnet Nurse - Knowing When You Need To Go To The Emergency Room
The ER is open 24 hours a day, 7 days a week to anyone who has a medical emergency, but for some patients an immediate care clinic is a better match for their needs


Spring 2016 featuring Bill Forrester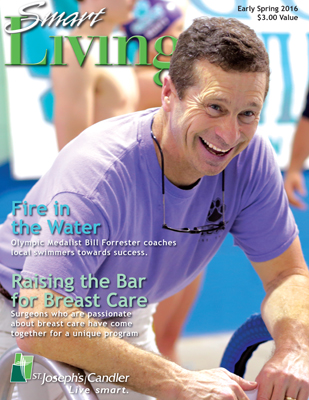 Fire In The Water
Olympic bronze medalist Bill Forrester now teaches young swimmers to be their best
Raising The Bar For Breast Care
Surgeons who are passionate about breast care have come together for a unique program
Testing The Strength Of Our Nerves
Different levels of testing can uncover a variety of neuromuscular disorders
Inheriting Healthy Habits
Screenings and smart choices can help keep family history from becoming your destiny
Reflux Capacity
Severe cases of a condition called venous reflux may require surgery
Quiz - Sun Suit
Sunscreen is essential for protecting skin from damage and potential melanoma, but clothing and swimwear choices can make a big difference too
Ask A Magnet Nurse - How To Help Your Elderly Loved One In The Hospital
Nurses can assist adult children with strategies to help their mom, dad, or other elderly loved one to have a positive patient experience
Early Spring 2016 featuring Suzanne Shank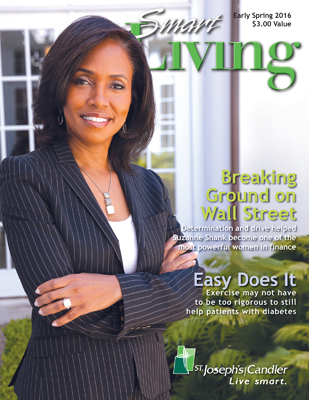 Breaking Ground On Wall Street
Determination and drive helped Suzanne Shank become one of the most powerful women in finance
Easy Does It
Exercise may not have to be too rigorous to still help patients with diabetes
Eating More Plants Is A Smart Plan
You don't have to be vegetarian to benefit from a more plant-based diet
Busting The Gut Myths
Greater colon cancer awareness requires clearing up misperceptions about risk
False Alarm Season
Allergic reactions are your body trying to defend itself
Quiz - Not So Rosy
Rosacea is a condition that's shared among millions of people, but its symptoms are manageable
Ask A Magnet Nurse - Nurses Help Patients Practice Excellent Hand Hygiene During Their Stay
Sanitizing wipes help not just immobile patients but also famiiles and visitors to learn about infection prevention
Winter 2016 featuring Tony Arata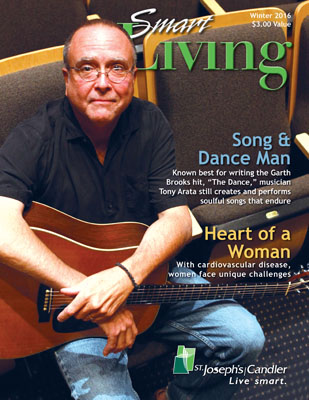 Song And Dance Man
Known best for writing the Garth Brooks hit, "The Dance," musician Tony Arata still creates and performs soulful songs that endure
Heart Of A Woman
With cardiovascular disease, women face unique challenges
An Exceptional Level Of Care For Newborns
Infants who are born premature or critically ill are treated by specially trained neonatologists
Weather, Or Not
Though colds are more prevalent during the winter months, the real culprits are germs
Head Games
Where in the head are your sinus cavities?
Quiz - Cold Wash
Handwashing helps prevent the spread of the germs that cause colds, including the common ones that take your child out of school
Ask A Magnet Nurse - Why Patients Should Be Attracted To Magnet Hospitals
Less than 1 percent of hospitals have achieved four Magnet designations

Early Winter 2015 featuring Lane Huerta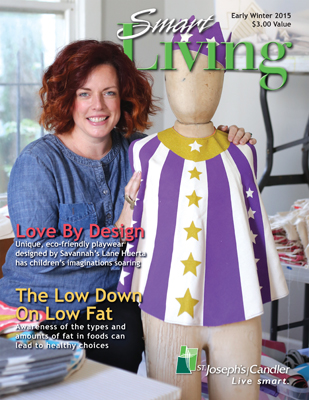 Love By Design
Unique, eco-friendly playwear designed by Savannah's Lane Huerta has children's imaginations soaring
The Low Down On Low Fat
Awareness of the types and amounts of fat in foods can lead to healthy choices
A Crucial Distinction
Alzheimer's disease is a subtype of dementia, but the terms are not interchangeable
Healthy To The Core
The body's core is as important as it sounds, and is more than your abs
The Dracula Of Hormones
Melatonin lulls us to sleep and its synthetic form can help with jet lag
Quiz - Don't Toy With Smart Safety
Parents need to know a few basic principles about toy safety, especially with younger children
Ask A Magnet Nurse - Patients Should Call The Nurse Even When Visitors Can Lend A Hand
Even if they don't want to bother the nurse, patients who try to rise or walk could end up injuring themselves or the family member that wants to help
Early Fall 2015 featuring Josh Reddick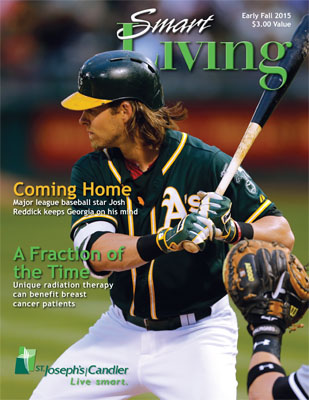 Coming Home
Major league baseball star Josh Reddick keeps Georgia on his mind
A Fraction Of The Time
A method of radiation therapy called hypofractionation can benefit breast cancer patients
Beyond Bonding
Skin-to-skin contact between mothers and newborns provides multiple benefits
Fiber Of Your (Well)Being
The carbohydrate that can't be digested can help you in numerous ways
Cutting Into Your Sport
Oblique strains can send even well-conditioned athletes home for an extended period
Quiz - Sprains vs. Strains
Learn the difference between these two common, and commonly confused, conditions of the muscles and joints
Ask A Magnet Nurse - Vascular Patients Benefit From The Guidance Of A Dedicated Nurse Navigator
Similar to navigators in oncology, nurse navigators can also guide patients through their vascular care and help identify and fulfill needs beyond the cardiologist's office


Summer 2015 featuring Amy Grant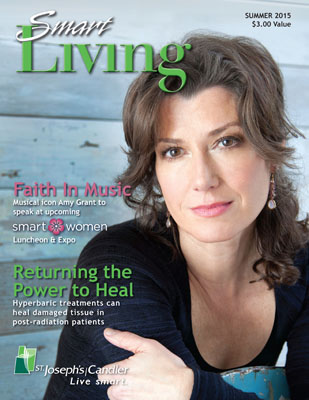 Faith In Music
Amy Grant, an American music icon, hopes to inspire women as the keynote speaker at the 2015 SmartWomen Luncheon & Expo
Returning The Power To Heal
Long after successful radiation therapy, patients may need hyperbaric treatment for damaged tissue
A Prickly Summer Problem
Tempting as it is, scratching an itchy heat rash could lead to a secondary infection
Mediterranean Memory
Extra servings of nuts and olive oil improved memory for some in research study
Good And Bad News For Boomers
An annual report shows longer lives but lingering health issues for people aged 55-64
Quiz - Iron Overload
Learn more about a common genetic disorder known as hemochromatosis
Ask A Magnet Nurse - Be Prepared For A Medical Emergency While Traveling
Basic medical information can be your best travel companion if an unexpected health problem occurs

Spring 2015 featuring Farmers Markets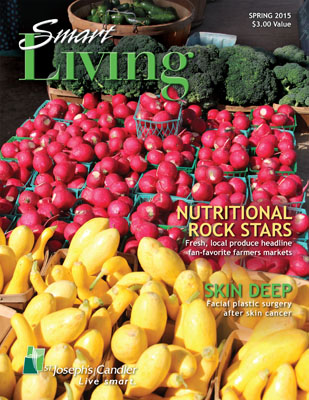 Nutritional Rock Stars
Popular farmers markets are earning fruits and veggies, and the local farmers who grow them, a big number of fans
Skin Deep
A natural look after skin cancer removal is possible with proper facial plastic surgery
A Big Warning
Sometimes referred to as a mini-stroke, a transient ischemic attack deserves the same attention as a stroke
Keeping Summer Sweet
Avoid the summertime blues by watching out for these seasonal health concerns
Out Of Sight
Robotic single-site surgery for gallbladder removal has virtually scarless results
Counting May Lead To Cutting
Calorie counts on menus may help parents choose healthier meals
Stairway To Prevention
One everyday activity could be the earliest indicator for arthritis
Quiz - All In Your Head
Learn more about the variety and characteristics of a very common ailment: headaches
Ask A Magnet Nurse - Unique Assessment Skills Help Nurses Care For Patients In Neuro Intensive Care
Neuro ICU nurses employ specialized training and experience to bring patients back to the best quality of life possible
Early Spring 2015 featuring Brian Harman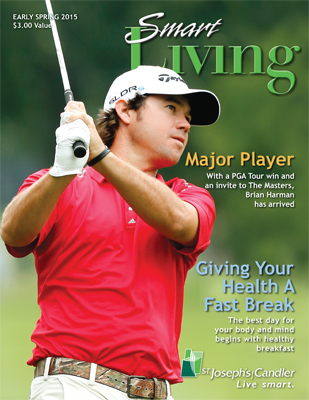 Major Player
With a PGA Tour win and an invite to The Masters, Brian Harman has arrived
Giving Your Health A Fast Break
The best day for your body and mind begins with healthy breakfast
Prevention Done Well
Moderation of red and processed meats can help reduce colon cancer risk
Sleep, Little Baby
Parent can help their newborns sleep well, but must remember that waking up often is healthy
Run For Your Life
New research into Alzheimer's disease suggests that running more than 15 miles a week may decrease the risk of dying from the condition
Your IBS Might Be In Your DNA
Researchers have found that the intestinal bacteria that cause IBS could be hereditary
Quiz - A Good Eye For Safety
Learn more about how to protect your eyes at home, at work, or at play
Ask A Magnet Nurse - PACU Nurses Ensure A Smooth Recovery After Your Surgery
Nurses in the PACU, more commonly known as the recovery room, focus on both comfort and safety for patients waking up from anesthesia
Winter 2015 featuring Maya Van Wagenen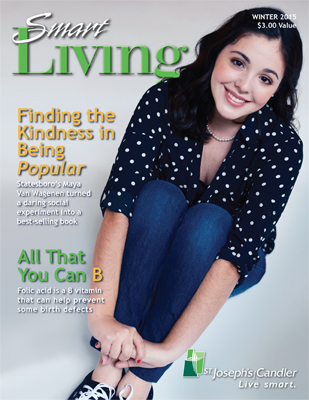 Finding the Kindness in Being Popular
Statesboro's Maya Van Wagenen turned a daring social experiment into a best-selling book
Knowledge for Life: Heart Disease
Know the risk factors and screenings for disease in the "most important four-room house that you'll ever own"
All That You Can B
Folic acid is a B vitamin that can help prevent some birth defects
Resolve To Review Your Fitness Goals
The new year is a good time for a new assessment of your exercise routine
Don't Fail To Take Your Yearly Exam
Changes in Pap test standards don't change the importance of receiving a pelvic exam every year
Quiz – Lack of Lactase
Learn more about how the lack of an enzyme called lactase can affect your diet and lifestyle
Ask A Magnet Nurse - Heart Attack Signs Can Be More Subtle, Especially For Women
An ER clinical nurse educator shares some lesser-known facts about heart attack symptoms of which everyone needs to be aware
Early Winter 2014 featuring Weslyn Bowers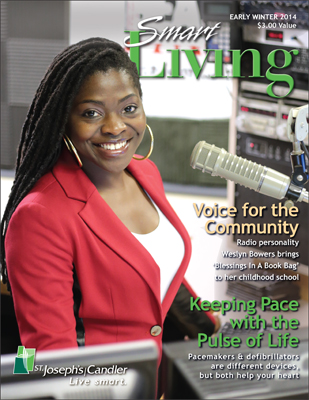 Voice for the Community
Radio personality Weslyn Bowers brings 'Blessings In A Book Bag' to her childhood school
Knowledge for Life: Lung Cancer
Smoking is the not the only risk factor, but it is the most significant
Keeping Pace with the Pulse of Life
Pacemakers and defibrillators are different devices, but both help your heartA Sore Subject for Our Kids
Tonsillitis is a common condition, but when is surgery necessary?
The Right Place for Support
Palliative care is a tremendous resource for certain patients, and is not to be confused with hospice
Quiz – Brain Food
Learn more about how nutrition can not only affect physical health but also school performance
Ask A Magnet Nurse - Preparing Your Child for Surgery and Recovery
A nurse from The Children's Place provides tips and reminders for parents to help their child through a surgical procedure
Early Fall 2014 featuring Jennifer Ashton, MD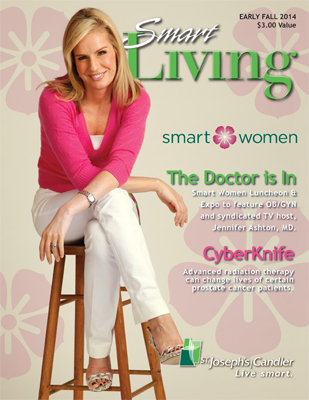 The Doctor Is In
Board-certified OB/GYN and TV co-host Dr. Jennifer Ashton is coming to Savannah to share her ideas and her passion for women's health
Knowledge for Life: Breast Cancer
Women age 40 and over should have a mammogram every year
CyberKnife: A Non-Surgical Cutting Edge Option For Treating Prostate Cancer
The most advanced radiation therapy technology now fights prostate cancer in certain patients
Nerves, Muscles, And Everything In Between
Though a subspecialty, neuromuscular medicine encompasses a broad range of conditions
Giving Your Healthy Pregnancy Its Best Shot
Women who are expecting a child need the influenza vaccine
The Physician Behind The Physicians
Though they work behind the scenes, pathologists have a direct effect on patient care
Quiz –Treating The Fifth
Learn more about a common skin rash disease in young children
Ask A Magnet Nurse - Nurses In The Special Care Nursery Create A Safe, Nurturing Environment For Newborns And Parents
For infants who are born prematurely, have low birth weight or other difficulties, nurses ensure a quiet, warm, and comforting place where parent and child can still bond
Summer 2014 featuring Stan Smith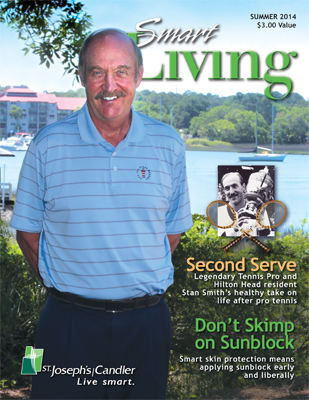 Second Serve
Legendary tennis pro and Hilton Head resident Stan Smith's healthy take on life after pro tennis
Knowledge for Life: Osteoporosis
Awareness of risk factors can help people protect their bones early in life
Don't Skimp On The Sunblock
Smart skin protection means applying sunblock early and liberally
An Aid for Intensity
Sports drinks can be beneficial for athletes, but only under certain conditions
Sunglasses at Night
Smart sleep hygiene can help insomnia sufferers during the longest days of the year
Quiz - Putting Bad Sleep To Bed
Learn more about insomnia
Ask A Magnet Nurse - Visitation Policy Helps Patients Receive Support And Companionship
Nurses understand how important the love of family and friends is in the healing process, and hospitals do their best to accomodate visitors while keeping patients safe.
Late Spring 2014 featuring Libbie Summers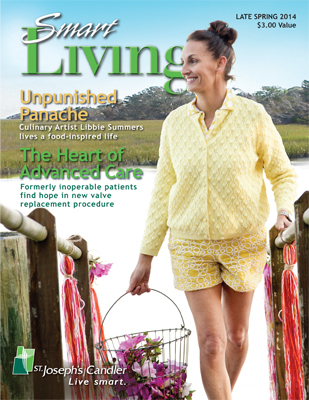 Unpunished Panache
Local culinary artist Libbie Summers lives a food-inspired life
Knowledge for Life: Stroke
Awareness of risk factors and screenings can help prevent stroke
Flat Out Healthy
Five smart, safe ways to flatten your belly for summertime and beyond
Clearing the Air on COPD
A common lung disease encompasses both emphysema and chronic bronchitis
Quiz - Taking Your Breath Away
Learn more about COPD
Ask A Magnet Nurse - Specially Credentialed PICC Nurses Serve Patients With Certain IV Therapy Needs
Physicians and patients alike appreciate the benefits of this service by nationally-certified RN's
Spring 2014 featuring Ossabaw Island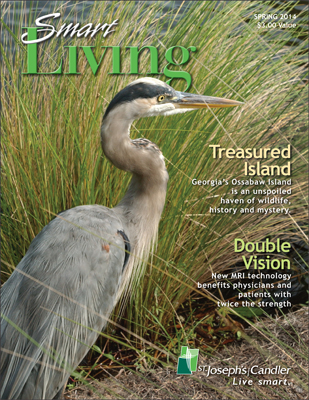 Treasured Island
Georgia's Ossabaw island gives people a chance to be physically active in an unspoiled haven of wildlife and mystery
Knowledge for Life: Colorectal Cancer
Learn the risk factors and screening for this disease
Double Vision
New MRI technology benefits both physicians and patients with twice the strength
Spring Fever
Is it allergies or a cold? Recognizing the symptoms can help parents answer that question
Tearing Up The Field
A common injury in certain sports, a torn ACL may require surgery to prevent further damage
Quiz - On Bended Knee
Learn more about ACL injuries
Ask A Magnet Nurse - Knowing Your Caregiver's Role
Patients feel better when nurses and other hospital staff introduce themselves and communicate well
Winter 2014 featuring Haviland Stillwell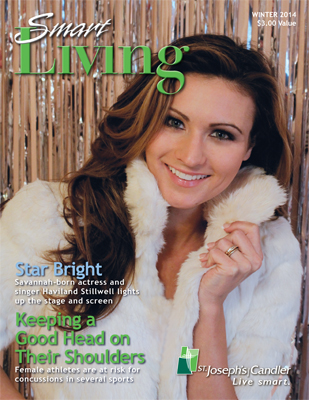 Star Bright
Savannah-born actress and singer Haviland Stillwell lights up the stage and screen
Bringing Early Detection Into A New Dimension
Three-dimensional mammography is a revolutionary new tool in the fight against breast cancer
No Cape Required
Unlocking the power of superfoods is a smart choice for diabetics
Keeping A Good Head On Their Shoulders
Female athletes are at risk for concussions in several sports
Out Of Rhythm
Atrial fibrillation is very common, but so are two misconceptions about the condition
Quiz - Feeling The Beat
Learn more about atrial fibrillation
Ask A Magnet Nurse - Creating A Peaceful Stay For Patients And Visitors
Nurse can help patients benefit from good rest and a quiet environment