CyberKnife: A Non-Surgical Cutting Edge Option For Treating Prostate Cancer
The most advanced radiation therapy technology now fights prostate cancer in certain patients
As a former police officer and agent for the Georgia Bureau of Investigation, Dan Drake has been in several situations in which he asked himself, "How am I going to get out of this one?" But even some of his most harrowing experiences—entering a smoke-filled room teeming with an unknown number of drug addicts or calming down a mentally-ill person carrying a loaded shotgun—could not prepare him for hearing the words, "you have cancer."

"It was very scary," Drake recalls of the day he learned he had prostate cancer. He was determined, though, to meet his disease head on.
"I didn't like the idea of waiting to see what it was going to do," Drake says.

Drake's wife had heard about the CyberKnife procedure from friends in the Northeast. After learning more about the procedure, Drake was excited to see that the CyberKnife technology was available in Savannah at the Nancy N. and J.C. Lewis Cancer & Research Pavilion (LCRP).

The CyberKnife is a robotic system that delivers a unique form of stereotactic body radiation therapy, also known as radiosurgery. The technology allows physicians to provide a pain-free procedure in which high doses of radiation are delivered to small areas with exceptional accuracy.

Drake discussed his treatment options with his urologist, Michael D. Funderburk, MD, and with radiation oncologist John A. Pablo, MD, before deciding to be treated with the CyberKnife.

"Dr. Pablo did say that this was a new procedure in this area," Drake says. "He also told me he wouldn't use it on me unless he felt comfortable using it on his own family."

The CyberKnife provides one of several treatment options for prostate cancer. Other options include surgery, other forms of radiation therapy, and in some very low-risk cases, active observation. Patients should talk with their physician about the appropriate options for their risk category.

"The CyberKnife procedure is indicated for patients with what we call low to intermediate risk prostate cancer," Pablo says.

The first benefit that patients who are eligible for the CyberKnife procedure will notice is the time saved. While traditional radiation treatments can take as many as 40 to 45 sessions during an eight or nine-week span, the CyberKnife involves only five sessions of high-dose radiation.

This is also a non-invasive procedure. The robotic CyberKnife moves around the patient, who is lying comfortably, to deliver the treatment dose. In addition, the advanced real-time tracking capability of the CyberKnife allows it to aim its radiation beams with accuracy measured in sub-millimeters.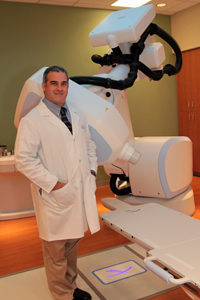 "The real-time tracking can detect any drift or motion of the prostate during treatment," Pablo says. "The CyberKnife can then correct for that motion."

The procedure takes about 30 minutes each session, and possible side effects include urinary pressure and a burning sensation when urinating.

"I was nervous on the first day, but all I had to do was lay there," Drake recalls. "The people at the LCRP could not have been nicer. They answered all my questions, and when they said 'this won't hurt,' they were telling the truth. I walked out of the LCRP each day and went back to work."

Surgery or other forms of radiation may be more appropriate for certain patients, but Dr. Pablo is excited about being able to offer the CyberKnife procedure as an option in this area. The LCRP is the only cancer center in the region with the CyberKnife.

For Dan Drake, the procedure provided him with another way out of a scary situation. Now serving as a Law Enforcement Coordinator for the U.S. Department of Justice, Drake has met several other federal and state agents who have had prostate cancer. Most of them were treated before the CyberKnife was available and the outcomes were varied. He hopes newly-diagnosed patients will learn about all the possible options that exist for their treatment.

"Talk to your doctor and figure out which way you want to go," Drake says. "But for me, it was the CyberKnife."