Knowledge for Life: Breast Cancer
Women age 40 and over should have a mammogram every year
About 1 in 8 women in the United States will develop breast cancer in their lifetime. This is an alarming fact but not the end of the story. According to the American Cancer Society, death rates from this disease have been declining for more than two decades. Part of this decline can be attributed to early detection through regular mammography screenings and increased awareness about risk factors.

Physicians, nurses, and staff in St. Joseph's/Candler's Telfair Pavilion, one of several excellent diagnostic facilities of the Mary Telfair Women's Hospital, are dedicated to not only early detection but also community education about breast cancer. Awareness has grown over the past several years, but the more women who understand the importance of mammography, the better. Here are the basics:

Risk Factors

There are several known risk factors for breast cancer. Some of the most common include: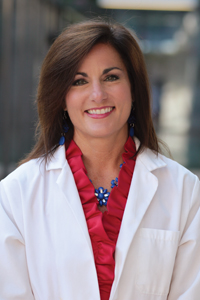 Gender. Breast cancer is about 100 times more common in women than in men.
Age. "As you get older, the risk of developing breast cancer increases," says Lora Reese, Manager of the Telfair Pavilion. "About two out of three breast cancers are found in women age 55 or older."
Family history of breast cancer. A woman's risk of breast cancer is approximately doubled if she has one first-degree relative (mother, sister, or daughter) with the disease.
Personal history of breast cancer.
Dense breast tissue. Breasts are made up of three kinds of tissue—fatty, fibrous, and glandular. A woman with more fibrous and glandular tissue and less fatty tissue is considered to have dense breast tissue, which can increase her risk.
Race. White women are slightly more likely than African-American women to develop breast cancer; however, studies have found that in the group of women under 45 years of age, the disease is more common in African-Americans. African-American women also have higher mortality rates from breast cancer. Hispanic, Asian, and Native-American women have a lower risk.
Menstrual periods. Women who started menstruating before age 12 or who went through menopause after age 55 are at an increased risk, possibly due to longer exposure to estrogen and progesterone hormones.
Previous chest radiation. The risk is increased for women who received radiation therapy to their chest as children or young adults for treatment of another cancer.
Lobular carcinoma in situ. This is a condition in which abnormal cells grow in the lobules of the milk-producing glands of the breast. While not cancer, this condition is considered a marker for increased risk of developing invasive cancer in either breast.

"There are other lifestyle-related factors that may be linked to an increase risk for breast cancer, such as the use of oral contraceptives," Reese says. "Meanwhile, factors such as breastfeeding and being physically active may help reduce the risk."

Screenings

The American Cancer Society recommends that women in their 20's and 30's receive a clinical breast exam at least every three years. Once they reach 40, routine screening mammography is recommended.

"A woman of average risk for breast cancer should have a baseline screening mammogram between the ages of 35 and 40, and begin routine annual screenings at age 40," says John Gouse, MD, a radiologist who is also the Medical Director of the Telfair Pavilion Breast Imaging Center. "She should continue those routine screenings throughout the rest of her life, or as long as she remains healthy."

There has been some media coverage of studies that have suggested mammograms may not be beneficial in reducing mortality from breast cancer. Dr. Gouse thinks this is unfortunate, especially when these studies are later reviewed and found to be flawed.

"The American College of Radiology and the American Cancer Society concur that a woman of average risk should start annual mammograms at age 40," Gouse affirms.

"Digital mammography uses an x-ray image to give physicians a clearer view of the breast than previous film-based technology," says Julie Schwartz, Team Leader of St. Joseph's/Candler's Mobile Mammography Unit, which travels to various places in the region to offer a convenient way for women to get their mammogram nearer to their home or workplace. "Digital mammograms are the gold standard for detecting abnormalities in the breast."

3D mammography

Dense breast tissue is not only one of the risk factors for breast cancer, it can also affect the accuracy of mammograms. But a new technology called tomosynthesis, or 3D mammography, is making it easier for physicians to distinguish abnormalities in these women.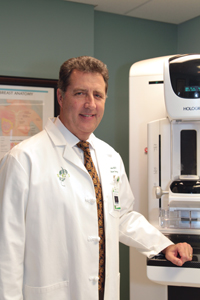 Tomosynthesis creates fifteen low dose x-ray images of the breast and reconstructs them into a 3D image. Radiologists can then examine the breast tissue in layers, one slice at a time, rather than one flat image. Viewing the breast in increments, radiologists can more easily distinguish true abnormalities from those in which dense breast tissue or overlapped normal tissue is obscuring, or in some cases mimicking, a lesion.

"Often, because of the overlapping tissue, we had to call women back for additional imaging," Gouse says. "But tomosynthesis increases both sensitivity, which is the ability to detect cancer when it's there, and specificity, which is our ability to confirm that cancer is not there. So we can answer those questions right at the time of initial screening."

The greater accuracy afforded to radiologists means less anxiety and inconvenience for the patient. It also means greater detection.

"Smaller cancers are easier to treat and are more curable," Gouse says. "3D mammography is advancing our ability to find small, early cancers in the breast, which provides better treatment options and improved outcomes."