The Physician Behind The Physicians
Though they work behind the scenes, pathologists have a direct effect on patient care
When detectives need help solving a murder, they don't call pathologist Daniel J. Teague, MD, despite the popular perception of his work.

"People often hear the word pathology and think we are doing autopsies," Teague says with a grin. Forensic pathology—determing a person's cause of death in criminal cases—is a sub-specialty of pathology, but it is just one of many.

General pathology involves analyzing tissue to diagnose disease as well as to answer the inquiries of another physician such as a surgeon or family practitioner.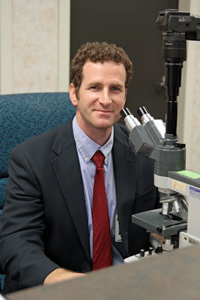 "Most of our time is spent looking at tissue sections on glass slides under light microscopy," Teague says. The microscopic examination of tissue in order to make a diagnosis is called anatomical pathology. It is one of the two major branches of pathology, the other being clinical. In clinical pathology, the diagnosis is made through laboratory analysis.

Dr. Teague is board-certified in anatomical and clinical pathology, as well as in the sub-specialty of dermatopathology, which focuses on the skin.

"I receive biopsies from dermatologists, plastic surgeons, OB/GYNs, and primary care physicians," Teague says, "because they all encounter a patient's skin."

Dr. Teague will take what is called a representative section of the specimen sent by the physician. He could take between one to thirty of these sections depending on the size and nature of the specimen.

"Once a specimen is excised, it initially goes into a solution called formalin, which essentially kills the cells but preserves cellular features," Teague explains. "We do this so that the tissue can be processed over a period of time and severely limit tissue necrosis."

The sample is then sliced by a tool known as a microtome, which can make extremely thin cuts in order to prepare the tissue for observation under a microscope. After a series of stains, Dr. Teague studies the sample to determine a diagnosis, such as whether the tissue is benign or malignant. He shares his diagnosis with the clinician or surgeon, who then talks with the patient about what was found and what treatment is necessary.

Dr. Teague also examines tissues to help a surgeon determine his or her next step.

"For example, if a surgeon does an excision of a Merkel cell carcinoma, a type of skin cancer, from his patient, he or she will send it to me and want to know its marginal status," Teague explains. "In other words, they'll ask me to make sure they took out all the cancer. Based on what I find, the surgeon may decide to do additional surgery or may decide to treat the remaining cancer with radiation or chemotherapy."

Most general pathologists are now also choosing a sub-specialty as Dr. Teague did with dermatopathology. They can specialize in a number of areas, including the nervous system, blood cells, lungs, and, of course, post-mortem examination.

"With the advent of molecular diagnostics and other advances, this field is becoming increasingly complex," Teague says. "Each of us must stay well abreast of our chosen specialty."