Coming Home
Major league baseball star Josh Reddick keeps Georgia on his mind
George Michael's "Careless Whisper" is one of the most memorable songs of the 1980s, but it's not one you'd expect to hear at a baseball game. It seems a bit too romantic for a batter's walk-up song, too quiet to get the crowd cheering. But for the Oakland Athletics' Josh Reddick, it got results.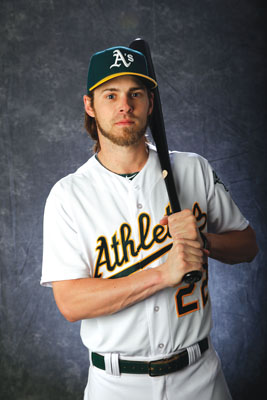 "The first night I used it, I hit a home run," Reddick recalls. "So it stayed with me for a while."

The song connected with Reddick accidentally, playing in the clubhouse during a time that he was struggling a bit with his game. He took it as a possible sign and wondered what would happen if he used it as a walk-up song.

"As superstitious as ball players are, if something starts working, we don't change it," Reddick laughs. "It got a lot more attention than I thought it would. I didn't think it would get any attention actually."

It certainly wasn't the song Reddick had in mind as a young kid growing up in Guyton, GA, and dreaming about being a ball player in the major leagues. He started playing baseball at age 4, and by the time Reddick was a junior at South Effingham High School, his dream started to take shape into a possible reality.

"My talent was rising, and I was coming into my own as a player," Reddick recalls. He played ball at Middle Georgia College and was drafted by the Boston Red Sox in 2006.

"You can prepare for that day all of your life, but once it actually happens, there's no way to be ready for it," Reddick says. "Your adrenaline is pumping and there are some butterflies going around. I mean, you're playing with guys that you watched on TV growing up."

"And it's still just as exciting now," he adds.

Reddick started with the Oakland A's four years ago as a right fielder. In October 2012 he won a Rawlings Gold Glove Award for his position in the American League. The Gold Glove is awarded to players who have had the best fielding performance each season. Reddick was grateful for the recognition, though he says he was only doing his job.

"No matter what level you're at, as a baseball player you're supposed to go out there and give 100 percent," Reddick says. "You don't think about winning awards, you just go out and help your ball club win. That's what I take pride in."

Reddick has much to be proud of this season, though it didn't start off in the best way. He suffered an oblique strain during spring training and missed the first five games of the season.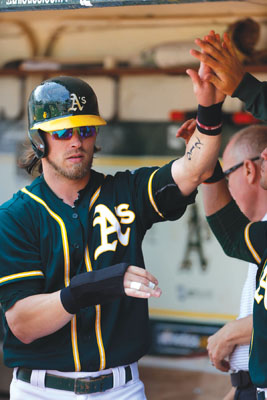 "It was upsetting, but I was glad that it happened in spring training and that I didn't have to miss even more games," Reddick says. "I dealt with an oblique strain back in 2009 and it took me two months to get back. I wasn't going to let that happen again. I made sure that I got plenty of treatment and that I did it the right way."

The importance of not giving up is something Reddick hopes to communicate to young players who share the dream he had growing up.

"My father told me, 'Never let anyone tell you that you're not good enough,'" Reddick says. "I've been told throughout my life and even in my career that I wasn't good enough, but I wasn't going to let that stop me. I made sure that I worked hard at it, to prove those guys wrong."

Reddick believes that kind of determination is needed not just in baseball but all aspects of life.

"Don't let someone else decide if you're cut out for something," he says. "Don't give up on your dream."

Reddick can still get encouragement from his father in person during the offseason. He bought a house not too far from many of his family members in Effingham County. He also recently started a foundation that he hopes will be able to help out the people in his community when they need it. And while "Careless Whisper" is now a part of the past, Reddick's hometown is not. In fact, Reddick says in some ways that he's never really left.

"This is where I grew up and what I know," he says. "Coming here is coming home for me."