Vascular Patients Benefit From The Guidance Of A Dedicated Nurse Navigator
Patricia Haselden RN, NP
Nurse Navigator, Advanced Vascular Program
The Heart Hospital at St. Joseph's/Candler
Smart Living: Nurse navigators have been seen mostly in oncology, but the role is now being filled to help other kinds of patients as well. What are your duties as a navigator in the Advanced Vascular Program?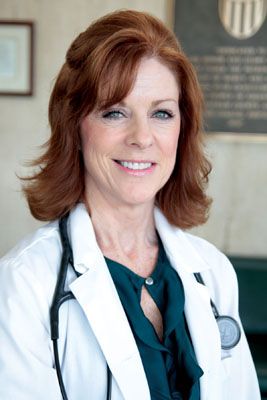 Patricia Haselden: The responsibility that all nurse navigators share is to identify patients' needs, educate them about the care of their disease both in the hospital and at home, and make sure they have access to the resources that can help them manage their condition and improve their quality of life.
I look at the patient in a holistic manner and make sure that every single one of his or her needs is addressed. For example, if we have a vascular patient who is a diabetic, I will assess his level of diabetes education. If I see that he is lacking in that knowledge, I'll make sure that he gets it here in the hospital. Then I will work to get that person set up with our Center for Diabetes Management as an outpatient. Another example would be helping to find a podiatrist or even a primary care physician for a patient who needs one. I work to identify any type of medical issue that is going to impact the vascular care of a patient.

SL: What kinds of patients benefit the most from this navigation support?

PH: The patients I see the most of are probably those dealing with peripheral vascular disease, and I've seen some recurring issues that these patients face. Often they will have a wound that we treat and I will help make sure that they can follow-up with our Center for Hyperbarics and Wound Care post-discharge. Management of diabetes, as I've mentioned, is often an important issue. Smoking cessation is another. It's one thing to tell a patient to quit smoking, but you need to provide them with tools to do it.

SL: What feedback have you received from patients who needed your assistance?

PH: They are happy to have a better understanding of their disease and what they need to do when they leave the hospital. And I always feel privileged to be able to provide that understanding, not just for the patients but for their families as well. Before patients are discharged, I give them my contact information and let them know I'm available to them. My job is to identify patients' needs and then steer them in the right direction. I want to make sure that after they've left the hospital, those needs are still being met.