Soaring Ability
Georgia Southern Eagle and Chicago Bear Adrian Peterson is headed for the College Football Hall of Fame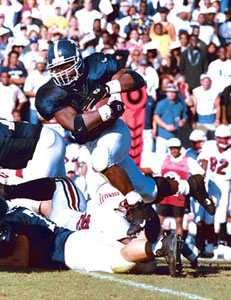 Consider the demands faced by an NFL rookie—maybe you were the best player on your college team, but now you're surrounded by all the best players from other college teams. Your coaches are tougher, your rivals more skilled.
After hours of rookie training camp, there's more off-season training, then pre-season games, and you've got thick notebooks to read and stacks of films to watch to learn new plays. On top of all of this, you've got speech therapy.
Actually, only former Chicago Bear Adrian Peterson had that last one. But he was ready for it.
Starting Up
Peterson grew up in a small Florida town, watching his older brother and cousins play football. Around the age of 5, he said to his parents, "Sign me up. I want to play."
It was also around this time that Peterson—and his classmates at school—noticed that he stuttered when he spoke. Along with football, his parents also had to sign him up for speech therapy.
"It was difficult at first," Peterson recalls. "You want to be normal, but I wasn't."
Meanwhile, Peterson's talent on the field grew to be exceptional. In high school, he was two-time all-state, all-area selection and team MVP. As a senior, he earned Florida Class 4A Player-of-the-Year honors.
Record-Breaking Eagle Flies To Chicago
With a scholarship offer and a location fairly close to family, Georgia Southern was Peterson's college of choice. He continued his speech therapy there, with a therapist he recalls as "amazing."
Amazing was also an adjective used to describe Peterson's playing. Not including the playoffs, he finished his college career with 6,559 rushing yards, setting a Division I record that has not been broken. He also exceeded all other players for touchdowns, scoring 111 in 57 games including the playoffs.
In 1999, Peterson received the Walter Payton Award, named after one of his biggest heroes. The award is given annually to the most outstanding offensive player in Division I.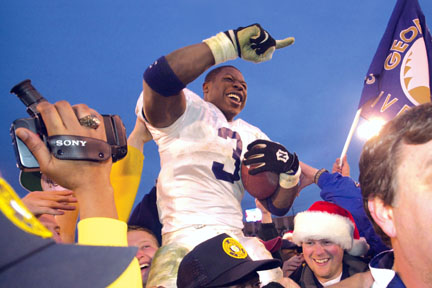 But despite the awards and records, Peterson's dream of playing in the NFL was not a sure thing.
"I was still only a sixth-round draft pick," Peterson says. "When the NFL called, I was ready. But I also had that college degree and was ready to go into the real world."
Peterson moved to Chicago and played for the Bears from 2002 to 2009. The team played Super Bowl XLI in 2006. Throughout Peterson's time with the Bears, he was not only a running back but also an important part of their special teams, which are on the field during kicking plays. And for his first two seasons, he continued his speech therapy.
But making it to the NFL meant being seen—and heard—on the national stage. After years of dealing with classmates and strangers who didn't understand what Peterson was going through, he now had to face cable and network cameras.
"At that stage in my life, my mindset was 'I stutter. So what?'" Peterson recalls. "I thought, 'If they want the interview, I will do it.'"
Speech was a challenge he was used to, but living in a huge city with long, harsh winters was a bit of culture shock. He adjusted the best he could, and it's now where he and his family call home.
"Fifteen years later and I'm still not used to it," he says with a laugh.
Being Prepared
Today, Peterson devotes his time to speaking to children about his achievements and his challenges. He also speaks with college students who are studying to become speech therapists, sharing his insight on more than 15 years as a speech therapy patient. In 2013, he released a book about his experiences called Don't Dis My Abilities.
Peterson returned to Savannah last spring to speak with students at Savannah's Hesse K-8 school. His message for the graduating eighth-graders was to be prepared.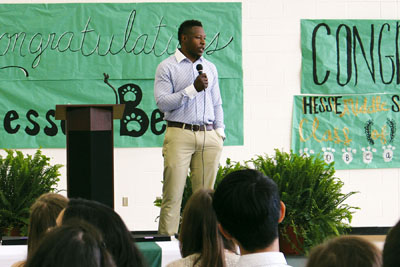 "I told them, whether it's sports or academics, it's going to be harder," he says. "I encouraged them to be prepared in their mind for obstacles so that they'll be ready for them when they come up."
Tragically, nothing could prepare Peterson for what happened to his family in 2014. Peterson's 6-year old son, AJ, was diagnosed with an inoperable tumor in his brain stem. He died in February 2015.
"It was hard, and still is," Peterson says. "But we still smile every day, thinking about him. We laugh a little bit, cry a little bit. You know, he's not here…but he's in my heart every day."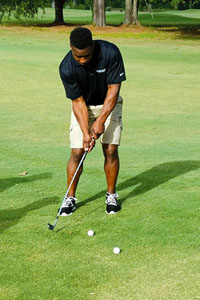 Though unprepared for such a personal tragedy, Peterson continues to approach life with the same mindset that he cultivated growing up—staying healthy and being mentally ready for whatever challenges arise. His focus now is sharing that mindset with young audiences and their families, teachers, and community leaders.
Looking Forward
Peterson created a foundation to help empower children who may be dealing with speech disorders, as well as to support the people trying to help those children succeed.
"The purpose of the Adrian Peterson Foundation is to raise awareness and funds, but I also want to bring communities together," Peterson says. In that spirit, he traded a football for a golf club during a recent visit to Savannah when he participated in a charity golf tournament. He brought other former Bears to the South with him to help make sure the event was a success.
Peterson was also back in national sports news when he was among those nominated for the College Football Hall of Fame.
"It was exciting," Peterson says. "You see the list and you're like, 'Oh, wow. I'll wait my turn.'"
He didn't have to wait long. In January, the Hall announced that Peterson was one of the few selected from the national ballot. The Class of 2017 will be officially inducted in December. Only one other Georgia Southern player, former quarterback Tracy Ham, is also enshrined in the Hall, which is open to the public in Atlanta.
"To learn that I was being inducted, it was an amazing feeling," Peterson says. It also fits perfectly with Peterson's message of preparing yourself to achieve.
"When I speak to a group of kids, I remind them that nothing is guaranteed," Peterson says. "But, you can put yourself in a position to be successful."
---
Photos courtesy of Georgia Southern Athletics, Hesse K-8, State Bank and the Adrian Peterson Foundation.
Learn more about how speech therapists help patients like Adrian Peterson in Speaking Out.