Knowing All Dimensions
One of the largest breast cancer studies in decades is focused on mammography
Breast cancer awareness is crucial because early detection, especially of aggressive breast cancers, can have such a strong effect on treatment and outcomes for patients. From a clinical standpoint, researchers continue to strive for technological advances in screening and early detection, but what matters most are results. That's why St. Joseph's/Candler and the Nancy N. and J.C. Lewis Cancer & Research Pavilion have joined one of the largest studies on breast cancer screening performed in decades.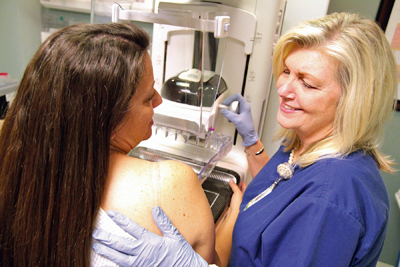 The Tomosynthesis Mammographic Imaging Screening Trial (TMIST) is the first randomized trial to compare two types of digital mammography for breast cancer screening, 2-D and 3-D. Standard digital mammography (2-D) takes a single picture from two angles of the breast to create a flat image, while 3-D mammography takes multiple low dose images around the breast that are then built into a 3-D image that the radiologist can scroll through, layer by layer.
Savannah women ages 45 to 75 who are planning to get a routine screening mammogram are eligible to participate in TMIST. Participants must receive their mammogram at St. Joseph's/Candler's Telfair Pavilion.
"Our participants will be among the 165,000 women across the country helping with this trial," says Lora Reese, Director of the Telfair Pavilion. "All of us share the same goal—to provide data that will give caregivers and their patients a new understanding of the impact of mammography technology. This study will also help us learn more about the biology of the cancers that both 2-D and 3-D screenings detect, and to determine if the newer technology finds more aggressive tumors associated with a worse outcome sooner when the prognosis is better for the patient."
For more information about this five-year study and its requirements, call 912-819-5766 or visit sjchs.org/TMIST.
---
Schedule your next mammogram
For women who aren't interested in the trial but need to get their annual mammogram, remember that both 2-D and 3-D mammography are available at the Telfair Pavilion (located at Candler Hospital), St. Joseph's Hospital Imaging Services, SJ/C Imaging Center – Pooler, and Telfair Breast Imaging – Eisenhower. Also, 2-D mammography is provided at SJ/C Imaging Center – Bluffton as well as through our Mobile Mammography Unit. Call 912-819-6800 to schedule a mammogram at a facility near you.