Stronger Than Ever
A survivor of trauma and tragedy, author and community advocate Taya Kyle uses everything she's learned to help others
Through a best-selling book and Oscar-nominated movie, the world knows U.S. Navy SEAL Chris Kyle as the most lethal sniper in U.S. military history.
What they don't know is how easily he could make you laugh.
"Chris was so funny," says Taya Kyle, the wife and now widow of Chris. "My favorite part of our story is just how we laughed all the time. Even through the dark stuff and the hard stuff, we found a way to laugh. I think that was one of our biggest keys to surviving and making it as a couple."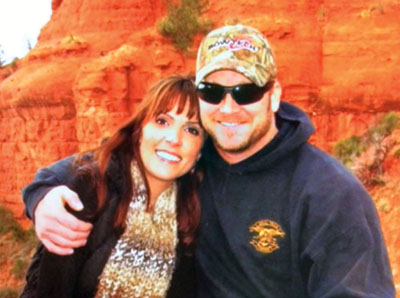 Today, Kyle uses her story to help other service couples and is now herself the best-selling author of American Wife. She will share that story, along with the strength and the wisdom she's gained since her husband's tragic death in 2013, at this year's SmartWomen Luncheon & Expo.
A Spiritual Path, With Surprises
Growing up in Portland, Oregon, Kyle was a spiritual person who enjoyed writing.
"I felt this strong connection to God, and I felt like maybe one day I could do something for Him," she says.
What that something was, however, she wasn't sure. She reinvested herself in the church in her twenties but was also interested in psychology and sociology. Dating and marriage? Not so much.
"I wanted to be this independent woman out there conquering the world," she recalls. "But over the years, I felt like God was telling me that I wasn't supposed to do it alone. I was mad about that! It didn't fit my vision. But when I finally submitted to it, I remember asking God to just bring me someone kind, with a good heart."
Kyle says she never dreamed that person would show up as what she calls a "funny, dynamic, cowboy-meets-military character." But six months after meeting Chris Kyle in a bar in San Diego, they were engaged.
Facing Grief With Purpose
Chris Kyle served four tours in the Iraq War, earning several commendations and a fearsome reputation as one of the military's most effective snipers. His return and adjustment to civilian life in 2009 was more challenging than either of them had anticipated, but he and Taya worked through those difficult days together. They emerged, along with their two children, stronger and happier than ever. Chris wrote an autobiography, American Sniper, a best-seller that quickly caught the attention of Hollywood. Most importantly, he had found new purpose in helping other veterans.
Then the unthinkable happened. Kyle and a friend, Chad Littlefield, were fatally shot by a Marine Corps veteran at a shooting range. Taya was suddenly a widow and single mother.
Being there for her children while also facing her own grief was overwhelming and often unbearable for Kyle. To help take her focus off the pain when it got to be too much, Kyle dedicated herself to finishing projects her husband had begun and to speaking out about issues facing veterans and their families.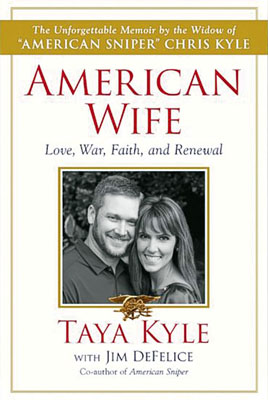 "I said that somebody can take away his body, but they can't take away his spirit," Kyle says. "But I also was in this place of shock—crying every day, not sleeping—so I needed those projects as an escape from the pain."
American Wife, American Spirit
One of the ideas that Chris and Taya had discussed before his death was a foundation to help service members and first responders at risk for drug and alcohol addiction or suicide, especially if their marriage or family is falling apart. In 2014, Kyle founded the Chris Kyle Frog Foundation, a nonprofit organization designed to help those service families who may be in crisis.
"We know that post-traumatic stress is treated best when the marriage is intact, and there's a partnership attacking the problem rather than one person facing it alone," Kyle says. "If your marriage has even a glimmer of hope, we will get you to a place where you're not only surviving but thriving, and we know that affects the generation to come."
Children, in fact, are at the center of her next project, Prayers for Bears. This is a children's books series that will focus on preparing kids for the harder times in life so that they have the strength and fortitude to deal with whatever comes their way.
"Nobody gets through this life without a struggle," Kyle says. "That's a component of life that is universal to all humans. Part of our journey is understanding trauma, tragedy, and grief, but also the path out of it—understanding healing, not only individually but with the help of others."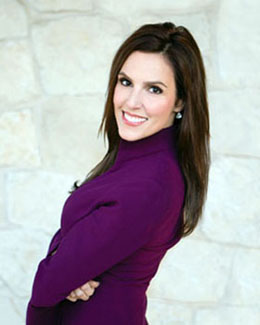 Kyle's current books with co-author Jim DeFelice include her autobiography, American Wife, and American Spirit, a collection of other stories of hardship, survival, and renewal from more than 30 individuals. She knows the subject matter can sometimes be intense, but Kyle believes that being real is the best starting point, especially since she has been there herself.
"I feel a real connection to audiences when I talk about all this big stuff people are dealing with," she says. "Life is hard, but we can do something with that knowledge. We can prepare ourselves in a way that we end up more resilient, more empowered, and stronger than we were before."
---