Keeping Watch On Your Heart
A permanent implant can protect AFib sufferers who can't take anticoagulants
The primary and most feared risk of atrial fibrillation, also known as AFib, is a stroke. AFib is a type of irregular heartbeat that affects about 22 million people in the United States. The heartbeat irregularity can cause blood clots that could travel to the brain and cause a stroke.
Anticoagulants (sometimes referred to as blood thinners) such as warfarin can prevent these clots from forming. But they may be too risky if a patient also has:
gastrointestinal bleeding
a brain bleed
easy bruising
high fall risk due to activity level or occupation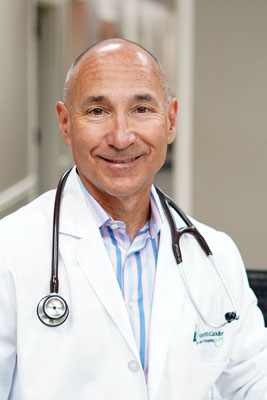 "These are strong reasons for a person not to be on anticoagulants long-term," explains cardiologist and electrophysiologist Michael B. Chisner, MD, of Cardiology Associates of Savannah. "If this kind of patient has a history of atrial fibrillation along with additional risk factors for stroke such as high blood pressure, diabetes mellitus, vascular disease, congestive heart failure, previous stroke and age, they may be a candidate for the Watchman implant."
Enter The Watchman
For patients with non-valvular atrial fibrillation, the left atrial appendage (LAA) is believed to be the source of the majority of stroke-causing blood clots. If a clot forms in the LAA, it can increase one's risk of having a stroke five-fold.
The Watchman seals off the LAA—permanently. It is about the size of a quarter and shaped like an umbrella. An interventional cardiologist moves the device on a catheter through a small hole in the patient's leg and up through a vein into the heart. The Watchman is expanded, sealing off the LAA, and then the heart tissue eventually seals over the device.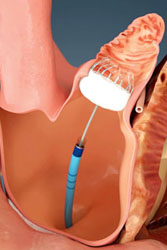 The Heart Hospital at St. Joseph's Hospital was the first to bring the Watchman to the Savannah region. Dr. Chisner is part of the Watchman team along with cardiologist and electrophysiologist Daniel Cobb, MD, and interventional cardiologist William F. Wallace, MD.
"The procedure takes an hour and doesn't require open surgery," Dr. Chisner says. "Most patients are discharged the next day. After 45 days, more than 90 percent of those who received the implant are able to stop taking warfarin. With the LAA closed off, blood clots cannot escape and the patient's risk of stroke is effectively reduced without the long-term use of anticoagulants."
---
To learn more about The Watchman and to see an animated video of the procedure, visit www.sjchs.org/watchman. For more information about AFib or Watchman candidacy, please call 912-819-AFIB.
---