Celebrating Smart Women
Even without a luncheon and expo, St. Joseph's/Candler is celebrating the 18th year of SmartWomen and its impact on uninsured women
Over the past seventeen years, the SmartWomen Luncheon & Expo has become a calendar event—the kind for which you remember to save the date months ahead of time, ask your boss for a few hours off, and put a little extra spending money away for whatever you might find on sale. Laughter and maybe a few tears were always a guarantee from the compelling keynote speaker. You also wondered what insight you might gain from the world-famous women who came to talk with you and 1,400 new friends in the massive ballroom in the Savannah Convention Center.
But this year, as with so many other popular events, your safety matters more than anything else. So the ballroom will remain empty. But SmartWomen 2020 is happening—virtually—and you can help this popular event retain its impact on uninsured women.
The Fund That Started It All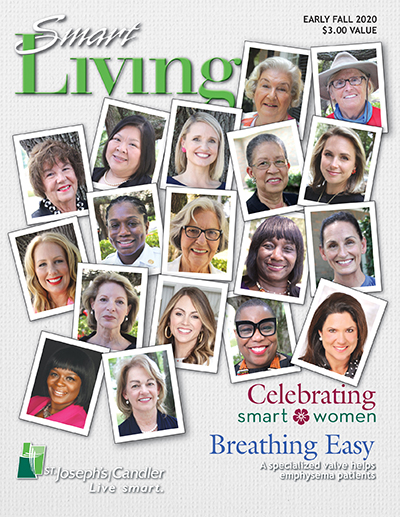 The "how" of SmartWomen may have changed, but what won't change is the "why"—to provide mammograms and other breast care services for anyone who needs them, regardless of their ability to pay. This event was created as an annual fundraiser for St. Joseph's/Candler's Telfair Mammography Fund.
The need for the fund isn't likely to ever change either. In our region, approximately 25 percent of the population is uninsured or underinsured. The Telfair Mammography Fund ensures that all women have access to mammography and other services, even if they have no insurance or high deductibles or co-pays. It is actually the one fund that St. Joseph's/Candler's President & CEO Paul P. Hinchey likes to see depleted each year.
"Because that means that uninsured and underinsured women are getting their mammograms," Hinchey says. "We do not want any woman in our region to miss getting their mammogram because they don't have insurance. Each year this event helps fill that fund back up again."
Truth be told, filling that fund has been a lot of fun too.
A Day To Remember
There is no denying that we'll miss our traditional event this year. There's a reason SmartWomen always sells out weeks in advance.
The keynote speakers of SmartWomen have been some of the most dynamic, intelligent and compelling women living today—icons in a variety of professions and passions such as music, writing, theater, broadcasting and more. Jane Seymour, Amy Grant, Joan Lunden, Suze Orman and Erin Brockovich are just a handful of notable women who have taken the podium every fall in Savannah. Though their lives looked very different, every speaker shared a common thread. They spoke honestly about the challenges and failures they faced, and then told us how they came through it all more empowered than ever.
But even before the luncheon starts, guests could stop and peruse booths from some of the most popular shops and organizations in Savannah. They could raise money by entering our expansive raffle or participating in the Diamond Dig.
And you can bet that we're doing the Diamond Dig this year. COVID-19 cannot touch that!
Virtual Stars
SmartWomen 2020 is happening. It will just look a little different.
In honor of the 18th year, St. Joseph's/Candler will feature 18 smart women from right here in Savannah and the Low Country. Our area is blessed with some of the most creative, charismatic, bright, and resilient women in the country. They will speak to you just as our past keynotes have—telling their stories as only they can. But their talks will be on video, shared by our media partners and accessible anytime on our website throughout the month of September.
Each of these SmartWomen will share their insight and knowledge, straight from the heart, in their own virtual vignettes:
Bertice Berry

Captain Judy Helmey
Joanie Heyward
Shirley James
Sheryl Jones
Fran Kaminsky
Susan Ketchum
Dottie Kluttz
Anne Read Lattimore
Kathy Levitt
Emily McCarthy
Leslie Richardson
Sallie Ann Robinson
Malena Stone
Libbie Summers
Lindsay Thomas
Whitney Williams-Smith
Melissa Yao Hille
These women aren't just notable, they're also our neighbors. Their stories come from that special place we all share—our home in Savannah and the Low Country.
You Make It Happen
The Telfair Mammography Fund is refilled every year because of your support of SmartWomen. You can continue that support this year by making a donation easily online.
And yes, the Diamond Dig is also being held virtually, thanks to another dazzling donation from Harkleroad Diamonds & Fine Jewelry. For only $25, participants can enter to win a stunning ring—a 2 CTW baguette and round diamond band in 14K white gold with a diamond quality of g-H SI1-SI2 that is valued at $6,500. The drawing is October 2, so click here to enter.
Think a Diamond Dig purchase or a small donation to the Telfair Mammography Fund doesn't make much of a difference? Think again. Those small donations have led to record-breaking numbers practically every year. In fact, the 2019 SmartWomen Luncheon & Expo surpassed totals from all others in its 17-year history, raising $183,743.
So meet some smart women, have some fun with the Diamond Dig, and spread the word that it is all happening virtually. The thousands of uninsured and underinsured women in our area, who are desperate to receive potentially life-saving mammograms, will have you to thank.