Ask A Magnet Nurse
Terria M. Manning, BHS, BSN, RN-RC, CNRN
Resource Coordinator
7S Stepdown Unit
Institute of Neuroscience
St. Joseph's/Candler
"For Nurses, The Only Acceptable Time For A Patient Fall Is Never"
Smart Living: Patients and visitors are aware that falling down is never good, but they may not realize just how serious the risk can be or why fall prevention is such a huge priority to nurses. Can you shed light on why it's so important?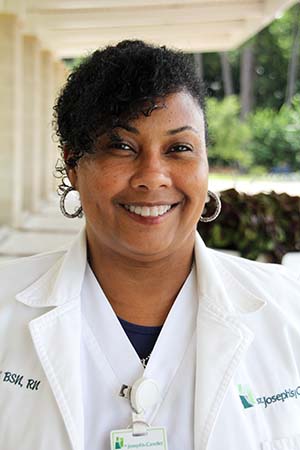 Terria Manning: Falls can be dangerous because the injury that may result from one could be life changing or even life threatening, and may lead to a longer hospital stay or additional tests and procedures. Safety is our priority. We took a vow to do no further harm to the patient and a preventable fall is what is called a "never event" for us, especially a preventable fall with injuries.
SL: How do nurses help to prevent patients from falling during their hospital stay?
TM: We complete a thorough assessment immediately upon admission on all patients to make sure we categorize them as standard fall risk or high fall risk. We try to anticipate the needs of our patients to help prevent falls, such as putting a bedside commode next to the bed and completing regular rounds to assess bathroom needs. Nurses may also use gait belts, which are special assistance belts that can help patients stand and walk or move from a bed to wheelchair or vice versa.
Patients are educated to "call, don't fall" and families can help us by reinforcing this concept. Always call the nurse if you or your loved one needs help getting up or going to the bathroom.
Also, special precautions may be taken on the high fall risk patients through the use of technology. Bed and chair alarms detect when the high fall risk patient is attempting to get up.
SL: So there is safety technology inside the beds?
TM: The Hill-Rom beds are equipped with bed exit alarms that give a visual yellow dome light in the hall as well as an auditory alarm if the safety of the patient is compromised.
In addition to all of these protocols, discharge education begins on admission and goes home with the patient. We educate high fall risk patients about fall prevention at home as well as in the hospital. This includes making sure floors are free of clutter and pathways are clear, that lighting in the bathroom area is sufficient, and also being aware of medication side effects, such as certain blood pressure medications that cause dizziness. We will advise on equipment needs at home as well. Our goal is that falls never happen, wherever you are.