3D On 4 Wheels
St. Joseph's/Candler's Telfair Pavilion has rolled out the latest and greatest in mobile mammography
One of the major barriers for women to get their annual mammography screening is time, especially for those who live or work a good distance away from a hospital. For years, St. Joseph's/Candler's Mobile Mammography Unit has helped women drive around that barrier.
"Prior to Mobile Mammography, women in some areas didn't have access to preventive care or would delay mammograms because they feel they can't take time away from work, family, or other commitments," explains Mobile Mammography Team Leader Carol Paige. "Logistics or transportation could affect various populations, from retirees in communities such as Sun City or employees in remote locations like Black Creek."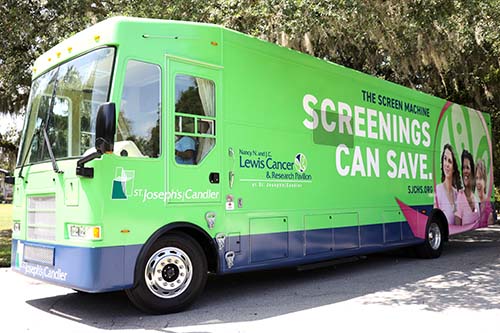 Those locations and many others are now part of the Mobile Mammography Unit's map of destinations. As its reach expands, the service has another goal—to stay ahead of the pack in technology. The program purchased a new unit this year that now offers tomosynthesis, or 3D mammography.
"Tomosynthesis is very helpful in certain populations, particularly women with more dense breast tissue," says Lora Reese, Director of Telfair Ambulatory Services. "It captures fifteen different images of the breast, offering much more information than one 2D image."
Reese tells patients to think of 2D as a closed book, where one can see the front and back. With 3D mammography, the physician can now view all of the pages in between.
"The 3D technology also decreases the need for many patients to be recalled for additional imaging," Reese says.
Like any new vehicle, the new Mobile Mammography unit was designed to have a more spacious, modern and comfortable feel than its predecessors. But access to 3D is what has the Telfair Pavilion staff the most excited as breast cancer awareness continues to be a life-saving issue.
"This service allows us to bring early detection to more people in the workplace and in the community, with a more convenient option for their annual screening mammography," Paige says. "Mobile mammography takes away obstacles by providing patients immediate access to cutting-edge technology."
---
Along with our Mobile Mammography Unit, St. Joseph's/Candler offers mammography screening at the Telfair Pavilion (located at Candler Hospital), St. Joseph's Hospital Imaging Services, Telfair Breast Imaging – Eisenhower, the SJ/C Imaging Center in Pooler campus and the SJ/C Imaging Center in Bluffton. Call 912-819-6800 to schedule a mammogram at a facility near you.