Mammography Is Safe & Sound
The low-dose radiation received from getting an annual mammogram won't harm you
It's a myth. A misconception. But it's one that is so potent, Jordan Dixon, MD, still hears it every day.
"Patients will ask if there is a danger from radiation exposure when they get a mammogram," Dr. Dixon says.
The short answer is No.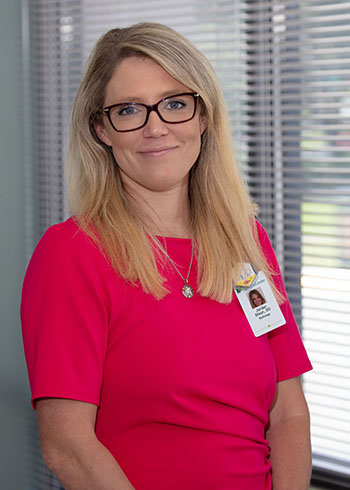 "The risk of radiation of a mammogram is theoretical and not measurable," Dr. Dixon explains. "However, having breast cancer and potentially dying from it is a very real possibility."
One Out of Eight
The long answer to the enduring question of mammograms causing cancer is also No, but with some numbers included. Radiation is measured by millisieverts, or mSv. An average mammogram with two views of each breast is 0.4 mSv.
"That's the same amount of background radiation that every human being receives in seven weeks of just being alive," Dr. Dixon explains. "That's not someone who works in nuclear medicine or something like that. Just being a human being, on average as an American, we receive about 3 mSv a year. So that 0.4 is such a small percentage."
While every patient does receive some radiation from a mammogram, the exposure doesn't play a role in breast cancer risk.

"To me, the theoretical risk of a mammogram contributing to breast cancer is just not comparable to the very real risk of developing breast cancer," Dr. Dixon says.
In fact, breast cancer is diagnosed in one out of eight women.

"It's the second-leading cancer in America besides skin cancer," Dr. Dixon says. "But receiving regular annual screening mammograms for average-risk women over the age of 40 prevents the risk of dying of breast cancer by 50 percent."


Facts vs. Fiction
As misconceptions get debunked, Dr. Dixon hopes that awareness of breast cancer facts can spread through the news and social media as quickly as the myths once did. Multiple studies have shown that early detection of breast cancer through a mammography screening leads to better outcomes and more lives saved.
"The American College of Radiation recommends getting a mammogram every year starting at the age of 40 in average-risk women," Dr. Dixon says. "Some women are anxious about how much pain they might feel. But mammograms are the only proven modality to save lives from breast cancer. You need to get one every year. They are very quick and it's really not that bad. Going to the dentist isn't that fun either, but you do it, right?"
Dr. Dixon notes that along with the low-dose radiation technology, image quality for mammograms has improved significantly over the years.
"Screening has come a long way," she says. "And now we have tomosynthesis, which is the '3D' imaging that reduces the number of callbacks and makes cancer more detectable. That's beneficial for fatty density breasts, scattered density breasts, heterogeneous dense breasts and extreme dense breasts. In fact, everyone can benefit from tomosynthesis."
The myth about mammograms causing breast cancer is an old one and Dr. Dixon concedes that it probably won't go away completely. But doctors, mammography techs and other healthcare professionals, as well as breast cancer survivors and organizations like the American Cancer Society, are dedicated to making sure that an unfounded fear does not create a barrier for women who need to get screened.
"We have very real numbers, including that 50 percent decrease in your risk of dying from breast cancer if you get your yearly mammogram," she says. "So when misconceptions come up, that is where I always start."
---

Get Screened Close To Home
St. Joseph's/Candler offers mammography screening at the Telfair Pavilion (located at Candler Hospital), St. Joseph's Hospital Imaging Services, Telfair Breast Imaging – Eisenhower, the SJ/C Imaging Center on the Pooler campus, the SJ/C Imaging Center in Bluffton and at various locations in the region through our Mobile Mammography Unit.

Call 912-819-6800 to schedule a mammogram at a facility near you.

If you or a loved one are dealing with a financial barrier to a mammogram or other breast health services, the Mammography Fund at the Telfair Pavilion can help. Call 912-819-7055.