Treating You Better
Advances in chemotherapy and radiation can benefit breast cancer patients
Not all patients with breast cancer will need radiation or chemotherapy. Those that do may worry about the time commitment involved, the frequent office visits and the possible side effects. On that front, physicians at St. Joseph's/Candler's Nancy N. and J.C. Lewis Cancer & Research Pavilion (LCRP) have encouraging news.
"Treatment with radiation is getting better all the time, in terms of both its effectiveness and its tolerability of the treatment," says radiation oncologist John Mikell, MD. "At the same time, the convenience of treatment—closer to home and over a shorter time span—is also getting better."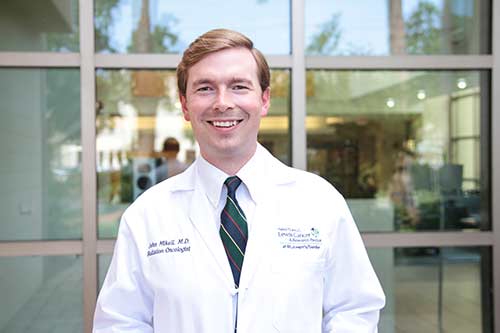 Oncologist Alison Spellman, MD, of Summit Cancer Care, has seen similar developments in her field. What's more, cancer care is a team effort that includes physicians with related specialties and support personnel including pathologists, genetic counselors, nutritionists and more.
"It takes an army to help a patient through this process and to counteract the possible side effects of treatment," Dr. Spellman says. "That's what we are here to do, to get you through this as smoothly as possible."
Before And After
Most women with breast cancer will need some type of surgery. This may include a lumpectomy, in which the part of the breast containing the cancer is removed, or a mastectomy, in which the entire breast is removed. Other surgical procedures that may be necessary include a sentinel lymph node biopsy, which determines whether a cancer has spread to the lymph nodes under the arm, and breast reconstruction after the tumor is removed.
Factors such as the stage of your breast cancer will determine if chemotherapy or radiation is needed. In some cases, chemotherapy is given before surgery to try to shrink the tumor.
With every new case of breast cancer, Dr. Spellman will test the cells taken out during a biopsy or surgery to determine if they have proteins that are estrogen or progesterone receptors. She will also test for a protein called HER2, which can cause breast cancer cells to grow quickly.
This testing helps Dr. Spellman decide what treatment is best for each individual patient. For example, HER2-positive cancers tend to grow faster than HER2-negative, but are much more likely to respond to targeted therapy rather than chemotherapy.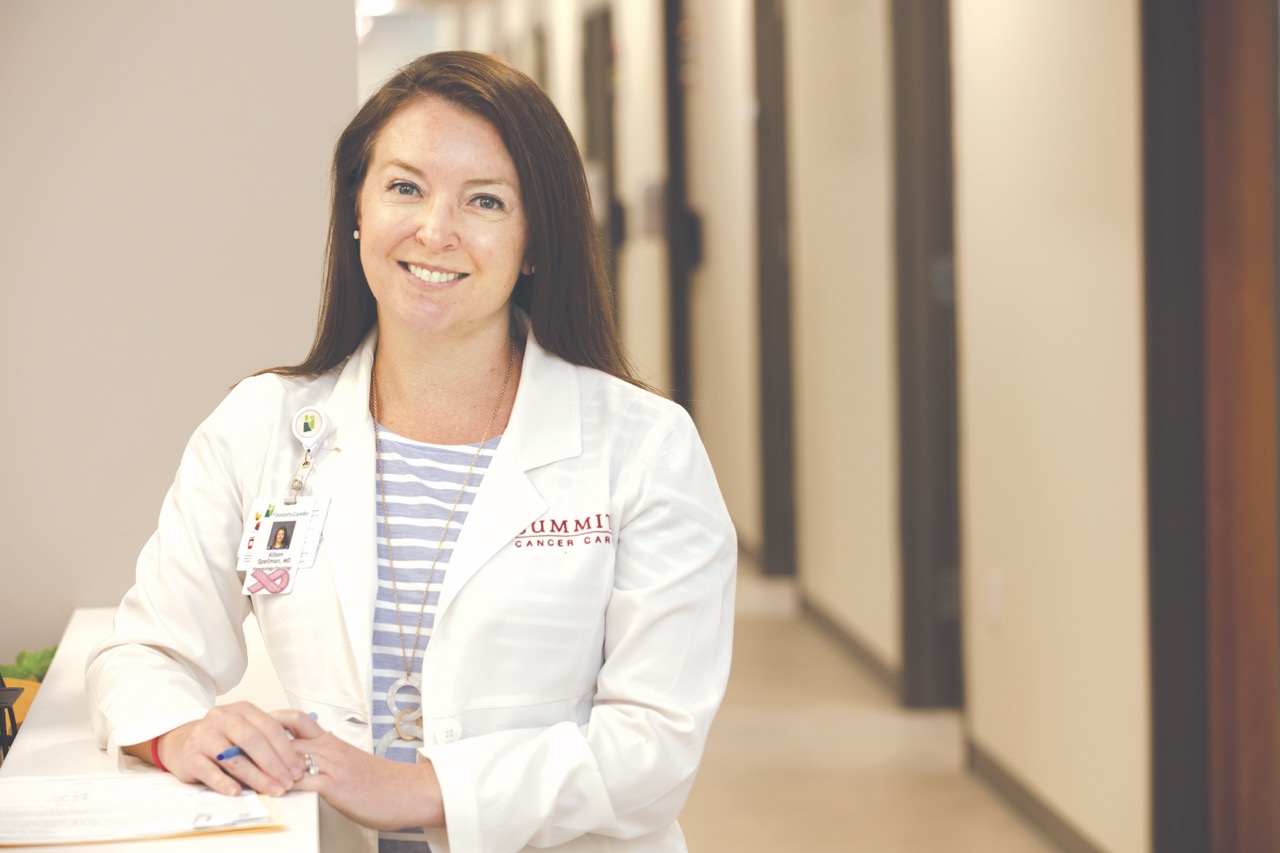 "That targeted therapy will only attack that protein," Dr. Spellman explains.
For patients who do need chemotherapy, there are still some side effects such as hair loss, nausea and fatigue. But Dr. Spellman notes that anti-nausea medications and new ways of delivering chemotherapy drugs have made it generally more tolerable.
"We have learned how to manipulate the dosing to minimize toxicity, and we've gotten better at managing side effects," she says.
Accuracy, Effectiveness – And Convenience
Radiation therapy for breast cancer is an adjunctive treatment, meaning after surgery. It can help lower the chance of recurrence in the breast or nearby lymph nodes. Beams of radiation, primarily photons (x-rays) or electrons, are aimed directly at areas at risk of harboring cancer cells. It is painless procedure that is done during outpatient visits.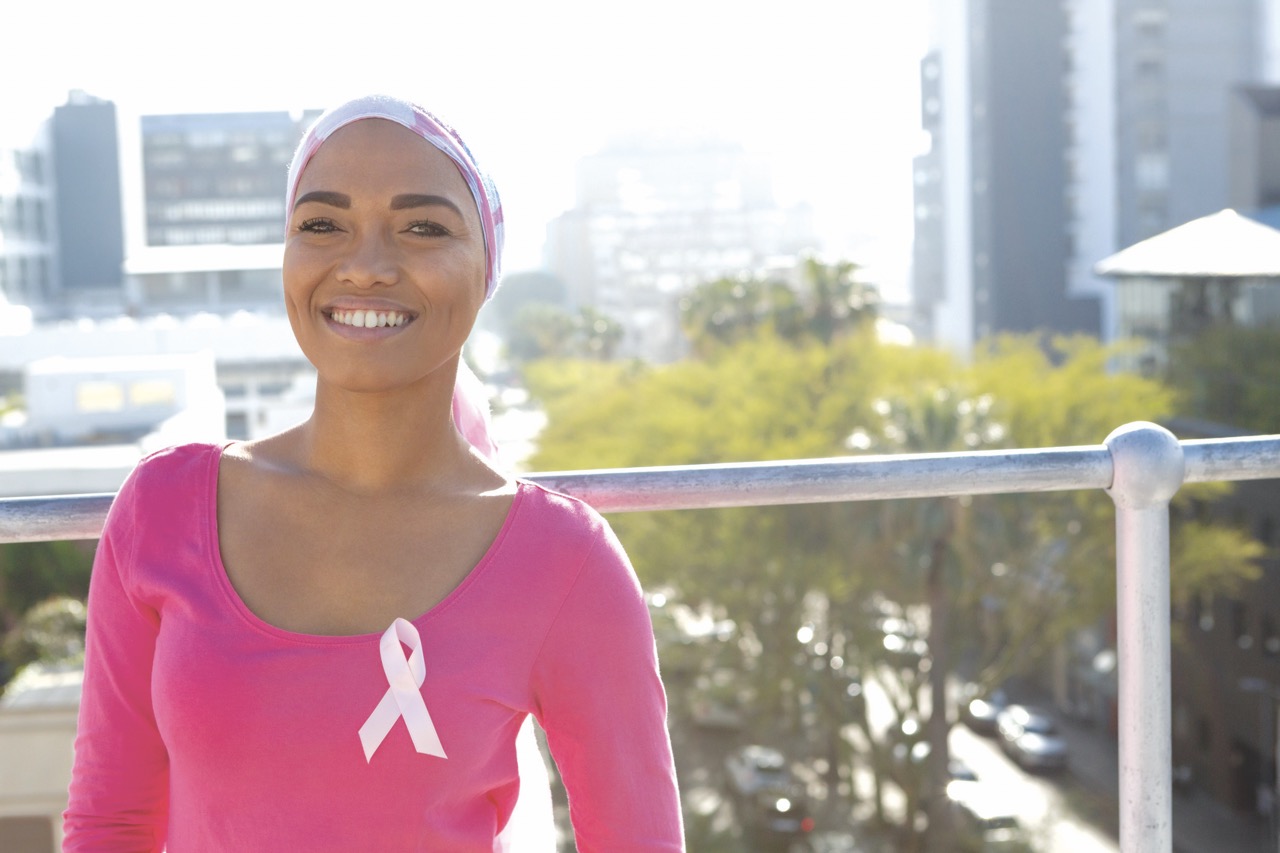 "Much of our time is spent getting the patients in the proper position so we can make sure the accuracy and the effectiveness of the treatment is as good as it can be," Dr. Mikell says. "This also minimizes the likelihood of side effects such as skin irritation and fatigue."
Positioning is so important in radiation therapy that the LCRP invested in technology that allows patients to be treated while laying on their belly instead of their back.
"This can substantially reduce the amount of radiation going to the underlying lung, for example, and has been shown to minimize irritation to the skin which some women can get as a result of breast cancer radiation," Dr. Mikell says.
Technological advances have also helped reduce the time it takes for some patients to complete their treatment.
"The trend in cancer care has been for shorter radiation treatment courses," Dr. Mikell says. "Some patients will still need treatment over several weeks, but more and more are able to be treated over shorter time spans—in some cases, treatment is only five days. Overall, these advances have allowed patients to get on with their lives sooner."