Major Player
With a PGA Tour win and an invite to The Masters, Brian Harman has arrived
Oh the frustration of the left-handed golfer: equipment is difficult to find and there is always someone on the first tee who thinks the joke about standing on the wrong side of the ball is a novel quip. It's not.

So why would rising PGA star and Savannah native Brian Harman choose to endure such indignities? It probably goes back to baseball, his first love.

"I threw the baseball right-handed, but I always batted lefty," Harman recalls. "My parents say I've been like that ever since I was younger."

As a ten-year old who loved a variety of sports, Harman caught the 1997 Phoenix Open on television. He transferred his left-handed grip from a baseball bat to a golf club and never looked back.

"I don't know why it clicked, but it did," Harman says. "After that, golf was all I wanted to do."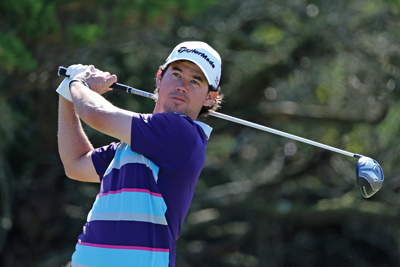 Harman started learning the game at the age of 11. He knew immediately that he wanted to grow into a professional, and a series of wins led him steadily to his goal. While a student at Savannah Christian, Harman won the U.S. Junior Amateur in 2003.

As a collegiate golfer, Harman enjoyed success as a three-time 2nd Team All-American on the University of Georgia golf team. He won the 2005 NCAA Preview and the 2006 Isleworth Invitational. He also won the Porter Cup in 2007, where he shot a tournament record, 22-under-par 258.

After going pro in 2010, Harman earned his first professional title at the Manor Classic on the eGolf Tour, winning by three shots.

It was in Harman's third full season on the PGA Tour that he went home with the winner's trophy.
Excelling under the high pressure of the final round of the 2014 John Deere Classic, Harman hit three great shots on the difficult ninth hole to birdie, and was able to keep a sharp mental focus throughout the rest of the game.

"There is so much that goes into preparing for a tournament," Harman says. "When it works out, it is very gratifying. Looking back, the John Deere Classic was probably the most fun I've ever had on a golf course."

The John Deere win made Harman the sixth former University of Georgia Bulldog to win on the PGA Tour in 2014, and the first left-handed player to win the event since Sam Adams in 1973.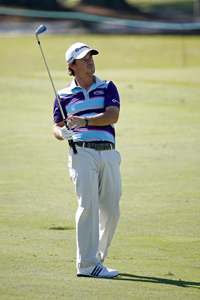 Harman played with Zach Johnson (one of several pros who, along with Harman, calls St. Simon's Island home) at the John Deere event two years prior, which Johnson won. Watching the seasoned pro helped Harman understand how to keep his mind in the game and not let the pressure distract him. Johnson was the runner-up when Harman won the event last year.

As an up-and-coming player, Harman has soaked up many great lessons from the veterans he's played with since turning pro. Hoping to match their longevity, Harman maintains an exercise regimen outside of his tournament play.

"I spend a good deal of time in the gym to try and avoid any issues," Harman says. "I've certainly had plenty of aches and pains from the game, but all you can do is take care of yourself and play for as long as you can."

Now there are ten- and eleven-year old boys and girls discovering the game of golf the same way Harman did, watching the PGA tournaments in which Harman now competes. His advice to those who want to play professional golf is encouraging, but emphasizes the incredible dedication required to make such a dream a reality.

"You have to make sure that golf is your passion if you decide to make it a career, because the sacrifice and time commitment is very demanding," Harman says. "I would recommend it to anyone though."

Looking forward, Harman's focus in golf is simple: continuing to improve. Off the course, he is enjoying another personal achievement: being a husband.

"I think the best thing I've done is talking the girl of my dreams into marrying me this past December," Harman says. Though he and his wife reside in St. Simon's, Harman still visits his hometown often.

"My entire family still lives in Savannah, so I make it up there quite a bit," Harman says. "I have a lot of fun memories of playing golf in Savannah, especially in high school. We had some great times."