Breaking Ground On Wall Street
Determination and drive helped Suzanne Shank become one of the most powerful women in finance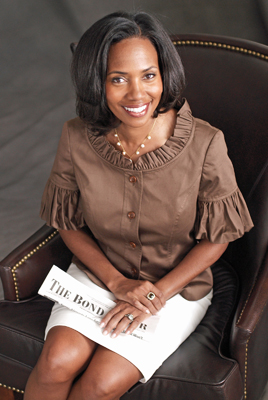 Suzanne Shank didn't always know what she wanted to do with her life.

"I pursued an engineering degree at the suggestion of my guidance counselor, with very little insight at the time into the scope of careers," recalls the Sol C. Johnson High School graduate who now lives in Detroit, MI.

While the young Shank may never have dreamed of being a CEO someday, her enduring determination to be the best at what she does has taken her to skyscraping heights of success.

As the Chairwoman & CEO, as well as Co-Founder, of Siebert Brandford Shank & Co., LLC., Shank leads one of the highest-ranked investment banking firms in the country. She has been widely recognized in her industry, including being named one of the Top 25 Women in Finance by U.S. Banker and one of the 50 Most Influential Black Women in Business by Black Enterprise.

Shank says she started her journey knowing one essential fact—her loved ones in Savannah would always give their support.

"My best memories of Savannah are of the strong sense of community and the 'village' of neighbors, family, teachers and church members who encouraged my efforts to succeed," Shank says. "This level of support from not only my parents but from my extended family empowered me to take risks."

Shank's first risk was targeting the highly male-dominated field of engineering. Multiple job offers upon graduation from Georgia Tech proved that she had what it took to find success in this field. But after working for General Dynamics in Atlanta for a couple of years, Shank decided to take another chance, following an instinct to leave engineering and pursue an MBA degree at the Wharton School of Business at the University of Pennsylvania.

"It was there that I realized that finance was my desired area of concentration, as I was most comfortable with an analytical field after studying engineering," Shank says. After graduation, she landed an internship on Wall Street and her rise to the top had begun, though she did not know it yet.

"I discovered I had a love for structuring bond deals and financing major infrastructure projects, projects I would have designed as a civil engineer," Shank says. "But I never imagined founding a firm or even being an entrepreneur. I was fortunate enough to be approached to do both by Napoleon Brandford and Muriel Siebert, who was the first woman to own a seat on the New York Stock Exchange. In 1996, we started our own firm."

In 2010, Siebert Brandford Shank & Co., LLC., was among the top ten municipal finance firms in issuance volume, which was a first for a minority- and woman-owned company. Yet Shank emphasizes that the goal of her and her co-founders was not to be the best among only Minority and Women Business Enterprises (MWBE), but among all the great companies on Wall Street.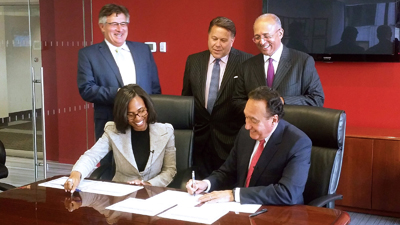 "The fact that our ownership is reflective of the diversity of America gives us a unique and valuable perspective as we deliver high quality services and ideas to our clients," Shank says. "But we pride ourselves on being a top corporate and municipal bond financing firm, period. We are not just the number 1 ranked MWBE firm, we are in the top 15 of all municipal bond underwriting firms."

Shank is married with two daughters and resides in Detroit, where her firm maintains one of its 17 nationwide offices including dual headquarters in New York and Oakland, CA. Her proud parents still live in Savannah, and Shank visits as much as she can with her intense schedule.

In 2000, Shank co-founded the Detroit Summer Finance Institute, an internship program that gives inner-city students a chance to learn about the finance world and the jobs available to them. She hopes that young people, no matter what their race or gender, will use a combination of prudent guidance and inner drive to start their path to success, just as she did.

"Trust the advice of your teachers and seek their guidance," Shank says when asked what wisdom she would share with this year's Johnson High School graduates.

"Dream big and then put in the hard work and time that is needed to achieve your goals."
Moves And Gains
Being Chairwoman & CEO of an investment firm with 17 offices nationwide and overseeing more than $1 trillion in financing for municipal issuers, along with being a wife and mother, can quickly fill up your day. There is only time for fast food and no time for exercise, right?

Not a chance for Suzanne Shank. In fact, exercise helps her with her busy day.

"Exercise is a wonderful stress management tool for me," Shank says. "It's a challenge, but I work out with a trainer once a week and try to incorporate another hour of exercise once or twice a week. I enjoy weight training, yoga, and walking/jogging intervals."

Shank also plans ahead to avoid any fast food temptations when she's in a rush.

"I carry fruit in my bags for snacks," Shank says. She strives to be a healthy eater in general, eschewing red meat for chicken and fish, and drinking lots of green tea for its antioxidants. Her one guilty pleasure is fried foods, but within a strict limit.

"Fried foods are something I enjoyed growing up in Savannah, and they are my biggest vice," Shanks says. "But I now drastically limit my consumption of fried foods to two or three times a month."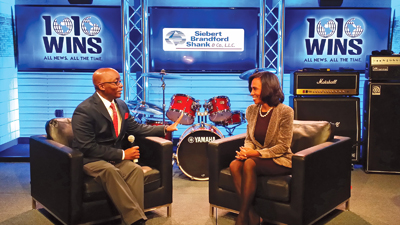 All photos courtesy of Siebert Brandford Shank & Co., LLC.

Middle photo (signing of new partnership agreement): Seated: Suzanne Shank and Henry Cisneros, former US HUD Secretary and former Mayor of San Antonio. Standing, l to r: Victor Miramontes, Sean Duffy and William C. Thompson, former NYC Comptroller.

Bottom photo: Suzanne Shank on the set of 1010 WINS, a news radio program in NYC that profiled her for Black History Month.