Nurses Help Patients Practice Excellent Hand Hygiene During Their Stay
Martha Weston, BSN,RN, ONC
6 North, St. Joseph's Hospital
Smart Living: Nurses at St. Joseph's/Candler have followed the Centers for Disease Control and Prevention's guidelines for hand hygiene, which includes washing or sanitizing your hands before and after contact with a patient, for a long time. But now nurses have added an extra step that benefits everyone, including family members. What is that extra step?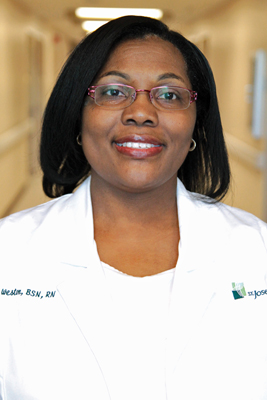 Martha Weston: Yes, all nurses at St. Joseph's/Candler practice hand washing and sanitizing with an alcohol-based sanitizer to reduce the risk of infection among patient populations and our co-workers. But now we also offer sanitizing hand wipes for our patients to have at bedside. So our patients are included in the infection prevention efforts more than ever before.

SL: Is this for patients who aren't able to get out of bed often enough, or in some cases not at all, to practice the level of hygiene that they need to?

MW: Our immobile and limited ambulatory patients benefit the most from the sanitizing hand wipes because they aren't able to get to a hand washing sink. But when it comes to preventing infection, truly all of our patients benefit from the increased accessibility to sanitizers.

Patients, as well as family members and visitors, learn by example, too. In addition to the hand washing sink, sanitizing hand dispensers are accessible in every patient's room and service areas. Patients are able to witness nurses and healthcare professionals practice good hand hygiene.

SL: The nurses also help with basic hand hygiene education as well, right?

MW: Yes, our patients and families are taught the proper technique and receive step-by-step instructions. Most people know that they should wash their hands after using the bathroom, but there are other instances where people may not be in the habit. These include before and after eating food and after coughing, sneezing, or blowing your nose. At home, people should also try to wash their hands before preparing food, before and after treating a cut, after touching an animal and after changing diapers or touching garbage.

As Magnet nurses, we always want hand hygiene to be as simple and easy as possible for our patients. We also want patients' families to understand that good hand hygiene practice is the best defense against the spread of infection.