Making Cooking History
Savannah's Chef Joe Randall is transforming his famous cooking school to honor his African-American mentors and peers
Chef Joe Randall is what we like to call "a Northern transplant."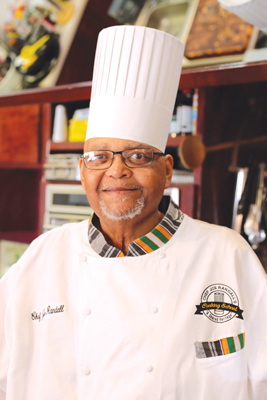 The man, whose name and cooking school are so synonymous with the South that he was dubbed the 'Dean of Southern Cuisine' by Cuisine Noir magazine, was born in Pennsylvania.
"I learned to cook Southern up North," Randall says with a smile. "I've had a wonderful culinary journey."
That journey started with family. Randall's mother was originally from Virginia, so Randall enjoyed Southern cooking growing up in Harrisburg, PA. He would also visit family in Pittsburgh as a teen and work as a busboy and dishwasher at his uncle's restaurant.
"Then I joined the Air Force when I was 17 and Uncle Sam thought I'd make a good cook," Randall says.
Good Food And Bad Food
After his military service, Randall found work with an African-American chef named Robert W. Lee in Harrisburg. Lee was from Atlanta and an accomplished Southern chef. He and his staff mentored Randall, but only after the young cook stuck around long enough to prove his dedication.
"In order for a good chef to pass on what he knows to you, you have to be serious enough to receive it," Randall says.
Randall became a chef before the idea of American regional cooking was part of the public consciousness.
"There was just good food and bad food…and most of the good food came from the South," Randall says. "That's because they weren't afraid to season it. You know… a little bacon, little ham, little salt."
Savannah's New School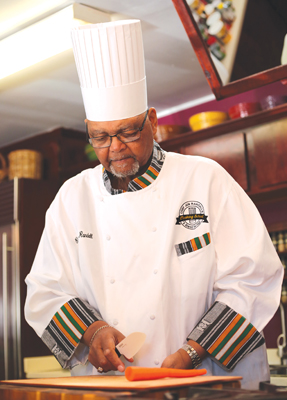 Randall's skills took him all over the U.S.—New York City, Seattle, Sacramento (where he met his wife), Baltimore, and other cities—and he ended up in Savannah in 1999. Randall was hired as a chef at the Savannah College of Art and Design, and the school also asked Randall to develop a curriculum. The college eventually decided not to create cooking classes, but Randall was now inspired to teach. He opened Chef Joe Randall's Cooking School on Waters Avenue in September 2000.
Soon, people from across the globe were having a ball in Randall's classes and loving the meals that came along with them.
"It was a chef's dream," Randall says. "I met wonderful people from all over the world…Copenhagen, Paris, Australia, Vancouver, Brazil, and every state in the U.S."
Randall says that one of his greatest honors is his inclusion in the Smithsonian's National Museum of African-American History and Culture. His cookbook, A Taste of Heritage: The New African American Cuisine, and a colander that he had used for decades are among the historic items on display there.
Recognizing The Contribution
The legacy of African-American chefs is what drives Chef Randall today. Having retired from his full-time schedule in December of last year, Randall is transforming his cooking school into the African-American Chefs Hall of Fame.
"We need to acknowledge the contribution that African-American chefs made," Randall says.
Though the Hall of Fame has been represented on the internet for years, Randall believes that a place that people can go to see portraits, artifacts, and film footage of its inductees will have a greater impact.
"This kind of physical building is needed to document the history," he says. "Otherwise, it's too easy for it to get forgotten about."
Chef Randall will still hold occasional cooking events at the Hall of Fame as well. He will invite other great chefs to participate but, to the delight of his biggest fans, he will sometimes teach and cook too.
"Hey, that's what I am," he says. "I'm a chef. And if I cook, I'm going to share it."

New Approaches To Classic Flavors
Chef Joe Randall knows the flavor of Southern cooking has no equal. But that doesn't mean you have to eat it every day.
"Moderation in everything," he says when considering a healthy approach to Southern cooking.
Cheryl D. Jenkins, RD, LD, a dietitian with St. Joseph's/Candler, agrees, and she adds that some traditional Southern favorites offer a nutritional benefit and can be prepared in a healthier way.
"Many Southern food staples are high in fiber, vitamins and minerals," Jenkins says. "There is an abundance of dark leafy greens, beans and peas, as well as tuberous vegetables such as sweet potatoes and yams. But Southern cooking often involves long cooking times, which can alter the nutritional value of an otherwise nutrient-dense food. Utilizing quicker cooking methods, such as sautéing leafy greens, will help retain much of the nutrition without sacrificing the flavor."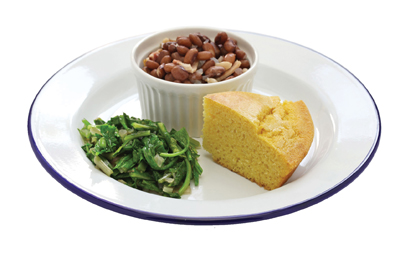 Jenkins also suggests that if you are using smoked meat to flavor greens, beans or peas, choose smoked turkey or a leaner cut of pork, removing the skin and visible fat.
"Most greens can be cooked for less than an hour to achieve that Southern taste," Jenkins says. "And don't forget to expand your horizons with herbs and spices."
Chef Randall says that when he was growing up, the negative effects of deep-frying and salting foods were not as well known. Yet his family did not eat Southern-style foods excessively.
"I remember when fried chicken was just on Sunday," Randall says. "That was the meal that you fried up because the preacher was coming over."
---
Learn more about Chef Joe Randall's African American Chefs Hall of Fame here.