Mobile Technology Helps Improve The Patient Experience
Mary Robinson, RN, MSN, MHSA
Clinical Nurse Manager, 5 North, St. Joseph's Hospital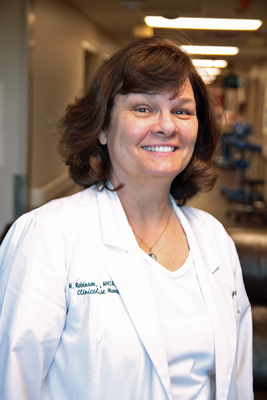 Smart Living: You and other nurse managers and directors have begun using a technology called iRound. What is iRound?
Mary Robinson: iRound is a new method of rounding on patients in which nurse leaders use mobile devices, such as an iPad, to communicate patient needs, compliments, and any issues that need to be corrected. Mobile technology allows us to capture immediate feedback from patients and their families about their experience.
The benefits are two-fold. First, it provides an opportunity to solve issues immediately and bring awareness of patient and family perceptions to our staff. Secondly, patients can tell us when our staff are doing great things for them. When patients mention a co-worker who provided them with exceptional care, leadership can provide those co-workers with immediate feedback for positive reinforcement and personally thank them on the spot. The positive feedback is also entered into our hospital's recognition programs so that co-workers are formally recognized for their service excellence.
Our goal is to ensure that patients always have an exceptional and seamless experience from admission to discharge.
SL: What kind of feedback do you typically receive when you are iRounding?
MR: Often it's simple things, such as a family member who felt that staff knocked on a patient's door too loudly during night shift. The patient and family's comments were shared with staff for immediate resolution. Meals are also important while a patient is with us. Patients have different tastes and preferences and our Dietary department is here to please.
Questions we ask the patients and families focus on performance indicators such as the nurses' responsiveness, listening, being courteous and respectful, and nurses' assessing and explaining about pain management and comfort. In addition, cleanliness and quiet at night are important to great care. These questions lead into us talking with patients about their care and daily goals. We receive iRound reports with patient feedback daily and a cumulative weekly report. iRound allows leaders to respond to individual patient experiences, concerns and comments while providing valuable information for enhancing future patient experiences. The information gained provides positive reinforcement and it's a win-win for our patients, their families, and our staff. Patient quality, safety, and a great experience is our top priority.