Wes Chatham's Expanded Universe
The actor's path has taken him from a Savannah talent search to the outer reaches of space
Wes Chatham was living an actor's dream—a critically-acclaimed show with a dedicated following and a character he loved to play. But thenThe Expanse, the science-fiction drama series starring Chatham, suddenly contracted. Cable network Syfy had decided not to broadcast it anymore.
"The show was doing really well in streaming, but people weren't tuning in to the broadcast," Chatham recalls. "Ultimately it didn't make financial sense to have the show air on their network."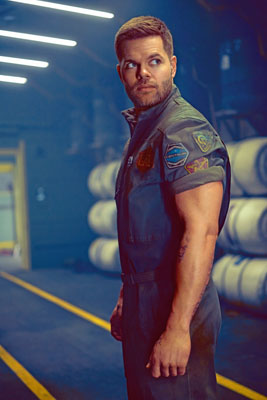 But perhaps the most expansive thing about The Expanse is its devoted fans, including Amazon CEO Jeff Bezos, who was greeted with cheers when he announced, "The Expanse is saved."
Make Believe
The lucky moments that every successful acting career needs are something the Atlanta-born Chatham got his first taste of while living in Savannah, where he had moved as a toddler. When Chatham was in elementary school, the Tide laundry detergent brand was doing a national talent search for its advertising and had included Savannah on its list of cities. Chatham's sister had talked their mother into taking them, and although for Chatham the audition seemed like playtime, he ended up getting the part.
"For a kid it was a lot of fun, this whole process of make-believe," Chatham says. "So I got to be the Tide boy for a little while. I enjoyed the process and I never forgot what it felt like."
Chatham left Savannah soon after, but the unique atmosphere of the city has stayed with him.
"Savannah's a special place for me," he says. "There's really nowhere else like it in the world."
Opened Doors
The dream of being an actor also stayed with Chatham. After joining the military, he was stationed in San Diego on the USS Essex. When his shipmates heard that Denzel Washington was preparing to direct parts of his film, Antwone Fisher, on the ship, they made sure Chatham got a chance to audition. Chatham met casting director Robi Reed, who encouraged him to pursue his dream after his service.
"I think the military gave me the gift of discipline and work ethic," Chatham says, recalling the early, lean years in Hollywood. Soon, parts in films such as In the Valley of Elah, starring Tommy Lee Jones, helped open doors to roles in blockbusters like The Help and The Hunger Games: Mockingjay, as well as TV shows like The Unit. Then he was asked to read for the character of Amos in the television production of The Expanse.
"I had read the books that the show is based on, and Amos was my favorite character," Chatham says. "He can go bad and go dark very easily, and yet he doesn't want to be that kind of person. I thought it was a fascinating thing to portray."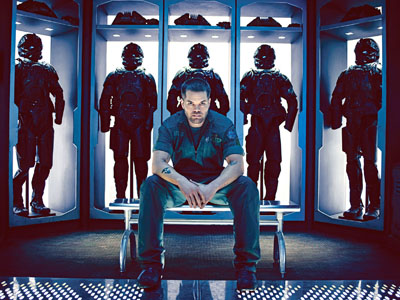 The Expanse takes place 150 years in the future, where humans have colonized the moon, Mars, and beyond. As humans tend to do, the different regions squabble over resources, building tension and increasing the risk of intergalactic war, in which Chatham and his co-stars get caught in the middle. The show was a hit with critics and quickly developed a strong fan base, evident in its streaming audience but not as much with its basic cable broadcasts.
Save The Expanse
When the Syfy channel decided not to purchase the rights for future seasons, the fans understood this as a cancellation and were demonstrably unhappy about it. Rallying around the hashtag #savetheexpanse, they launched a petition to keep the show going, garnering more than 132,000 signatures. They also raised money and arranged to fly a Save The Expanse banner over Amazon Studios, and sent packages of coffee (a nod to another main character's favorite drink) to studio executives as well.
The passionate response made enough waves to be felt by Amazon CEO Jeff Bezos, who already happened to be a fan of the show. Amazon Prime picked up The Expanse for its fourth season.
"The fans had a direct impact, and they are more intense and loyal now than ever," Chatham says. "They and I feel the same way about the show—I never get tired of the work, the character, or the story. It's still really exciting."
---
The Future You
The setting of The Expanse takes Wes Chatham into the far future, but when he leaves the set he has his own future very much in mind. It became clear to him in the military that the health habits you have today will have a huge effect on you tomorrow."I'm from the South, you know—fried foods, sweet tea, all these things that I was kind of raised around—I didn't realize the impact it has, especially in the long term," he says. "The first time I was out at sea for three months, I suddenly had regular exercise, regular sleep, and good nutrition. I remember thinking, 'Why do I feel so great?'"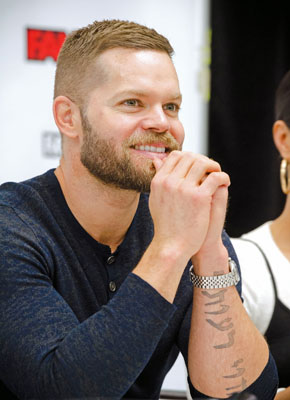 Chatham took that feeling to devise his own kind of health pyramid, the foundation of which he says is good sleep. With a long, intense shooting schedule at work, but also two young children at home, Chatham understands the time constraints that life puts on people.
"You need to be aggressive about your sleep," he says. "I had to structure my time and give up some comfort, some lounging around. But I consider it the foundation because it affects so much—your hormones, metabolism, aging, and just how you feel."
Chatham builds on this pyramid with good nutrition and hydration, and then regular exercise that emphasizes mobility and staying limber. At the top is spirituality.
"By spirituality, I just mean a purpose or meaning that is higher than yourself, with an emphasis on serving and caring for others," Chatham says. "I've found that if I can work within this pyramid, my mind, body, and health just flourishes. And down the line, it will protect you."
---
Top photo courtesy of The Expanse/Syfy/Kurt Iswarienko.
Middle (and top banner) photo courtesy of The Expanse/Syfy/Jason Bell.
Bottom photo courtesy of Jeff Hitchcock.
Cover photo on Smart Living homepage courtesy of The Expanse/Syfy/Miller Mobley.